Semrush is an important SEO tool for bloggers and SEO agencies. The tool's pricing range from a free trial to $1,000 per month. There are 3 important plans available at SEMrush, they include: Pro, Guru and Business.Pro is the most basic that comes after the free trial. Semrush is an essential tool every blogger must use to check the ranking of their website keywords and back links.
The beauty of this tool is that it provides information regarding the ranking of a specific keywords in your site to determine whether their ranking has dropped or improved. The tool will also show the popularity of the keyword among internet users, and compare the performance of your blog against competing bloggers in relation to keywords.
Semrush provides a free trial version for one week (7 days), sometimes extending to one month. The free trial provides all the resources and benefits that come with the premium plans. To get the free trial, follow this link. There are also other four plans, the most popular being Pro plan which costs $99.95 per month. This is the most popular plan among upcoming bloggers.
Below are detailed features and pricing of each SEMrush plans: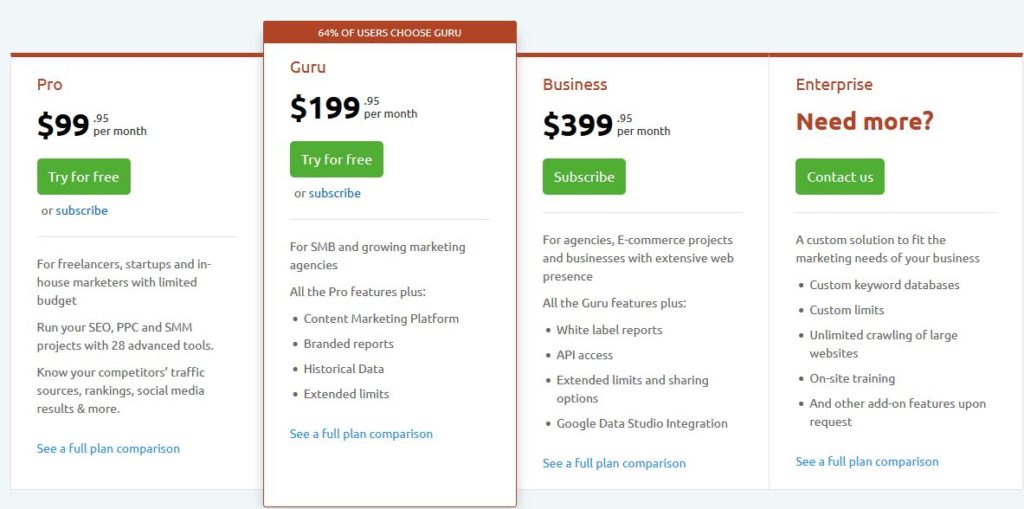 Pro Plan
After using the free version, the next step is to upgrade to Pro plan which costs $99.95. One of the key features of this plan is that it tracks over 500 keywords in your website. The tool will also crawl up to 100,000 pages. You will also receive up to 5 PDF reports.
Before you subscribe for this plan, join the free trial of 7 days and know the importance of Semruch SEO tool. Subscribe here
Another popular plan but more expensive than Pro Plan is Guru. This plan costs $199.95 per month but has more advanced features than the Pro plan.
Key features of Guru plan:
Content Marketing Platform
Branded reports
Historical Data
Extended limits
Once you are in this plan, the tool will analyze up to 1,500 keywords from your website and provide up to 20 PDF reports. A total of 300,000 pages will be crawled.
The third one is the business plan which is suitable for established agencies and SEO companies. This plan costs $399.95 per month and comes with these key features:
White label reports
API access
Extended limits and sharing options
Google Data Studio Integration
Under Business plan, the tool will crawl up to 1 million pages and track up to 5,000 keywords. This is a fantastic tool for e-commerce sites because it can really help you learn what products people are searching for.
Enterprise plan is one for individuals and companies that need unlimited services. For instance, if your site has more than 100,000 articles and you want all the articles to be crawled, the tool will do the task for you. Before you receive services from SEMrush, the company will analyze your site and provide you with a quote.
The pricing depends on your site's needs. It's important to start from the cheapest plan then upgrade as the demand increase. But since the free trial is available, there is no need of going to the premium versions before testing the free one.
To get all the information about SEMrush, follow this link