Kenyans, which goes by the domain name kenyans.co.ke,has officially overtaken tuko.co.ke to become one of the most popular blogs in the country. On the other hand, Tuko's popularity is dimming over time even after working so hard to remain afloat.
While it's normal for any website to oscillate in relation to traffic, Kenyan's growth curve is worrying for most sites, even giant media houses like Nation and The Standard. At the moment, Kenyans is ranked at position 5 in the country, behind standardmedia.co.ke,nation.co.ke, YouTube and google.com. It's a matter of time before the website leapfrogs The standard to become the second most read blog in the country after nation.co.ke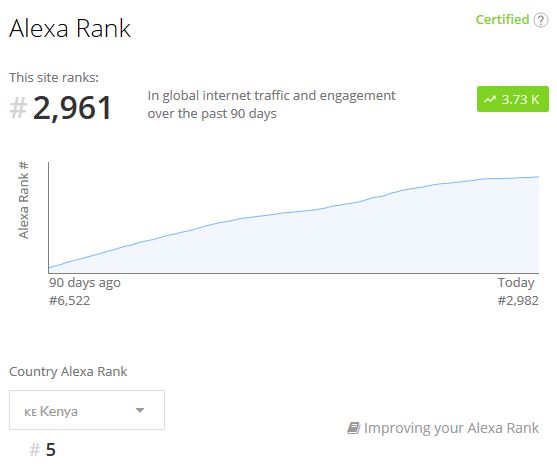 One thing that helped Kenyans to record such a magnificent growth is the Google Algorithm that was implemented between March and August 2019.It was found that Tuko had several posts which were related to gambling, the blog also contained clickbait articles, similar to those in Daily Mail blog.On the other hand, Kenyans' rating was excellent, which meant that any article posted on Kenyans had to rank higher than those in Tuko—that's after the implementation of the algorithm. The exponential growth of Kenyans that you are witnessing is partly because the Algorithm favoured them.
Another reason is that Kenyans realized that Tuko was relying heavily on keywords, the owner started searching for top keywords using SEO tools like SEMrush. From December 2018 to present, Kenyans has posted over 100 articles focusing on keywords– all those articles have taken position 1 in Google search results.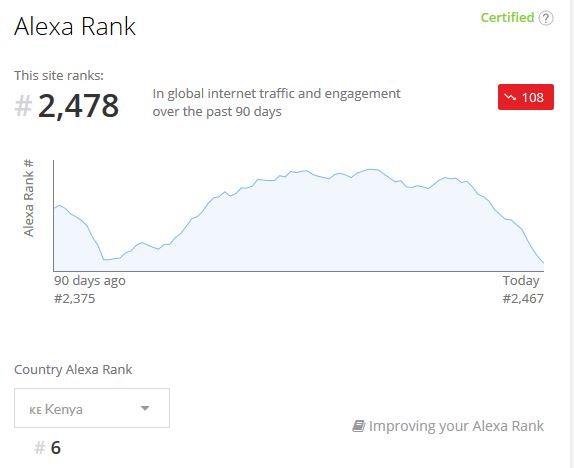 Going by the popularity trends of Kenyans, we foresee a case where the blog will beat even The Standard to become the most read blog in Kenya.
Another blog to observe keenly is citizen.co.ke. Over the past 2 months I have been observing it and it seems they are serious this time. The editors have also discovered the importance of keywords and it seems writers were instructed to post articles covering popular keywords in the country. Since the blog started featuring keywords topics, its popularity has grown tremendously, soon it might overtake Tuko as well.