If you want to join the affiliate community in Kenya, you have to pick the best from a list of over 200 affiliate programs available in the country. The best programs are those which provide accurate monitoring dashboards, high commissions, recurring income and excellent customer service.
Affiliate program is generally good for bloggers who are skeptical about AdSense or AdSense alternatives like Content AD. In affiliate marketing, you are likely to make more than monetizing from AdSense as long as you have the best marketing strategy. But as you select the course to take, it's paramount that you pick a program that will not disappoint you.
If you want to join the affiliate community, here are the best affiliate programs in Kenya;
JUMIA
Jumia Kenya has more than 1000 affiliates who are actively promoting the online shop's products. The company offers 1%-20% commission on any product purchased through the affiliate's link. Though sites like Amazon give the best affiliate commissions, they have few customers from Kenya, hence not suitable for Kenyan bloggers.
To join Jumia affiliate program, follow this link
Once you have registered, you will be provided with banners and links to place on your site.
Majority of bloggers who use Jumia affiliate program are those reviewing online products like electronics, phones and clothes.
The most promoted products are mobile phones and laptops
Bloggers make between Ksh10,000 and Ksh100,000 per month from this program. Payment is made through MPESA.
The second most popular affiliate program in Kenya is Betway.This is ideal for individuals who write about sports and gambling. Betway started the program two years ago and it has since become one of the most popular affiliate programs in Kenya.
How to join
You will only be allowed to join if you own a blog that is relevant to sports and gambling. To register, follow this link
The most important details required are your names or name of your company, your website domain name, payment information and contacts.
Betway has a recurring commission of 25%-45%, which means that a blogger will earn for life as long as the players that registered via the link provided continue playing. The negative thing about this affiliate program is that when players win, you earn negative amount, implying that the amount will be subtracted from the income that month. If the negatives are more than the positives, they will be carried forward until they are completely settled.
The positive side is that a blogger will earn forever. You are even allowed to negotiate the commission percentage especially if the number of players you are bringing to the company are many.
1XBET has one of the best affiliate programs in Kenya. I am one of bloggers who have been on the company's affiliate program, it's now one year since I joined and so far I have earned over Ksh 700,000. The company gives affiliates up to 45% in commissions.
To register, one is required to own a blog that is relevant to sports and betting niche. If you have such a blog, register via this link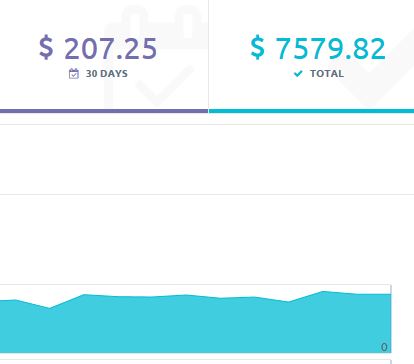 With 1XBET you can make in excess of Ksh 100,000 every month.However,when your players win alot,you will get more negatives which will affect your earnings.Look at the photo above,that month was our worst because the players won alot of money,we ended up making Ksh 20000 but in a good month we can generate up to Ksh300,000 from 1XBET alone.
22Bet is a relatively new site in Kenya but it's giving other betting sites a run for their money.22Bet uses the same design as 1XBET, it also gives out commissions equivalent to those of 1XBET.
As a blogger, the best thing to do is, use the three affiliate programs., each will yield something which at the end of the day will help you.
At least those are the best affiliate programs to enroll for in Kenya, they are reliable and worth joining.