Bluehost Dedicated Hosting Plan has the best pricing and is among the most secure web hosting companies in the world.
When your website/blog uses more resources than those provided by shared and VPS hosting environments, dedicated servers are the best alternative. Though you will pay more for dedicated server resources, the services you'll receive are quite excellent.
Here are some of the benefits you'll receive once you join Bluehost Dedicated plan:
SiteLock
SiteLock is a feature that prevents your site from malware and virus attacks. It's an essential feature especially for sites with high traffic. The feature is optional but important for a website
Domain Privacy + Protection
Help to prevent identity theft, spam, and phishing attacks by masking the personal information associated with your domain name. Receive SMS alerts (message and data rates may apply) for changes to your domain and avoid domain blacklists with Domain Privacy + Protection.
Make sure you integrate this feature within your site to ensure maximum protection for your site.
Spam Protection
Powered by Google, Postini filters out harmful and unwanted content before it reaches your inbox, isolating quarantined messages for you to review.
Free Domain for first year
One year of domain registration is included with each new plan. After the initial year, the domain can be renewed at market price.
30-Day Money-Back Guarantee
30-Day Money-Back Guarantee is one of the bestselling feature of Bluehost.You are allowed to host for one month and if you don't appreciate the company's service, request for your money back.
Unlimited usage of resources
Websites on share hosting plan share server resources, those in VPS the same but when your site is on the Dedicated Plan, it doesn't share resource with any other site. It's for this reason that any expert would recommend that you upgrade to a dedicated server to avoid downtime and get the most from Bluehost.
BLUEHOST DEDICATED PLANS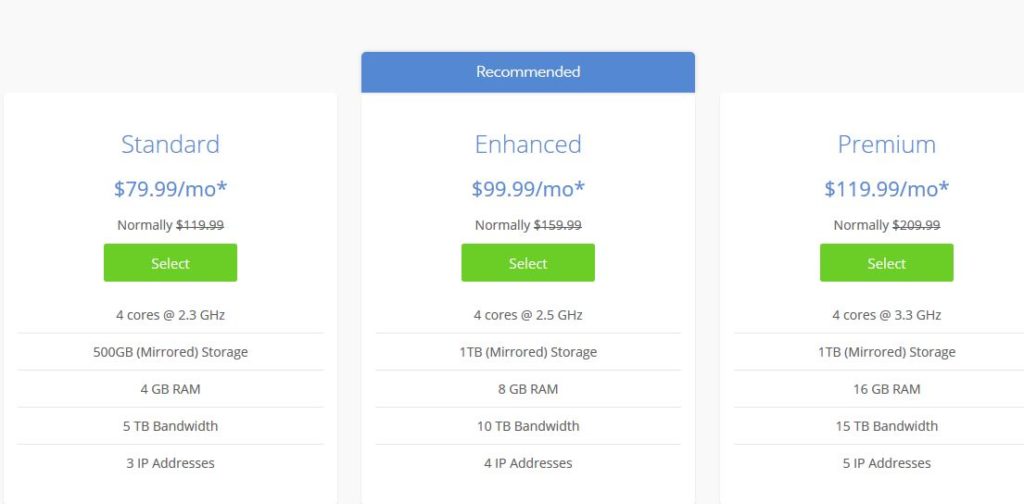 Bluehost has a total of 3 dedicated plans:
Standard
Enhanced
Premium
Here are the features of each plan
Standard
$79.99/mo*
Normally $119.99
4 cores @ 2.3 GHz
500GB (Mirrored) Storage
4 GB RAM
5 TB Bandwidth
3 IP Addresses
Enhanced
$99.99/mo*
Normally $159.99
4 cores @ 2.5 GHz
1TB (Mirrored) Storage
8 GB RAM
10 TB Bandwidth
4 IP Addresses
Premium
$119.99/mo*
Normally $209.99
4 cores @ 3.3 GHz
1TB (Mirrored) Storage
16 GB RAM
15 TB Bandwidth
5 IP Addresses
Enhanced is the most recommended plan for viral hosting companies. More than half of those in dedicated environment have purchased this plan.
Bluehost uptime is 99.99% which is excellent. When your site is hosted under Dedicated plans, you are certain that it will have rare downtime.