Bluehost minimum hosting prices is $3.95 per month. However, the price often reduces to a minimum of $2.95 during promotions like Black Friday. The promotions happen from October to January when most people start new blogs or are in migration mode.
The package that has the minimum hosting price is Starter, which is under Shared Hosting plan. Some of the exciting features under Starter package are:
1 Website
You are allowed to host one primary website. This is the website that will be recognized as the principal site.
50 GB SSD Storage
The storage capacity is 50GB.This is just enough to host up to 20 low traffic websites. But you should ensure that your photos are light as well as the website templates.
Unmetered Bandwidth
Though the bandwidth is indicated unlimited, sometimes Bluehost limits based on the amount of traffic a site receives.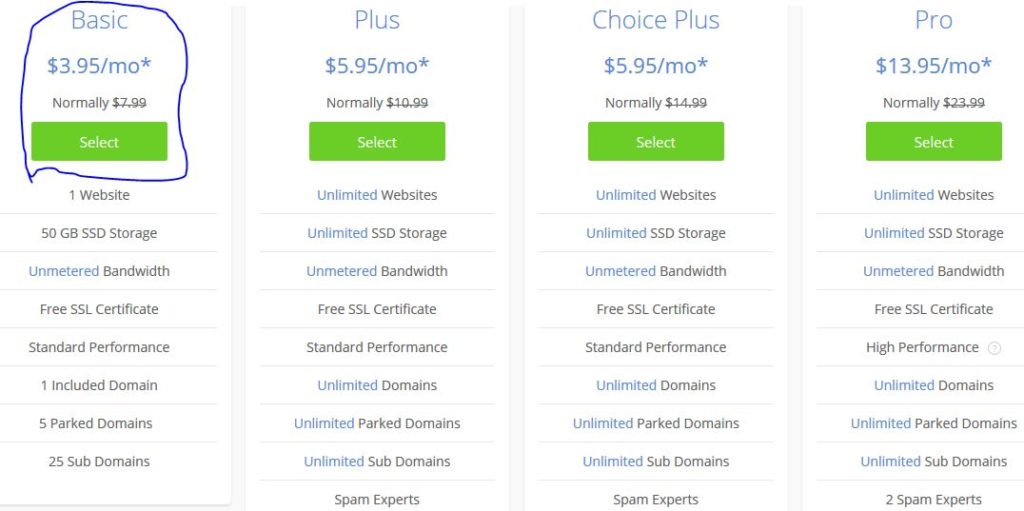 Free SSL Certificate
At Comodo you can buy SSL certificate for up to $100 per year but Bluehost gives you one for free.SSL Certificate prevents malware and virus attacks as well as increasing the competitiveness of your website. People trust sites with SSL certificate.
Standard Performance
The performance is above average and sometimes excellent when the websites you are sharing the server with are not receiving too much traffic.
Here are other exciting features:
1 Included Domain
5 Parked Domains
25 Sub Domains
To host your site, follow this link and select starter plan
The cheapest plan may limit you especially when your sites become viral.in case you start getting issues, there is an option of migrating to a more advanced package with more resources.