Kinsta Minimum hosting price is $30 per month. Clients are normally billed monthly or annually depending on one's preference. If you pay once a year, you get a discount of 2 months, meaning that the total amount you'll pay is $300 annually for the cheapest plan.
Features of the minimum hosting plan
The cheapest plan is known as starter plan and it's one that blogs with less than 20,000 monthly visits prefer. Here are features specific for this plan:
1 WordPress install
It's only one website that's hosted under this plan. If you have more than one website and you wish to host them at Kinsta, you have to choose a more advanced plan.
Free migration
One of the best features of Kinsta is that they do free migration of websites, even for the starter plan. It's a norm that most hosting companies don't help their clients to migrate their sites to their company but Kinsta does it for free.
20,000 visits
The maximum number of monthly visits allowed by Kinsta under this plan is 20,000. However, if your site receives slightly more than this visits, Kinsta will not bring down your site but charge you $1 per 1GB extra recourses consumed.
10 GB disk space
The disk space provided is 10GB, more than that you are charged at $1 per 1GB extra disk space.
Free SSL & CDN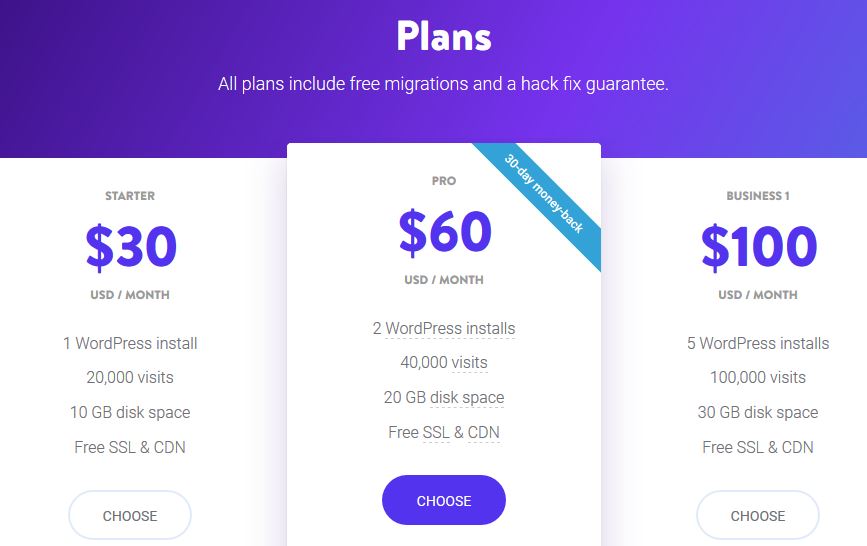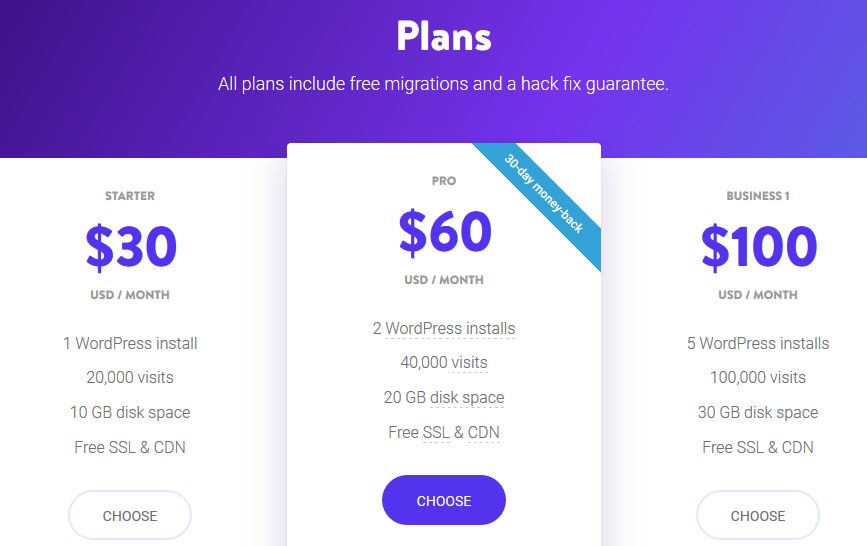 Security of your blog is important. The good thing is that Kinsta gives free SSL & CDN which protects against viruses and hacking.
30-day money back-guarantee
If you purchase a plan at Kinsta and after few days you realize that the services you are offered are not satisfactory, you are allowed to demand for your money back. The company has a 30-day money back-guarantee where you are given back all your money.
Scalable resources
Sometimes your blog might receive abnormal traffic, which we call hikes, in this case, Kinsta ensures that your website does not go offline; they scale resources that can sustain your traffic. This is one of the features that made me join Kinsta, I am a happy client.
I know of hosting companies that never tolerate blogs with heavy traffic. Such companies have placed a limit in resources such that if your site exceeds the limit, it will go offline and visitors will be notified that the website is suspended.
Hack and Malware removal
Kinsta has experienced staff that remove any malware without costs. They also monitor hacking activities and virus attacks, which means that your site is always safe when it's at Kinsta.
Google Cloud Platform
One reason you'll love Kinsta is that it's under Google Cloud Platform, implying that your site will be loading at blazing speed.
How to purchase this plan
To join Kinsta, follow this link and create an account, then choose a plan and make the payment via your bank account credit card–it's a straightforward activity. In case of any issue, you are free to chat with Kinsta staff on the website, they are always online and the response time is below 2 minutes.