Most of us prefer hosting our websites/blogs for free especially if we don't have a hosting budget. But nearly all the hosting companies in Kenya charge a small fee for hosting regardless of the age of your blog. However, there are few web hosting companies which allow bloggers to host their sites for a few days without paying any money.
Even as you are allowed to host for free, there are conditions your site must fulfill in order to ensure that the hosting companies eventually benefit from you. One condition is that you have to purchase a domain name from them. In addition, you should buy hosting plan once the trial version expires.
The people who would benefit most from free hosting services are those with new websites. If your site receives 0-100 daily visitors, it's easier for the hosting company to place it under free hosting plan. But for viral sites, those that get over 5,000 visitors per day, being allowed under Free Hosting plan is almost impossible.
If you need free hosting services in Kenya, here are the companies that offer the service in Kenya:
Movetech Kenya
Movetech Kenya is a top hosting company that offers free and premium web hosting services in Kenya. A free package is for new websites and domains and is provided for one year. The free plan has these features;
1GB Storage capacity
Unlimited data transfer
Free emails
1GB RAM
This package is given for one year, after which the website owner is advised to join the starter plan that costs Ksh 500 per year.
One limitation of the free hosting service is that when your site utilizes more resources than those allocated, you will be advised to upgrade to a package with more resources.
The good thing about this free plan is that you are given time to grow and start getting traffic and earn income. Normally, when a site is new, it rarely gets visitors—one year is enough to allow your site grow.
The second company that offers free hosting is Mambo Microsystems Ltd.This one offers free hosting as long as an individual purchases a domain from their company.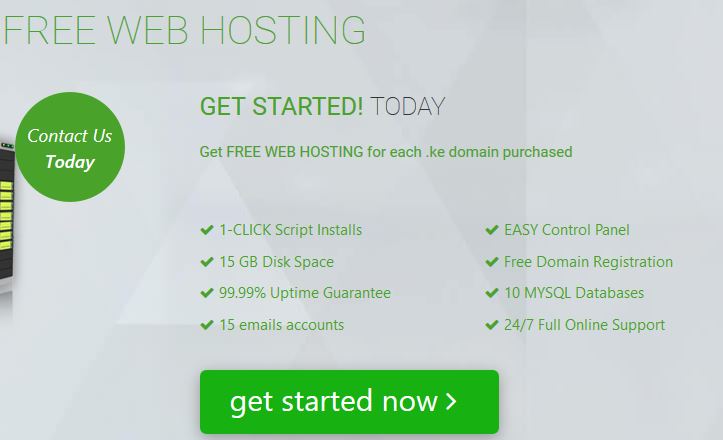 Among features provided for free include;
CLICK Script Installs
EASY Control Panel
15 GB Disk Space
Free Domain Registration
99.99% Uptime Guarantee
10 MYSQL Databases
15 emails accounts
24/7 Full Online Support
The problem with this kind of hosting is that if you don't buy a domain from them, you will have to buy hosting plan. The cheapest plan goes for Ksh 3,000 per year.
Bluehost Kenya is an established web hosting company that offers a wide range of hosting plans and services. This is a reliable company any serious company should seek services from. Among those plans offered by Bluehost is the free hosting plan, which is provided for one month.
The Free plan is known as Bronze and it carries the following features;
ksh00 / month
Single Domain
1 GB (Pure SSD) Disk Space
1 Bandwidth
1 Email's Accounts
1 Databases
1 Free FTP Accounts
One Click Installer
Free Yoast SEO Premium
cPanel On Lite Speed Server
Free Unlimited SSL Certificates
1 Subdomains
99.99% Service Uptime
24/7 Best Support
Bluehost Kenya has a parent company in the US which is a top hosting company, it ranks among top 3 best hosting companies in the world. You can check their plans here
After the free package expires, you can buy the Silver plan for Ksh 345 per month and continue enjoying Bluehost company services.
In Bluehost, your website is guaranteed of maximum security,99.99 uptime, fast loading speed, custom emails and CPanel among other features. I actually host some of my blogs at Bluehost and I like their services.
Those are some of the best web hosting companies in Kenya that offer free hosting services.
Before you decide to host your blog for free, check the review of that company. Some companies may sweet talk you to join them and once you are in they start frustrating you. Another important point is that you should know that free hosting plans have very limited resources. If you want your blog to grow fast and viral, it's good to go for a package that you pay for.
The free hosting plans are always exposed to security threats like viruses and malware attacks. It's like your website is placed under Demo environment.