Bluehost Latest News: Bluehost Launches Black Friday
Giant Web hosting company Bluehost has launched Black Friday. The promotion, which comes every year, was launched in the month of November 2019 where every hosting package will sell at a discount of up to 60%.
We expect Bluehost to make up to 10,000 sales during this promotion that will last for one month. According to the company, all starter plans will sale at $2.65 down from $7.99.The most popular plan, Choice Plus which Bluehost recommends is going for $4.35 down from $14.99.
The most amazing thing is the features that Bluehost provides during this period. For the Starter plan, you get 1 free domain for one year,50GB Storage capacity, Free SSL Certificate and 5 parked domains.
Beluehost also guarantee 99.99% uptime, which is the highest in the industry.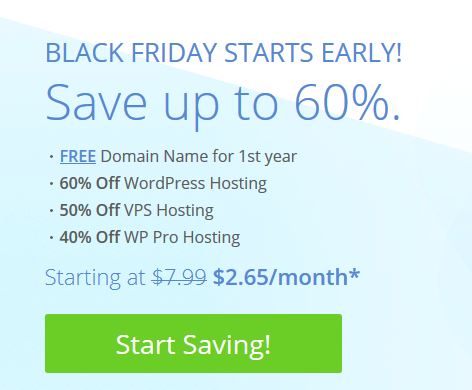 If you have issues with your current host, November 2019 is the best time to migrate to Bluehost.It's during the Black Friday that most people move to Bluehost because everything is discounted.
For more information about Bluehost plans,follow this link