Webhosting Voice is one of the newest blogs for the year 2019. Though we are less than 3 months old, our articles have started ranking on search engines. We have not yet achieved much in regards to income figures, but the foundation we have laid down is solid, thus capable of propelling the blog to significant online rankings.
Before we launched Webhosting Voice, we already had popular blogs like Venas News and Fixusjobs.Venas News has been in existence since 2013 while Fixusjobs was created in 2015, both sites are popular and actively generating content and enormous revenue figures. From the four blogs, we average a monthly income of $10,000 to $20,000.
Initially, our sole income was from AdSense but in 2017 we decided to drop AdSense for Sponsored content, Products review, direct banners and affiliate marketing. We saw our monthly income rise from a paltry $2000 to over $10,000. It's after we realized that there is a vacuum in webhosting niche that we launched this website (Webhosting Voice). Henceforth, we shall be focusing more on webhosting content, blogging tips, affiliate marketing, products review and direct marketing. We are certain that our content will draw more than 1 million visitors every month.
The consolidated income for the month of November 2019 was $12,000. Here is how we earned our money;
Affiliate marketing ($7,000)
Direct banners ($3,000)
Sponsored articles ($1,000)
Products Review ($1,000)
Over time, we have seen our traffic numbers for all the sites we own surge to over 10 million per month. What excites us more is the fact that income has also increased significantly. In January this year, we earned slightly over $9,000, now we average $12,000, which is an increase of over 20%.
In brief, here is own income for this year: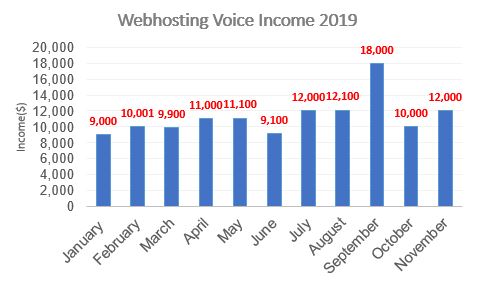 We also had expenses for the month of November 2019.We paid $400 hosting fee to Kinsta and $1,000 to our two staff members. We chose Kinsta because it uses Google Cloud infrastructure. Kinsta makes loading speed of a blog blazing fast, it's servers can also sustain any amount to traffic. With Kinsta, you are allowed to pay monthly or annually. You can check the company's plans here
If you are a newbie, keep checking on how we create content and the rate at which Webhosting Voice grows. We will not be promoting the site anywhere; we want it to grow by itself as other affiliated sites.
Our target for the year 2020 is to get more than 100,000 monthly visitors to Webhosting Voice.