There are several facts you may not be away of concerning Web Hosting services in Kenya. Every blogger or website owner should know these facts before they start paying for web hosting services.
Since I was one time a victim of hackers and poor services from local hosting companies, I learned the hard way which I don't want anybody to go through. One important thing you should know is that nobody will provide free webhosting services that are 100% efficient. In addition, all webhosting companies limit the amount of resources they offer to customers in a bid to maximize profits.
There is no way you can own a website without paying for web hosting services, unless you are hosted by Google.
Here are critical points to know about webhosting services in Kenya.
Best webhosting companies
Since nobody will guide you on where and how to choose the best webhosting company in Kenya, it's our responsibility to give out the names of the best companies for bloggers and company owners.
If you want to host with the best webhosting company in Kenya, here is a list of best web hosting companies to choose from:
Kenya Website Experts
Truehost
Safaricom
Sasahost
Movetech
Movehost
Bitsimba
Host Pinnacle
Different types of webhosting services in Kenya
There are 5 types of web hosting in Kenya: Shared Hosting, VIP, Dedicated, WordPress, Cloud Hosting. Shared hosting plans are the cheapest because one website shares resources with hundreds of other sites. Dedicated Server Hosting is the most expensive because all the resources are allocated to a single website.
For a new website, shared hosting plan is the best because of low resource requirements. For viral websites, VPS and Dedicated Server plans are the best.
The estimated cost of hosting for each type:
Shared Hosting—Ksh 500 to Ksh 5,000 per year
VPS Plan—Ksh 10,000 to Ksh 20,000 per year
Dedicated Server Plan—Ksh 5,000 to Ksh 30,000 per month
Price of domain registration in Kenya
Each of the companies mentioned above will register a domain name for you. The price of domain registration in Kenya range between Ksh 200 and Ksh2,000. The most popular domain is .co.ke which costs as little as Ksh 399.At Kenya Website Experts, .co.ke domain costs Ksh399 while .com domain costs Ksh 790
To register a domain name, you only need to provide your personal details. Payment is via MPESA.But first you should check whether the domain is available—each hosting company provides a search button for domains.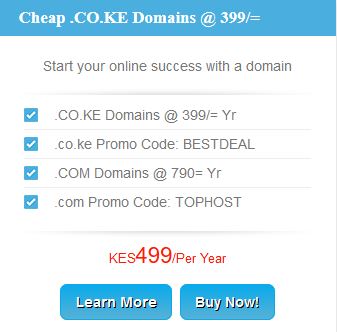 Money required to host a new website in Kenya
If you want to create a new website, you require average of Ksh10,000. Here is the breakdown of how to spend the money:
Domain registration—Ksh 500-Ksh1,000
Website hosting per year—Ksh 2,000
Website design –Ksh 7,000
For a new website, those are the three basic things you need.
Who will design a website for me (Best Web Design company)
If you want someone to design a website for you cheaply, contact 254722927138.They design a website at a cost of Ksh5,000 to Ksh15,000. Even if they charge you Ksh10,000 I am sure you will enjoy their services. They will also guide you on how to post on the website.
It's usually hard to start designing a website from scratch, even posting needs some training. You can spend up to Ksh15,000 for the design and training.
Minimum and maximum amount of money to spend on hosting in Kenya
The cost of hosting depends on the amount of resources a website consumes. For new websites, you can spend as little as Ksh 1,000 per year but for viral websites, even Ksh100,000 will be spent.
The more traffic a website receives, the more bandwidth and disk space it consumes. Below is a table showing the amount of money you will pay based on your website traffic.
1,000-10,000 visitors per month—Ksh 2,000 per year
10,000 to 100,000 visitors per month—Ksh10,000 per year
100,000 to 1 million visitors per month—Ksh 20,000 to Ksh 50,000 per year
Over 1 million visitors per month—Ksh 50,000 to Ksh 500,000 per year.
Traffic numbers from 1 million require a dedicated server which costs Ksh 10,000 to Ksh 30,000 per month.
Can I pay hosting services per month?
Yes. Most of the companies allow customers to pay hosting services per month but it depends on the package one buys. Since Dedicated Server is a bit expensive, you can be allowed to pay per month but for shared hosting services, majority of them do not allow monthly payment.
Where Top bloggers host their websites
Top bloggers don't host their websites in Kenya because most of the local companies are not reliable, they host with companies like Bluehost.The good thing about foreign companies is that the security of your website is guaranteed.
At first, bloggers host locally but after sometime, they migrate their websites to foreign companies. My advice is that you should host with foreign companies from the start because during migration, you will incur costs. Bluehost is the best web hosting company you can choose. Follow this link to register an domain and start hosting with Bluehost
Companies offering free webhosting services in Kenya
There are a couple of companies offering free webhosting services in Kenya but only for a limited time.
The list is as follows:
Bluehost Kenya
Web Hosting Kenya
Mambo
Oraweb Host
Host Pinnacle
Ehost Kenya
Though You will be provided with free hosting services, the resources allocated for your website will be limited, the time is also limited. Most of these companies offer free services for a month, others make sure you pay dearly after the free package expires.
Which is cheaper between Kenyan hosting companies and foreign companies
Kenyan hosting companies are cheaper than foreign companies but when it comes to viral websites, it's important that you choose foreign hosting companies like Kinsta.Local hosting companies are only good when the website is small but for one that receives over 300,000 views per month, foreign companies have enough resources for that. If you own a site that gets 300,000 to 3 million visitors per month, the only web hosting company that is perfect for you is Kinsta–I also host with them. You can check their plans through this link