Virtual Private Server (VPS) is a hosting that mimic shared servers using virtualization technological resources to keep a website live and running. Popularity of VPS hosting has grown tremendously over time due to its high security and performance reliability in comparison with shared hosting servers. In addition, VPS hosting is low cost compared to dedicated server hostings which tend to be costly over time. The low cost can be attributed to the fact that, VPS hosting uses a small part of the whole server. This type of hosting is suitable for medium level businesses and enterprises that receive less website traffic per a specified period of time. Since different business have different models in terms of products, services and marketing strategy, VPS offer customized hosting plans to meet the need of different enterprises. The flexibility of VPS hosting plans has attracted business since it simplifies enterprises scalability across all industries.
VPS Hosting Structure
Virtual private server stores and houses websites files, folders and databases in an organized manner for easier future reference and retrieval. Any time an individual browse through a website, a command is sent to a server requesting for certain information contained in specific files, which the gives responses using internet. VPS machines are shared among several users but it stimulates an entire server.
The hosting providers create virtual layers on the physical server using virtualization metrics. Virtualization allows each user to install and run their applications through main server partitioning. This aspect of virtualization makes VPS private and virtual and the demarcation between different users happens at the operating system level. This concept can also be explained as, the parting in personal computer when an individual want to run two operating systems such as windows and Kali Linux or Ubuntu without the need for system reboot or rooting. The partition provides secure disk space and memory resources. Thus VPS are more of dedicated server renting but at a significantly reduced cost of acquisition.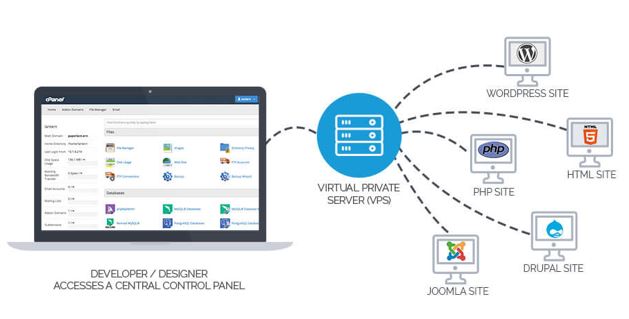 Figure 1. VPS Structure
VPS and Other Hosting Comparison
Due to changing in business operations and innovativeness, there's increased need in web hosting security, load time performance, reliability and cost reduction. This section compares VPS hosting to other popular hosting services such as dedicated hosting, shared hosting, WordPress hosting and cloud hosting.
Shared Hosting has gained popularity to small and medium size enterprises that receive low amount of traffic at any given time. Most bloggers and small retails business start with shared hosting to establish their online presence. Under shared hosting, the service provider splits the physical server into different sections that shared among different users. The sites for all the users run on the same operating system and no single user gets dedicated resources. This implies the memory and performance of one site is highly affected by the needs of other sites. Traffic movement and load time for all the websites within a shared hosting are strongly related due to the same identical software configuration for all the users. In case of any issue, it is the responsibility of the hosting provider to fix and ensure all the sites are optimal, hence the site owner doesn't have any control over shared hosting operations. Therefore, the main difference between VPS and Shared hosting is that, in shared hosting all the users are under one roof and no single user has the right to customize the space the way they want since one change in one site affects all the other sites. while VPS hosting, users are under one provider but each individual user can customize the server experience to meet the business needs.
Cloud Hosting utilizes a cluster of cloud servers instead of a single running server. Each cluster in the cloud is dedicated in storing up to date information about an individual website. The clusters are designed to balance traffic between sites by redirecting high traffic to low traffic sites hence minimizing downtimes. Since VPS and cloud hosting are not mutually exclusive, most service providers install VPS hosting on cloud setups. The combination between the two hosting creates a hybrid server that is reliable, efficient, secure and top performing.
WordPress Hosting is unique from all the other hosting since it is offered for sites built on WordPress only. Most of the features, plug-ins and auto installation pages are only compatible with WordPress websites only. Hosting providers use shared WordPress hosting since most servers are not configured to meet WordPress obvious needs. It is possible to host WordPress designed sites using VPS but that come with a challenge since customized WordPress configured servers does not exist.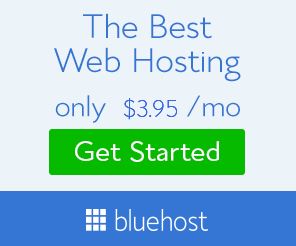 Dedicated hosting is the most reliable, secure and top performer since users rent out entire server space for their business. Established brand and organizations that receives huge amount of traffic on their websites prefer dedicated servers due to high load speed, flexibility and customizable features to meet business needs. Dedicated hosting services are not favorable for small business since they are costly. Unlike VPS hosting that only allows the user to configure software applications, dedicated hosting allowing system configuration of both hardware and software. The user has full control of the server set up.
Merits and Demerits of VPS Hosting
Before running VPS, every business should undertake a detailed analysis on its needs and keys importance feature offered by virtual private server and the downsides of working with VPS hosting.
Some of the pros of VPS hosting are; VPS hosting is more efficient, reliable and faster than other hosting options such as shared hosting. The serve experience nil or minimal downtimes due to reduced resources such as memory and processing power fluctuations. Since server's partitions are independent, downtimes or traffic issues from one site does not affect the performance of all the other sites. In addition to user access, the user gets full privacy since all files and folders are not accessible by other users within the same service. Lastly, VPS hosting is scalable as the website grows in terms of traffic and other aspects, it is possible to increase resources such as memory, bandwidth and disk space.
However, VPS hosting has some downsides also; first, the hosting server is costlier to run compared to shared hosting. This is because more technical knowledge is required in server management. If a user fails to follow configuration guidelines, the exposure to security threats is so high.
VPS Hosting Upgrade
Most business upgrade to VPS hosting after their shared hosting run out of resources and their website is growing. It makes business sense to upgrade to VPS hosting if and only if the advanced premium plan of shared server does not have enough resources to meet the business needs. At this level, VPS hosting, offer users with both the shared and dedicated resources hence balancing between performance and cost.
In some business, it would be perfect to stat with VPS servers from the inception of the business. These are mainly sites which involves online cash transaction such as ecommerce stores where security and performance are crucial elements in the success of the business. VPS hosting enables enterprises and ecommerce websites minimize the risk of identity theft and security breaches when accepting online payments.
VPS hosting are best for site that receive season traffic spikes such as gaming websites or ecommerce websites that are offering a certain discount or promotions. People like free stuff and any time there is an offer, websites expect to receive a lot of traffic, this would make sense to upgrade to VPS hosting.
Conclusion
The best success solution for any site that is growing at a fast rate would be VPS hosting. This is due to the fact that it realizes scalability and flexibility at a reduced cost. VPS hosting has been advancing in an innovative way in trying to solve business problems. One of the growth is in more advanced VPS server called managed VPS. Due to the downsides and cons associated with VPS hosting, the service providers have launched innovative products known as managed VPS. Managed VPS help to eliminate the problem of the user having to handle and manage the whole server experience by themselves. This is due to security threats associated with poorly configured or managed servers. Thus the managed VPS is an advanced VPS service package that comes with a fully functional technical team and features support. Managed VPS provides all round clock support in terms of system upgrade, monitoring, backup and caching.