Truehost offers free webhosting services for Nigerians. This is one of the few webhosting companies in Nigeria that provide free web hosting services for clients. The service is targeting startups and micro-businesses.
Most Nigerian students and bloggers who are registering new websites prefer the free hosting package as they plan to upgrade.
Features of the free hosting plan
100GB Bandwidth for Transfer data
500MB disk space for file systems, database records and emails.
1 Email account, package allow you to create one email account.
1 Database – package allow creation of one database for your website.
1 FTP account, for developers using FTP client to upload files, bronze package allows 1 FTP account.
1 Subdomain – Truehost Free hosting allow for one subdomain account
1 domain name – the account also allows for one domain name registration.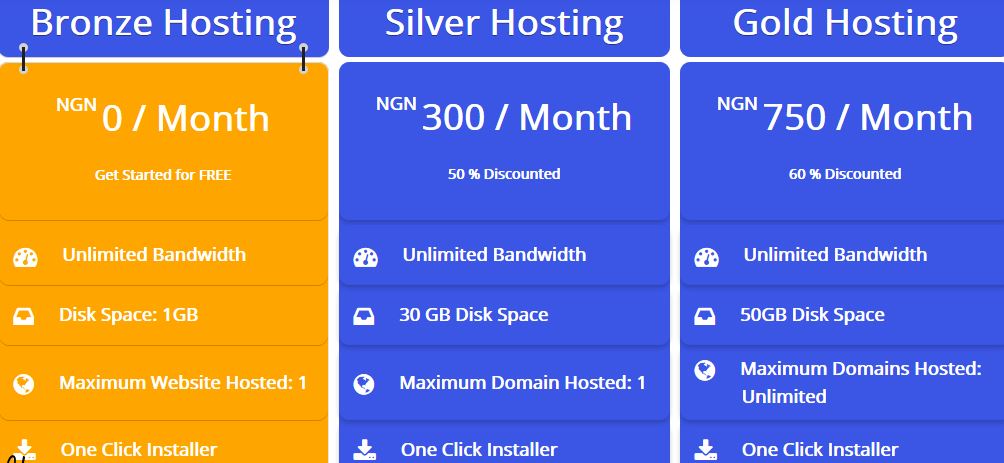 Advantages of free hosting services by Truehost
One advantage is that it gives you time to save money to pay for the premium hosting services. For one month, one is able and ready to pay for a more superior package.
Goodwill—clients will love to host their websites with Truehost for a long time because there is goodwill from the company. When you know that a company supported you from the time you joined them, you'll not leave them anytime soon.
Gives your blog time to grow—There is comfort when you know that the services you are provided with are free. During that period, your blog will grow exponentially because you don't have the headache of paying for hosting.
Easy to start a blog—Unlike other hosting companies where you must pay before being allowed to host, Truehost Nigeria makes it easy for anyone to start a blog because hosting is free for starters.
Disadvantage of free hosting at Truehost Nigeria
One disadvantage is that the resources are limited. If your blog grows to exceed the recourses it's allocated, Truehost will advise you to upgrade your plan to a premium one. The growth of a blog is thus limited based on resources allocated to it.
The plan with free hosting
To host with Truehost Nigeria, visit the company's website and choose Bronze hosting, then make an order. It will take less than an hour to create an account and migrate your website to Truehost Nigeria.
The free hosting service lasts for one month, thereafter, you can purchase the Silver Hosting plan that costs NGN 300 per month.