Truehost is one of few companies in South Africa with free webhosting Services. Reviews from various websites and clients indicate that the hosting company's services are excellent, this means that when your site is hosted by Truehost, you'll have nothing to worry about. Truehost servers are 99.9% up 24/7.What worries most people most is when servers' uptime is low, say below 99%.
First,let's see the features of this free hosting plan by Truehost:
Probably the Best Cloud Hosting in the World
1000 MB Bandwidth
1GB Disk Space
Maximum Domains Hosted: 1
400+ templates and CMS
Maximum Email Accounts: 1
Domain Registration Required
Free Lets Encrypt SSL Certificate
Uptime: 99.999%
The plan is available for all new clients who purchase a new domain. The 1000MB Bandwidth and 1GB disk space per month are enough to sustain traffic of up to 2,000 per month. The Bronze plan is purely for websites with low amount of traffic.
One of the most important product that is given for free is the SSL certificate. The certificate will protect your site from malware and viruses and also improve the ranking on search engines.
After one month is over, the free package expires. You will then be required to choose a more advanced premium plan. Cloud hosting is the best package to buy and it costs as little as $1 per month. The hosting packages under Cloud Hosting are for medium and small websites. If your site gets over 50,000 page views, you will be required to choose VPS hosting which costs upwards of $6.99 per month.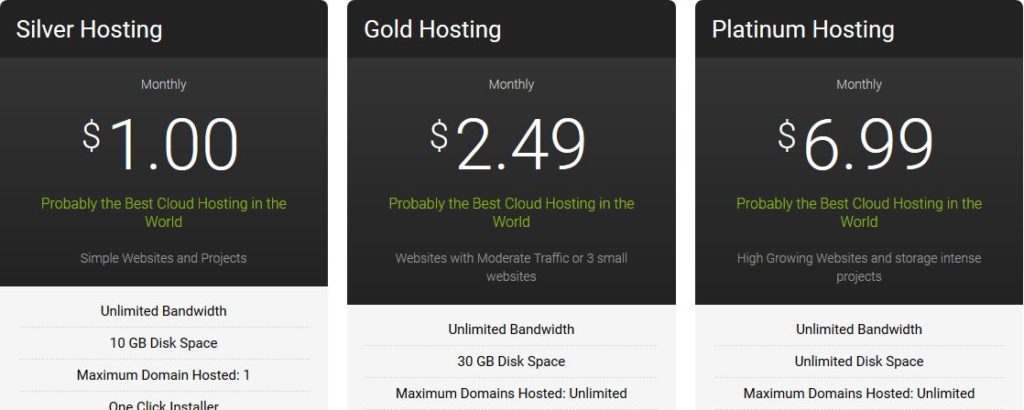 I strongly advise that you go straight to VPS hosting because their servers are more powerful and have more resources.
If you are about to register a domain name in South Africa, Truehost is the best company to approach for the same. Start with the free hosting plan for one month while your site gains traffic.