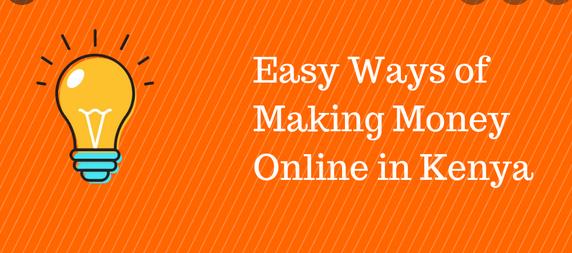 This year, 2022 many Kenyans are aiming at making money online, a number of them being jobless graduates. There are over 100 ways in which you can make genuine money online that will sustain you without a full time job. Some known individuals make up to Ksh 10 million per month from home by simply blogging or running successful YouTube channels.
If you are jobless, look for ways of making money through online platforms like Facebook, blogs or YouTube. You may not believe that eventually, your small online hustle will eventually become your main hustle.
Below are ways in which you can make money online in Kenya 2022:
Become a blogger
Run a YouTube channel
Affiliate marketing
Sell items on social media
Start an e-commerce website
Do academic writing jobs
Become a social media influencer
Buy and sell Bitcoins
Provide web hosting services
Entertain your fans on social media and get paid through MPESA
Do transcription and data entry jobs
Forex Trading
Buy and sell Bitcoins
Start a dating site
Do online marketing
Build and sell websites
Buy and sell domains
Blogging is a lucrative venture, it can make you a millionaire within a short time. There are no minimum requirements needed for one to become a blogger. What you need is a capital of Ksh 5,000 to Ksh10, 000.
Before you create a blog, first identify an area you want to focus on.If you choose a good niche, you'll grow quit fast. Then choose the name of a domain you wish to own. The best domain name is one that's easy to memorize and goes hand in hand with your content.
You should also know where to host your website and how much hosting will cost. I suggest Bluehost as your preferred hosting company because it's cheap and reliable.
On the website, select Domains and search for your preferred domain name, then proceed to register. During registration, you'll be required to buy hosting space. Basic package is the most ideal for your new blog.
After the blog is ready, start posting and apply to monetize with AdSense. Your blog must be at least 6 months old before applying to monetize with AdSense. Your articles should also be unique and original. AdSense also requires the site owner to be above 18 years of age.
More than 90% of Kenyan bloggers earn money through AdSense because it pays well and it's easy to earn from.
Another good way of earning money online in Kenya is by running a YouTube channel. This is particularly ideal for people who love taking videos.
In the modern world, Kenyans prefer watching videos to reading stories from blogs.I would advise anyone who wants to make money online to go for YouTube as opposed to blogging.
Creating a YouTube channel is free, but you need to have quality and entertaining content in order to attract enough subscribers and views.
YouTubers' main income comes from AdSense. YouTube Minimum Requirements are:
At least 1,000 subscribers
Your channel should be 12 months old
You should have original videos
Your channel must have at least 4,000 watch hours.
Ones you meet those requirements, apply to monetize your YouTube channel with AdSense
I am addicted to making money through affiliate marketing. I discovered this way is easier than blogging. But in affiliate marketing, I must sell an item to earn money. Affiliate marketing also requires a niche site. For instance, if you are promoting Jumia products, you should create a site that reviews smartphones, TV and other items being displayed on Jumia website.
You can also start selling football tips online. You start by offering free tips and when your audience gets used to them, introduce premium packages.
Sell items on social media
Nowadays I am seeing people selling Mitumba bales on social media, others sell clothes from Turkey and Eastleigh.There are a number of individuals selling smartphones and televisions.Facebook,Instagram,Telegram,WhatsApp and Twitter are among the platforms to use when selling your items online.
Start an e-commerce website.
When you own an e-commerce website, you can either display other people's products or your own products on the website. Companies like Jumia display other people's products on their website and get paid at the end of the month.
The cost of starting an e-commerce site can be as low as Ksh 10,000.
There was a time UK government was complaining that Kenyan graduates are making UK students lazy by doing all the assignments. Academic writing in Kenya is a serious industry which generates over Ksh2 billion per year. As a student or graduate, you should consider registering for a company offering academic writing jobs and get paid. They pay Ksh200 to Ksh 2,000 per page.
I think you've heard stories of how people mint millions from academic writing work. A certain guy who graduated from KU in 2019 now lives in Kileleshwa and makes over Ksh600, 000 every month.
Become a social media influencer
Create pages on social media, popularize them and wait for companies to advertise on them. Facebook, Twitter and Instagram are among the best platforms to join when you want to make good money online as an influencer.
Your target is to get as many followers as possible. Those with over 1 million followers benefit the most.
The business of trading in Bitcoins is also very profitable. There is one lady, a friend, who bought a bitcoin for Ksh10, 000 and after two years, she sold the same for Ksh 3 million. She had 50 Bitcoins—you can imagine how much money she made.
Provide Web hosting services
In Kenya, over 1,000 blogs are created every month. The available web hosting companies are not effective enough. I am a blogger and from my own experience, we need our own powerful hosting company which can take over from the current ones. The services we receive here in Kenya are not good.
Reseller hosting is the best for you especially if you don't have enough capital to register your own hosting company in Kenya.
Entertain people on Facebook and get paid
Comedians and DJs are some of the people who make a lot of money through Facebook. While entertaining their audience, they provide MPESA numbers/paybill or Till number which the audience will use to send money. Some DJs make up to Ksh50, 000 per day.
Do transcriptions and data Entry jobs online
Look for companies offering data entry and transcription jobs online and register, then start making money online. The jobs require good understanding of English, good typing skills and quick understanding of the language used to communicate.Trancription can pay more than Ksh50, 000 monthly.
A number of companies pay Kenyans to do online surveys. Register with them, participate in the surveys and get paid up to Ksh100, 000 per month.
Forex trading is not for the faint hearted—you have to be ready to lose and at the same time win. The more you participate in forex trading the more you gain experience and the more money you earn. Capital required range between Ksh 100,000 and Ksh500, 000.
Buy and sell domain names
Buy domain names and sell them later at a profit. You'll buy one for Ksh 500 and after one year, get someone to buy each at Ksh 10,000.Create a directory for your domain names and display them on your site.
Some bloggers prefer buying websites which are already getting traffic, because they know the pain of starting a website from scratch. The cost of creating a new website in Kenya ranges between Ksh 5,000 and Ksh20, 000, but the same website can be sold for more than ksh100, 000 within a year.
Nowadays people start dating online because of easy access to social media. If you want to make money, start a dating site and a Facebook page to direct traffic into it.Members will be paying annual fee in order to use your services. Your work is to provide a platform for members to interact and start relationships.
Job board is important for job seekers. Create a website which you'll use to advertise jobs for companies, promote your services like CV and cover letter writing. Every company advertising on your site pay premium fee. In Kenya, companies like BrighterMonday charge as high as Ksh4,000 per job advert.
Start an agency where other companies will advertise their products.Jiji and Cheki are some of the companies which do online marketing for other companies.