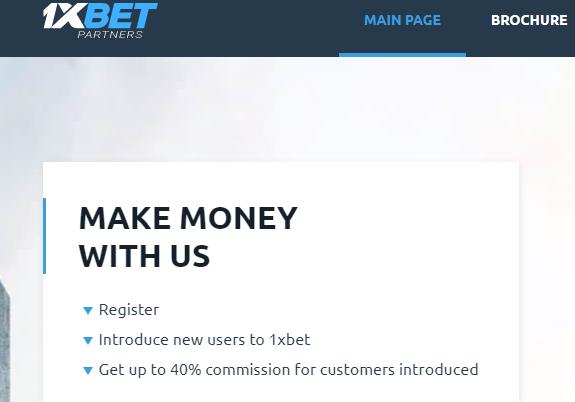 1XBET has one of the best affiliate programs among betting sites for punters. Reviews from various blogs place it at the top.
When you want to register for 1XBEt affiliate program, you simply follow this link and fill in the details required. The details required include:
Your website domain name
Personal information
After signing up, it will take up to one day to get approved. From there, you'll get access to 1XBET dashboard where you'll monitor statistics and performance of your players.
The commission percentage awarded to affiliates is 25% to 40%.However,the earnings are either negative or positive depending on player performance.
1XBET pays affiliates every week. The minimum payout is $30.
My experience has so far been excellent. I started promoting 1XBET in 2018 and so far I haven't witnessed any issue—they pay promptly and attend to affiliates whenever issues arise.
The income of an affiliate depends on the number of players you sign and the rate of winnings. There are months players win a lot, which affect your earnings. Other months, especially from October to March, you'll make huge profits because people have a lot of money to spend.
To get started with 1XBET affiliate program,click here and register for free
This affiliate program works best with sports and gambling niches. I would recommend that you create a site that offers free betting tips and insert the links in articles. Affiliate marketing works well when you use links as opposed to banners. One of the best places to get a new domain for your site is Bluehost.Follow this link and register a new site almost for free
What you'll love most about 1XBET is that you'll be earning money while asleep. Once you get enough players, you'll be earning even without working.