Shared Hosting is the cheapest package under Bluehost.If you have a new website that you wish to host for as little as $2.95, then select Shared Hosting plans from Bluehost.The prices vary depending on the type of plan you wish to subscribe to.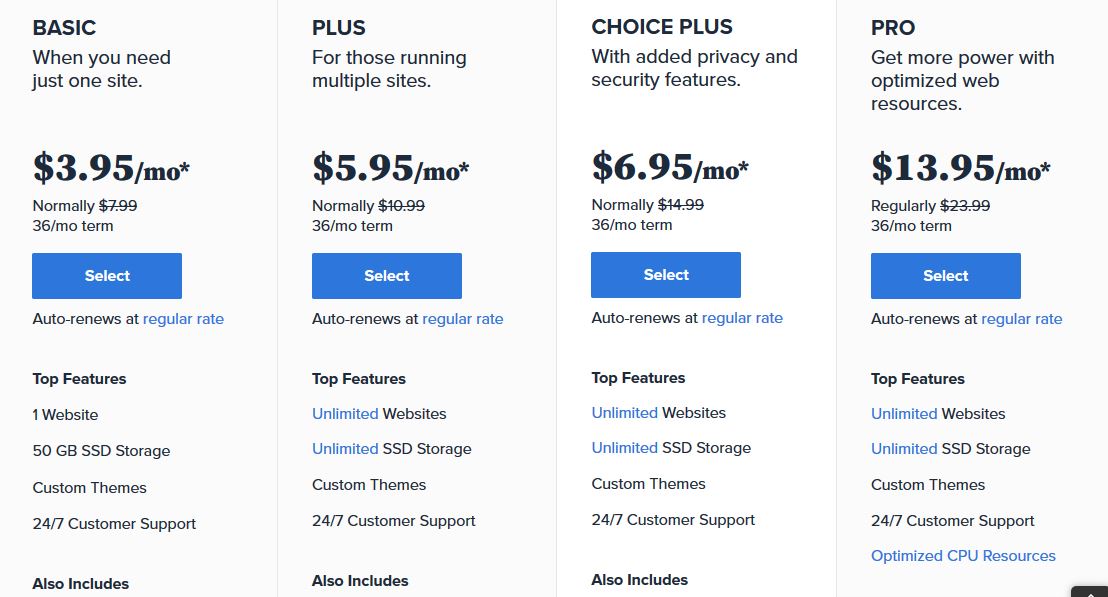 Some of the best features of shared hosting plans are:
Free SSL Certificate
24/7 Customer Support
Custom Themes
Free CDN
Unlimited hosting of websites.
To learn more about Shared Hosting plans under Bluehost,click on this link
Bluehost rarely change the price of hosting except during promotions when they review the prices downwards.
The table below shows prices, features and plans offered by Bluehost's Shared Hosting environment:
| | | | |
| --- | --- | --- | --- |
| BASIC | PLUS | CHOICE PLUS | PRO |
| $3.95/mo | $5.95/mo | $6.95/mo | $13.95/mo |
| 1 Website | Unlimited Websites | Unlimited Websites | Unlimited Websites |
| 50 GB SSD Storage | Unlimited SSD Storage | Unlimited SSD Storage | Unlimited SSD Storage |
| Custom Themes | Custom Themes | Custom Themes | Custom Themes |
| 24/7 Customer Support | 24/7 Customer Support | 24/7 Customer Support | 24/7 Customer Support |
| Also Includes | Also Includes | Also Includes | Optimized CPU Resources |
| Free Domain – 1 year | Free Domain – 1 year | Free Domain – 1 year | Also Includes |
| Free CDN Included | Free CDN Included | Free CDN Included | Free Domain – 1 year |
| Free SSL Certificate | Free SSL Certificate | Free SSL Certificate | Free CDN Included |
| SELECT PLAN | Free Office 365 – 30 days | Free Office 365 – 30 days | Free SSL Certificate |
| | SELECT PLAN | Free Domain Privacy | Free Office 365 – 30 days |
| | | Free Automated Backup | Free Domain Privacy |
| | | Unlimited Websites | Free Automated Backup |
| | | Unlimited SSD Storage | Free Dedicated IP |
| | | Custom Themes | Unlimited Websites |
| | | 24/7 Customer Support | Unlimited SSD Storage |
| | | SELECT PLAN | Custom Themes |
| | | | 24/7 Customer Support |
| | | | Optimized CPU Resources |
| | | | SELECT PLAN |
| | | | |
One advantage of choosing shared hosting is that it's economical.In the entire year, you'll spend less than $50 to host your website.You also have enough resources for your new website. To start hosting at Bluehost,click on this link