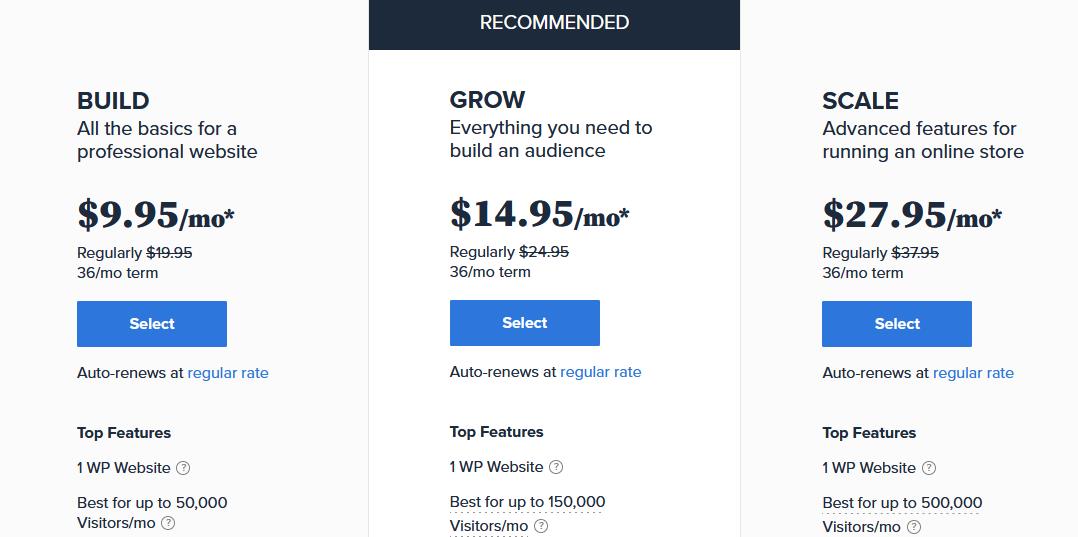 Bluehost is one of the best web hosting companies for bloggers and new websites in 2022.Over 2 million websites are hosted by the company, indicating that it's not only the best but also the most trusted hosting company. The hosting company offers these main features:
24/7 Customer Support
Free SSL Certificate
Free Domain
Unlimited Websites
Custom Themes
Free CDN Included
Free Domain Privacy
99.99% uptime
Prices of each plan vary depending on resources allocated to each website. Below is the summary of the prices and plans by Bluehost (2022)
Bluehost Shared Hosting Plans and Prices (2022)
Basic–$2.95/mo*
Plus– $5.45/mo*
Choice Plus— $5.45/mo*
Pro– $13.95/mo*
Basic plan is ideal for new websites/blogs. For blogs that receive over 100,000 visitors per month,Pro plan is the most ideal. To learn more about these plans,click here to visit Bluehost website
Bluehost VPS Hosting Plans and Prices (2022)
VPS plans are good for medium and high traffic websites. These are plans you select when Shared Hosting plans are unable to handle your traffic. Below are the plans and prices for the years 2022:
Standard— $19.99/mo*
Enhanced— $29.99/mo*
Ultimate— $59.99/mo*
To select one of these plans,visit Bluehost here and learn more about the plans
Bluehost Dedicated Server Hosting Plans and Prices(2022)
Standard— $79.99/mo*
Enhanced— $99.99/mo*
Premium— $119.99/mo*
Dedicated Server hosting is very popular and suitable for high traffic websites. This type of hosting was created because VPS and shared Hosting resources couldn't sustain traffic from some of the busy blogs. For just $79.99, you'll host a blog with over 1 million page views per month at Bluehost. If you wish to shift to Bluehost and you believe only Dedicated Server hosting will accommodate your blog, do so today and you won't regret.To get started,click here and visit Bluehost website
Managed WordPress Hosting plans and prices(2022)
Managed WordPress Hosting is very popular too. The good thing about this type of hosting is that the technical aspect of your blog is handled by Bluehost staff.
Here are the plans and prices for this type of hosting:
Build— $9.95/mo*
Grow— $14.95/mo*
Scale— $27.95/mo*
If you have a WordPress blog,I would highly recommend that you host it with Managed WordPress plans to avoid technical issues.You can start hosting at Build plan then upgrade later.To know more about the plans,visit Bluehost website here