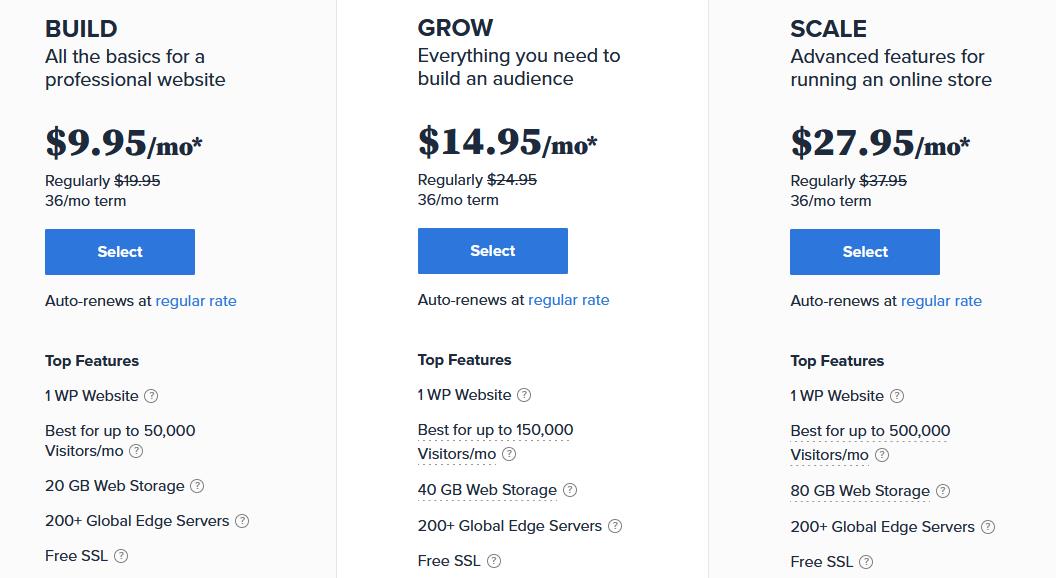 Searching for an effective hosting company for your services is not a walk in the park. With many providers in the market, partnering with a credible company can be hectic. However, knowing what to look out for will simplify your search. This review explains Top 10 best Managed WordPress Hosting companies worldwide you should consider. Read along for more information.
Kinsta has been aiming to become the hosting leading supplier for WordPress customers who are willing to look beyond marketing efforts and low costs to discover a fast and secure solution for their website since their inception in 2013.
That isn't to argue that Kinsta's $30-per-month entry-level plan isn't advantageous compared to other premium managed WordPress hosts; it simply means that this isn't economical hosting.
WordPress hosting is what you'll get for your money. This implies that Kinsta will not only handle some parts of operating a WordPress website for you, but they will also host your site in a WordPress-friendly environment.
If the prospect of faster loading times, lesser website management jobs to worry about, and less downtime to be concerned about appeals to you, Kinsta could be the web host for you.
The Starter and Pro plans and four Business and two Enterprise options are available from Kinsta. Here are some crucial details about them:
Starter: $30 per month covers one WordPress installation, 25,000 visits, and 10 GB of storage.
Pro: $60 per month includes two WordPress installations, 50,000 hits, and 20 GB of storage.
Businesses plans, beginning at $100 per month for three WordPress installations, 100,000 visits, and 30 GB of disk space.
Enterprise options start at $600 per month for 60 WordPress installations, one million visits, and 100 GB of storage space.
Pros
A faster page loading that guarantees higher conversions, decreased bounce rates, and longer average visitor duration.
Compatible with google cloud server hosting, unlike its competitors.
Guaranteed uptime
Kinsta offers a broad spectrum of features that offer an optimized environment, allowing you to improve your website with minimal technical issues.
Available technical support around-the-clock
Kinsta offers peace-of-mind and is ideal for traffic spikes
To learn more about Kinsta,click on this link and visit their website
It's simple to see why Flywheel is one of the most prominent WordPress-managed hosting companies today. They provide a great collection of capabilities for average WordPress users and agencies, but are they the right fit for your specific requirements?
Flywheel is known for its broad range of tools for entrepreneurs, designers, programmers, and agencies, in addition to its WordPress managed hosting services. You should genuinely consider them if you're seeking a web host that can help you improve your web design or design firm.
Both entrepreneurs and freelancers can benefit from Flywheel's plans (with an emphasis on agencies). They have a broad array of services, but we'll focus on their Pay-per-Site plans for this analysis:
TINY ($15 per month): This plan is ideal for portfolio websites and accommodates up to 5,000 monthly visits.
STARTER ($30 per month): Suitable for freelancing, tiny sites, and blog sites, this program enables up to 25,000 monthly visits.
FREELANCE ($115 per month): The FREELANCE plan is ideal for medium service sites or online retailers, as it allows for up to 1,00,000 monthly visits. You can use it to make ten different websites.
The AGENCY tier ($290 per month) can maintain up to 5,00,000 monthly visits. It's a solid choice for well-known blogs and well-established eCommerce businesses. You'll be able to create over 30 websites with it.
The first two options we discussed above only allow one WordPress site to be hosted. They are not overly expensive in terms of WordPress hosting, and in exchange for that, they provide excellent service with less need for micromanagement. Flywheel is a superb option if you want your site to perform smoothly at all times and can afford the service.
Pros
Flywheel gives you access to several high-end capabilities that make creating, developing, and maintaining your websites easier than ever before.
You have a variety of server setups and customizations to select from.
Flywheel lets manage numerous websites at once on the same account
▪ Automatic backups
Cons
Flywheel does not offer email hosting, which some may find ludicrous. However, it offers its own set of advantages.
Flywheel does not sell domains
To get more information about Flywheel,click here to visit the company's website
Since its inception in 2003, Bluehost has hosted over 2 million websites. When you join up for web hosting with Bluehost, you have the option of choosing a one-year or three-year commitment for lower pricing.
The basic Bluehost plan includes one website, 50 GB of SSD storage, and a one-year free domain. The next level up, priced at $5.45 per month for three years, includes unlimited storage and websites, a one-year free domain, and a one-month Office 365 trial. Bluehost's Pro plan costs $13.95 per month for a three-year contract. It further includes free domain privacy (meaning Bluehost will conceal your identity and address linked to your domain) and a unique IP address, in addition to everything else you get with the other plans.
To accommodate a variety of demands as your website expands, Bluehost currently offers dedicated hosting, virtual private server (VPS) hosting, and WordPress hosting.
Pros
Easy customization of themes and plugins
Its stability is dependable
Better security with features such as SiteLock, SpamExperts, CodeGuard Basic
Better open source development and implementation
Ease of use
Faster response
Fast site load and server response time
Cons
Bluehost only maintains one data center
No uptime guarantees
Bluehost is recommended by WordPress as the best hosting company for small,medium and high traffic websites.If you want to host cheaply,follow this link and visit their website
A competent and dependable host will keep both of your feet firmly planted on the ground. It's no surprise, then, that SiteGround is a popular web hosting service. It's known for its lightning-fast performance, rock-solid dependability, excellent customer service, and a robust set of features. Around two million domain owners trust it, and WordPress itself recommends it as a hosting provider. It also works nicely with Drupal, Joomla, Magento, PrestaShop, WooCommerce, and Weebly, among other platforms.
The StartUp package is ideal for those wishing to build their first website. It is limited to 10,000 monthly visits and covers only one website. It's on sale for $6.99 per month (down from $14.99) for a limited time.
For your web growth, there's a GrowBig plan. It includes an unlimited number of websites with a 25,000-visit cap monthly. You get premium features, too, in addition to the essential elements. GrowBig starts at $9.99 per month (from its original price of $24.99).
Finally, there's GoGeek, the ideal plan for true online nerds. You can receive numerous websites, 100,000 monthly views, and all the other things you need to fulfill your inner web geek. The special price is $14.99 per month (instead of $39.99 per year).
Hostinger began as a free web hosting service in 2007. It has since grown to become one of the best shared and cloud hosting providers available. They offer their services at extremely low pricing. Hostinger is an excellent option to consider if you're constructing a site and need web hosting to get things started or want to upgrade from a subpar provider.
Shared hosting options start at $1.39 per month for a single site, going up to $2.59 per month for multiple or greater resources. Correspondingly, WordPress and VPS hosting starting at $1.99 and $3.95 per month
.
Premium ($2.59/mo) is an alternative for small company websites or blogs. It includes 100 websites and email accounts, 100GB of SSD storage, and connectivity for 25k monthly visits.
Modest eCommerce companies and high-traffic blogs will benefit from the Business ($3.99/mo) plan, which provides superior performance and security. It includes 200GB of SSD storage, 100k monthly capacity, free daily backups, and a CDN.
WP Engine makes a lot of bold claims. The company isn't hesitant about proclaiming that it has mastered WordPress hosting. Alternatively, it can assist in bringing your idea to life via a distinctive user experience.
Startup ($22.59/month) is the plan for small enterprises, blogs, and web pages. It has a storage capacity of 10GB and a data transfer rate of 50GB. It supports up to 25,000 visits per month and can be connected to one site.
Professional ($44.25/month) has all the tools you'll need to expand your business. The package includes 15GB of storage and 200GB of connectivity for up to three sites with 75,000 monthly views.
Small businesses and freelancers will benefit from Growth ($86.25/month). The package includes 20 GB of storage and 200 GB of bandwidth, accommodates up to 100,000 monthly visits, and handles up to 10 websites.
Scale ($217.50/mo) is the best option for agencies and developers. It comes with 50GB storage and 500GB of bandwidth for up to 30 websites and 400,000 visits/mo. WP Engine's Custom plan is for you if you require more features than the initial plans can provide. This service is for major businesses and mission-critical sites, as per the host.
One thing that distinguishes DreamHost from other hosting companies is that it provides the most affordable month-to-month hosting plans. For a fraction of the price of others, you may receive hosting with no obligations. We converse about half as much as the others.
A VPS (virtual private server) is best described as a shared hosting server divided into smaller servers, providing you greater flexibility to meet your demands. If you choose the VPS hosting plan, your website will be housed independently from other DreamHost users.
For annual payment, VPS Basic costs $13.75 per month, while VPS Enterprise costs $110. VPS Basic costs $15 per month, and VPS Enterprise costs $120 per month for a monthly subscription. 4GB of RAM and 1TB of storage are included in the Standard package. This package costs $149 per month if paid annually and $169 per month if paid monthly.
16 GB of RAM and 2 TB of storage are included in the Enhanced plan. This plan costs $279 per month charged annually or $299 billed monthly.
InMotion Hosting is a competent service provider with a 20-year track record. It is, however, not one of the hosts who is frequently advertised on YouTube or other advertising platforms. However, this does not imply that it is no longer in service.
With several VPS and dedicated hosting options, InMotion Hosting has always been more of a business solution. It wasn't inexpensive, but it was popular because of its dependability. Its self-worth and self-data centers drive this provider's demand.
The cheapest shared hosting plan from InMotion Hosting starts at $2.49 per month. WordPress plans start at $4.99 per month, with more complex choices such as VPS ($17.99 per month), reseller hosting ($15.39 per month), and dedicated servers ($99.99 per month). Indeed not the lowest choice available, but neither is it outrageously priced.
InMotion Hosting prices appear to be on pace with, if not somewhat higher than, comparable providers. Shared hosting is inexpensive, but VPS and dedicated hosting solutions are relative to industry-standard prices.
As a businessperson, even a simple issue with your website may become a significant source of worry. When you use A2 Hosting, you'll have accessibility to 24/7 customer assistance and a vast knowledge base as a reference to address issues that come as you're setting up or developing your site.
A2 Hosting is also notable for its speed. According to A2 Hosting, their Turbo Boost and Turbo Max plans offer 20 times faster than their base service. These plans have a higher price tag: Turbo Boost, for example, is $15.99 per month, but if you commit to three years, the price decreases to $5.99.
A2 Hosting also delivers shared and customized WordPress hosting, VPS hosting, reseller hosting, and dedicated hosting in addition to its standard shared hosting services. E-commerce hosting is also available from A2 Hosting, which is necessary if you plan to sell things on your website. They work with various e-commerce software and services, making it simple to create an online store.
A2 Hosting is fit for small,medium and high traffic websites.You can host your site here for as little as $1.99 per month.To get started,follow this link
HostGator is a well-known web hosting service. HostGator's popularity stems partly from its low costs, everyone likes a good deal, and HostGator delivers with some of the most affordable cloud hosting available.
HostGator offers month-to-month shared web hosting plans but pushes hard for you to sign up for longer terms, starting at six months. During the signup process, HostGator defaults to three years. It's one thing to encourage users to skip month-to-month service, but pushing them into three years from the start is a bit much.
HostGator provides shared hosting solutions based on Linux or Windows, allowing small and medium-sized organizations to expand. The Hatchling plan starts at $10.95 per month on an annual basis or $3.95 per month with a yearly plan. It allows unlimited disk space, monthly data transfers, databases, email addresses, and backing for one domain and third-party applications like content management systems and e-commerce platforms.
The top-tier Business plan (beginning at $16.95 per month, or $7.95 per month if you sign up for an annual program) offers particular features, including a toll-free number for your company and a private SSL (secure socket layer) certification.
Conclusion
When searching for an ideal managed WordPress hosting provider, you must consider multiple variables, including speed and cost. With the right choice, you will notice your volume of sales increasing and faster responses in times of distress. Refer to the above companies to discover a top-tier provider.