The cost of a domain in Kenya range between Ksh 800 and Ksh 2000 per year depending on which type of domain you wish to buy. Some web hosting companies give free domain name as long as one buys hosting space from them. The cost of a new domain is usually different from the old one. You can buy a domain name for 1 year, 2 years, 3 years and so on depending on how long you project your business will last.
We are going to select the best companies to buy the domain names from and how much the cost. We will particularly pick the most common domain extensions.
Kenya Website experts
They sell .co.ke domains for Ksh 999 and renewal yearly is Ksh 1,580.The grace period given after the domain expires is 90 days. To buy your domain,follow this link
The cost of .com domain extension at Kenya Website Experts is Ksh 1299 and yearly renewal is Ksh 1399.The renewal grace period is 30 days.
To buy .org the cost is Ksh 1599 while renewal cost is Ksh 1999.You are given a grace period of 30 days.
.or.ke domains cost Ksh 499 and renewal cost is Ksh 1580
Buying .net domain name will cost you Ksh 1939 and renewal cost is Ksh 2419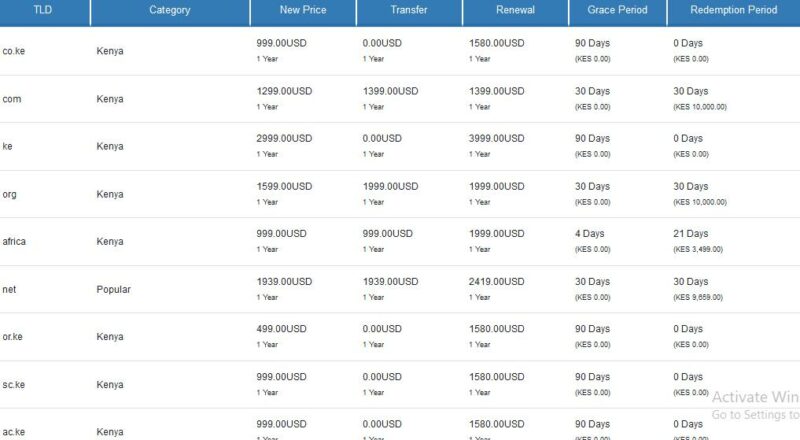 Hostpinnacle
The second best company to buy your domain from is Hostpinnacle. They sell .co.ke domain for Ksh 999 per year.The .com domain costs Ksh 1199 per year, while .africa domain costs Ksh 700 per year. To buy .xyz domain, you will part with Ksh 350 per year.An finally .org domain costs Ksh 1500 per year.
Hostpinnacle provides cheap web hosting packages in addition to domain names. To get your own domain,follow this link 

Safaricom
Safaricom offers the cheapest web hosting services in Kenya,they also sell domains. The  .com domain costs Ksh 999 with renewal cost remaining at Ksh999.The cost for .co.ke,.info ,.org and other domain extensions is Ksh 999 as well.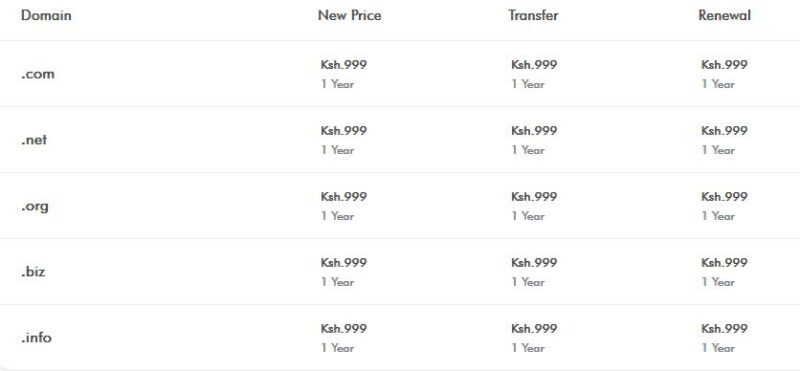 Sasa Host
Sasa Host is slightly cheaper than Safaricom.They sell .co.ke at Ksh 850 per year. Their renewal fee is Ksh 1,200 per year.Sasa Host sells .com domains for Ksh 1,500 while renewal cost is Ksh 1,500.To buy .org domain,you pay Ksh 1,600 per year and also the same amount during renewal.
The .net domains cost Ksh 1,800 and renewal Ksh 1,800 per year.
Those are the best web hosting companies in Kenya where to buy domains from.