Every year new web hosting companies are registered in Uganda. From our end we adjust the list to include the new companies. Web hosting are like vehicles for websites and blogs, without them, the websites won't be seen online. Here is the list of existing web hosting providers in Uganda:
Webstar Uganda
Webstar offers web hosting services for small, medium and high traffic websites in Uganda.There are thousands of websites for local companies hosted by this provider.
The company has dedicated server hosting for viral websites. In case your blog gets over 1 million visits per month, don't worry, Webstar is ready to handle the traffic.
Their charges are from UGX 50,000 per year.
Website link: https://webstar.ug/

Jubilee Web Host
Jubilee Web Host is so far the best web hosting provider in Uganda. It offers different types of hosting. The company also provides web design and domain registration services.
They offer free domain registration and transfer, free migration and free SSDs.Their money back guarantee is 45 days, meaning that you will use the services for 45 days and if you are not satisfied, apply for a refund.
Apart from hosting your site at Jubilee We Host, you can also make money by marketing their product through the affiliate program.
The company's hosting services cost as little as UGX 4,864 per month.
Website link: https://www.jubileewebhost.com/
Crystal Web Hosting
Another good web hosting provider is Crystal Web Hosting. Most people prefer either Crystal or Jubilee because they have a long history of providing quality services
Their hosting prices start from UGC 50,000 per year.
The company also provides domain registration services and SSL certificate
You can host a site with even 5 million monthly page views.
Website link: https://crystalwebhosting.com/

Webhosting256
Webhosting256 is one of the fastest growing web hosting companies in Uganda. Their hosting charges are from UGX 70,000 per year.
They give 30-day money back guarantee,24/7 expert support and free SSL certificate.
You can also get web design services and domain registration.
Website link: https://webhosting256.com/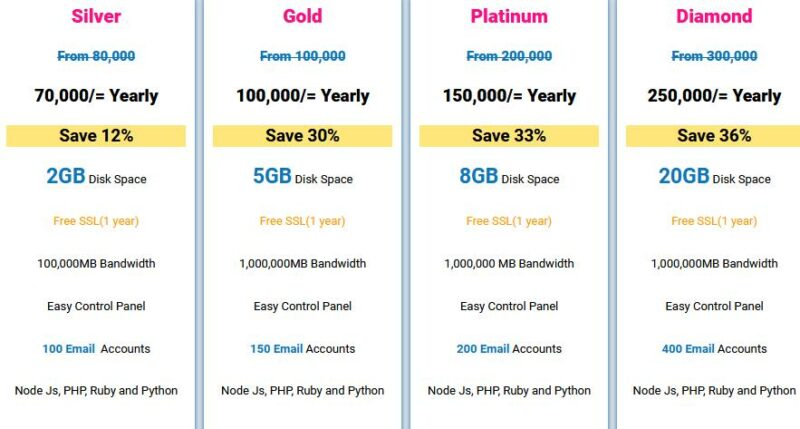 Webhosting UG
Webhosting UG will charge you from UGX 149,000 per year. They offer web design services, SSL certificate and enough resources for your website.
Website link: https://webhosting.ug/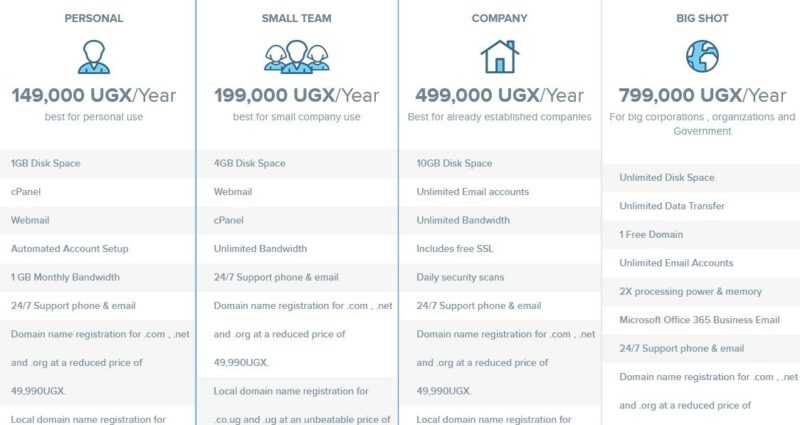 Sasa Host
Sasa Host is one of the cheapest web hosting providers in Uganda yet it offers the best services.All the services and features you need in a web hosting provider are found in Sasa Host.
Their hosting costs from UGX40,000 per year.
Some of the key features include:
Latest cPanel/WHM
Unlimited Email Accounts
Unlimited MySQL Databases
Unlimited Sub Domains
DDOS Protection
Premium SMTP Relay
Spam & Virus Protection
Free Let's Encrypt SSL/TLS Certificates. Automatic SSL renewals
PHP 5.5 (Hardened), 5.6, 7.0, 7.1, 7.2, 7.3
Free SEO & Marketing Tools
Free Drag & Drop Website Builder
There are different types of hosting, from shared hosting to Dedicated Server Hosting.
Website link: https://www.sasahost.co.ug/
Afriregister Uganda
The cost of hosting a website at Afriregister is UGX 57,600 to UGX 2,016,000 per year.It's among the best hosting providers in Uganda.
Website link: https://afriregister.co.ug/

Legacy Web Hosting
Legacy Web Hosting offers basic web hosting, managed web hosting and reseller hosting. The plans cost as low as UGX 50,000 per year.
It's ideal provider for websites getting up to 1 million visitors per month.
Website link: https://legacywebhosting.com/web-hosting.php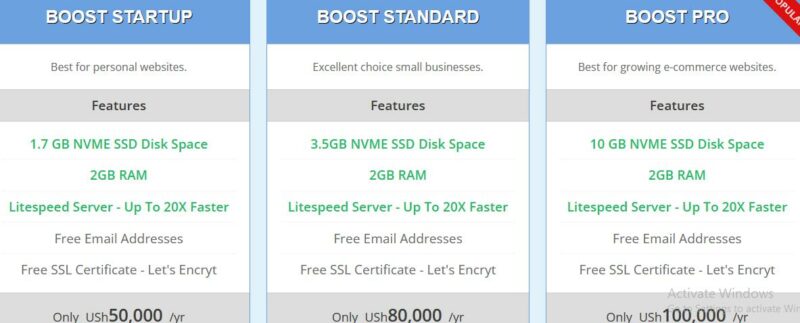 Host Giant
Host Giant provides cloud hosting, VPS and Dedicated Server hosting. It's suitable for blogs receiving traffic of 100,00 to 3 million views monthly.
Their prices start from UGX 100,000 per year
Website link: https://hostgiant.ug/cloud-web-hosting/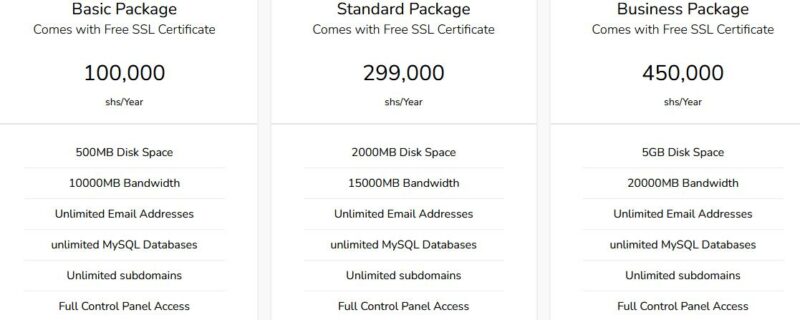 Praise Web Solutions
If you need web hosting services, web design and domain registration services, go to Praise Web Hosting. You will be charged UGX 5,500 to UGX 17,000 per month.
Features of the hosting
Latest CPanel
Unlimited Bandwidth
Unlimited FTP & Email
Free SSL Certificate
9% Network uptime
PHP, MySQL, WordPress, Joomla
Sub Domains
Website link: http://praisewebsolutions.com/web-hosting-in-uganda
Trophy Developers
The cost of hosting range between UGX 25,000 and UGX 59,000 per month.
Website link: https://www.trophydevelopers.com/best-uganda-website-hosting/