The growth curve of an ideal graph is not straight but somehow progressive. If you are starting a new blog, there are fundamental stages it must follow. The traffic numbers to your blog will form a curve that will have the following phases: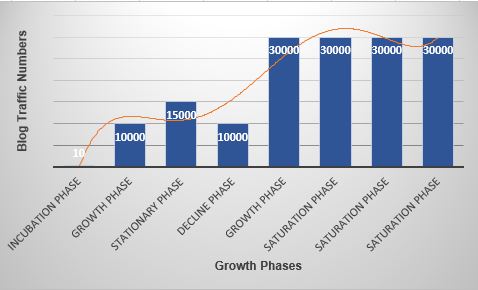 Incubation phase
Growth phase
Stationary phase
Decline phase
Growth phase
Saturation phase
Incubation phase
The incubation phase is a must for every new blog. Once you register a blog, no matter how experienced you are, you have to wait for 3-6 months for it to start attracting significant number of readers. Google and search engines in general will not start giving your site reasonable traffic numbers until they prove that it's not a spam site. It normally takes 3-6 months for any new site to attract substantial number of readers. This stage is commonly referred to as incubation period which is mandatory for any new blog.
If you have just registered a blog, it's good to know that it takes up to 6 months to start realizing encouraging readership— do not panic when you don't see visitors to your site.
Slow and normal growth phases come after the end of incubation period, this happens after 3-6 months. During this phase, the curve might show sharp growth if the articles are displayed on page one of Google. Most bloggers see exponential growth between 6 months and 1 year. This is the time those who employ useful SEO tricks that help boost the ranking of their blogs, benefit immensely from organic traffic. Some of the SEO tools used in this stage include SEMrush. This tool will show how each article performs and ranks on search engines.
The third phase is stationary stage. At this stage, a blog has reached a point where it faces stiff competition from other blogs.no matter how many more articles you add to your blog, the growth will either be slow or stationary. Using logic, you'll notice that a steep curve is witnessed when the number of visits rise from 1-10,000 than when it grows from 10,000 to 12,000. The initial phase experienced steep growth because initially the search engines were not the site enough traffic but after the end of incubation period, the site received significant number of readers, thus pushing the numbers to the roof.
The stationary phase will last for 3 months to one year until you add hundreds of viral articles.
After stationary phase, the blog traffic will either decline or grow but majority of blogs experience a decline. If the blogger does not implement some of the SEO tricks which are employed by other bloggers, then the curve faces downwards at alarming rate.
Some of the reasons why this phase occurs for every blog include:
It's at this stage that most bloggers give up.
Making necessary changes, the blog will start becoming popular. The growth curve may be long term or short term depending on the number of articles generated.
Saturation phase is the last one in the growth cycle of a blog. This is the last stage of the growth curve of an ideal blog. At this stage you have created enough articles that even if you stop posting for a while, the decline in traffic numbers won't be significant.
Nearly 99% of blogs which were created 5 to 10 years ago have reached this stage, they are at a point where they can't die or grow exponentially.