List of Bulk SMS Companies in Kenya
Bulk SMS companies are registered by the Communication Authority of Kenya.Currently,there are over 30 bulk SMS firms established in the country.The services of bulk SMS companies are needed in almost every sector. One thing that telecommunication companies discourage is for Kenyans to send several messages at ones without using bulk sms platform—I tried this at one time and my number was blocked.
When you have bulk SMSs you want to send to clients,it's advisable that you employ the services of bulk SMS providers. Here is a list of registered bulk SMS service providers in Kenya.
Website link: https://oramobile.co.ke/
Contact
+254 729 990 583 / 0745564272 | Email: info@oramobile.co.ke
Movetech Solutions Limited
Website link: https://movetech.co.ke
Movetech Shared bulk SMS pricing
Dedicated shortcode – set up price is zero and monthly maintenance price is Ksh 17,000 and free setup for shortcode providers in Kenya
Shared shortcode price- Ksh 3700 set up fee and Ksh 5,000 monthly maintenance fee per month
Contacts
0742 06 33 55
+254 733 174 743, +254 721 722 333
Website link: https://www.movesms.co.ke/
Website link: https://www.bulksms.com
Bulksms pricing
Airtel—Ksh2.00 per SMS
Safaricom(GSM)—Ksh1.5 per SMS
Telkom(Orange)—Ksh1.00 per SMS
The more the SMS you buy, the cheaper the service.
Website link: https://celcomafrica.com/
The cost of units depends on the amount you order with prices ranging from KSH. 0.4 to 0.8 per SMS. What's more, you can brand/personalize your text messages as per individual recipient.
Website link: https://www.dellcotech.co.ke
Website link: https://www.uwaziimobile.com/
Website link: https://sunafricgroup.co.ke
Website link: https://www.vaspro.co/
Website Link: https://africastalking.com
Africa's Talking is the best Bulk SMS service provide in Kenya, it's also among the cheapest Bulk SMS companies in East Africa. Sending Safaricom SMSs cost as little as Ksh0.4 per SMS.
The pricing is as shown below:

Website link: https://stratechsms.co.ke/
Contacts
StratechSMS
Vision Plaza,
1st Floor, Suite 041,
Mombasa Rd, Nairobi, Kenya.
Telephone Contacts:
+254 721 351 269
+254 707 559 080
Email Address:
info@stratechsms.co.ke
Website link: https://www.bettersms.net/
Website link: https://orawebhost.com
Website link: https://www.questdesigners.com
Website link: www.msgclub.ne
Website link: https://www.oracom.co.ke
Website link: http://www.sbvkenya.org/
AtomPark Software
Website link: https://www.massmailsoftware.com
Website link: https://www.nanodigital.co.ke
At Nano the more SMS you buy the better.If you buy 10,000 SMS and below the cost is Ksh 1.00 per message,10,000-100,000 SMS cost Ksh 0.8 per SMS while 100,000 to 1 million SMS cost Ksh 0.6 per SMS.If you buy 1 million to 5 million SMS the company will charge you Ksh 0.4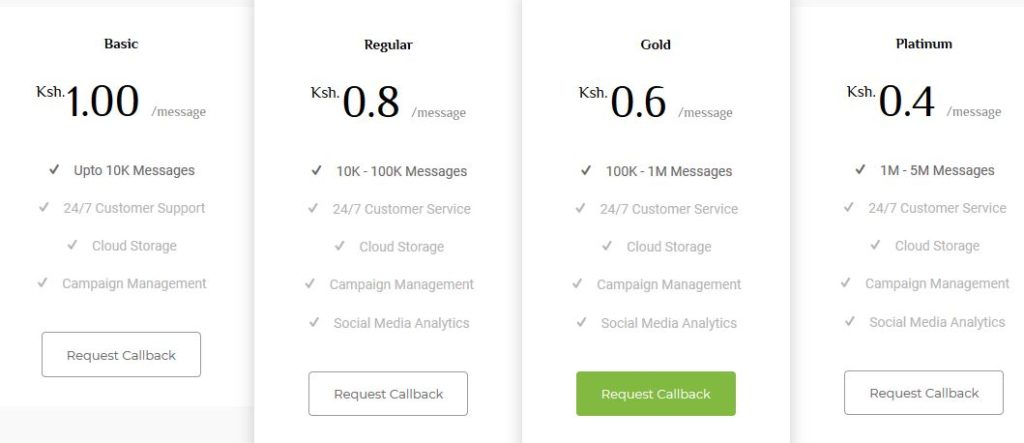 Website link: http://www.smscluster.com
Website link: https://bitsimba.com
Website link: https://www.mspace.co.ke
Website link: http://www.quantumkenya.com/
Mobitech Technologies Ltd
Website link: https://mobitechtechnologies.com
Website link: https://www.jofltd.com
Website link: https://www.urbanit.co.ke
Website link: http://www.airtouchkenya.co.ke
Website link: https://mteja.io