Over 200 web hosting companies are registered in Pakistan. The most popular plans are those in shared hosting environment because they are cheap and reliable; VPS and Dedicated Server are also popular but among clients with high traffic sites.
Hosting for one month costs as little as $5 but it can go up to $1000 especially for viral websites. The cost depends on the age of a website and the amount of resources they utilize.
Below we list the web hosting companies available in Pakistan:
BuzzHost
Website Link: https://buzzhost.pk
Buzzhost is one of the best web hosting companies known for affordable web, domain, and server hosting services. They offer a wide range of web hosting plans such as; shared hosting, windows, unlimited, reseller, WordPress, Manage VPS, and dedicated server hosting plans at a competitive price.
Buzzhost hosting packages suit beginner websites, developers, and web professionals. Despite the lowest prices, they keep their service quality to facilitate the Pakistan business community. To facilitate its hosting clients at the utmost level, the company provides around-the-clock support via chat, email, and phone.
If you need unparalleled domain and website hosting services, Buzzhost is your go-to place. The company has designed hosting plans according to the nature and scope of all businesses. When you buy hosting services, you'll get a free domain, free SSL, Unlimited Disk Space, regular backup, a 99.99% uptime guarantee, a professional email account, and 24/7 technical support, with a 10-day money-back guarantee. You don't need to search further when considering the value.
Pakchamp
Website link:https://pakchamp.com/
Pakchamp has been one of the most popular web hosting companies in Pakistan since 2016. You'll get a complete range of hosting essentials (web hosting, domain, server hosting, web development, app development, SEO services) under one single umbrella of Pakchamp at a competitive price with a 10-day money-back guarantee. They provide cutting-edge hosting infrastructure with free domain, regular backup, 24/7 support, a 99.99% uptime guarantee, and a free SSL certificate on their all-web hosting plans.
They also offer substantial discount deals to their hosting clients in their web hosting, domain hosting, and web development services to encourage online business in the Asian region.
If you're interested in trying Pakchamp hosting services, we recommend you take full advantage of their 10-day money-back guarantee and test their trial period before finalizing your hosting deal. Whether you're looking for web hosting, domain hosting, server hosting, or web development services, Pakchamp is your ultimate destination to meet everyone hosting needs!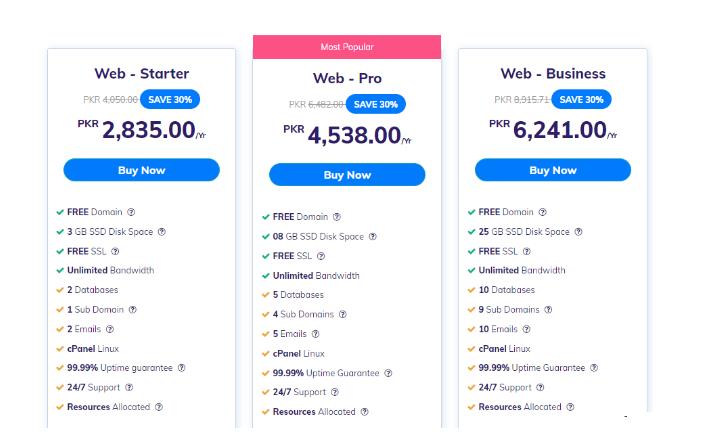 Website link: https://www.hosterpk.com/
HosterPk has reseller hosting, shared hosting, unlimited hosting,VPS Hosting, and Dedicated Server. Shared Hosting are the cheapest of all and Dedicated Server are the most expensive.

HosterPK Contacts
0800-55355
051-2711147
051-2711148
Website link: https://www.host.com.pk/
Website link: https://www.domain.pk/
Contacts
Address:
Office No. 404, 4th Floor,
Balad Trade Center,
Near Bahar-e-Shariat Mosque,
Alamgir Road, Bahadurabad
Karachi – Pakistan

click here for location map

Phone:
+92 (21) 34122294, 34122295, 34122296
Cell Phone
+92 (300) 0332294
+92 (312) 2211141
Email :
sales @ domain.pk
Website
https://www.domain.pk
Office Visit Timing:
Monday to Friday : 10:00 am to 8:45 pm
Saturday : 10:00 am to 6:30 pm
COLLECTION POINT (Pakistan Chowk, Karachi)
Address:
Suit # 7, Pak Center, Kembell Street,
Opp, Traffic Police Station, Pakistan Chowk,
Karachi – Pakistan
Contact Person : Mr. Adnan
Timing : 12:00 p.m. to 8:00 p.m.
Phone:
+92 (21) 34122294, 34122295, 34122296
Cell Phone
+92 (300) 0332294
+92 (312) 2211141

Website link: https://www.creativeon.com/
Website link: https://hostbreak.com/

Website link: https://www.winshosting.com/
Pricing
Starter–$16 per year
Economy plan–$29 per year
Pro plan–$29 per year
Business Plan–$51 per year
Website link: https://www.inspedium.com
Website link: https://www.pakistanwebhost.com/
Website link: https://www.serversea.pk/
Shared hosting pricing
Bronze plan–$16.28 per year
Silver plan–$18.00 per year
Gold plan–$27.00 per year
Website link: https://www.hostndomain.com/
Website link: https://www.zainhosting.com/
Website link: https://tezhost.com/
Website link: https://www.unique-links.com.pk/
Website link: https://pakish.net/
Website link: https://zthosting.com/
Website link: https://www.islamabadwebhosting.com
Website link: https://nexus.pk/
Website link: https://www.webanchor.net/
Website link: https://hostinpk.com/
Website link: https://pkwebhost.net/
Website Link: https://sepiahost.pk/
Website link: https://pk.webitech.com/
Website link: https://www.ehostpk.com/
Website link: https://www.fmeos.pk
Website link: https://globalhostingservice.com/
Website link: https://www.kalhost.com/
Website link: https://www.dmtwebhosting.com/
Website link: http://freeweb.pk
Website link: https://www.hostinpakistan.com/
Website link: https://www.cheaphosting.pk/
Website link: https://anzwebhosts.com/
Website link: http://www.hostone.pk/
Website link: http://www.frjhost.com/
Website link: https://www.nextgen.pk/
Website link; https://www.ranahost.com/
Website link: https://www.arshman.pk/
Website link: http://webo.pk/
Website link: https://www.softandhost.com/
Website link: https://www.host24.com.pk/
Website link: https://www.easyhost.pk/
Website link: https://www.bilalhost.com/
Website link: https://nayatel.com
Website link: https://www.karachiwebhosting.com/
Website link: https://www.move.pk/
Website link: https://www.allianzhost.com/
Website link: http://gexhost.com/
Website link: https://www.webs.com.pk/
Website link: https://base.pk/
Website link: https://www.livebits.pk
Website link: http://www.3dhosting.net.pk/
Website link: https://hostarina.com/
Website link: https://sahartech.net.pk
Website link: https://hosthandy.com/
Website link: https://webix.pk/
Website link; https://sevensolution.com.pk
Website link: https://www.xoftmade.com/
Website link: https://www.vtechpk.com
Website link: https://isnpk.com/
Website link: https://www.wikihosting.pk/
Website link: https://www.msolnet.com/
Website link: https://www.aibekhosting.com