The first thing someone in shared hosting would be told when their websites grow too big for shared hosting is to upgrade to VPS.VPS means Virtual Private Servers and it's a type of hosting where the server is partitioned to host a couple of websites in each partitioned space.VPS hosts fewer sites than shared hosting.
For the year 2020, these are the plans available under Bluehost VPS hosting
| | | |
| --- | --- | --- |
| Standard | Enhanced (Most Popular) | Ultimate |
| $19.99/mo* | $29.99/mo* | $59.99/mo* |
| | | |
| 2 Cores | 2 Cores | 4 Cores |
| 30 GB SSD Storage | 60 GB SSD Storage | 120 GB SSD Storage |
| 2 GB RAM | 4 GB RAM | 8 GB RAM |
| 1 TB Bandwidth | 2 TB Bandwidth | 3 TB Bandwidth |
| 1 IP Address | 2 IP Addresses | 2 IP Addresses |
| Click to view more | Click to view more | Click to view more |
Enhanced plan is the most popular, followed by Standard plan. Most people who upgrade from shared hosting are advised to buy the enhanced plan because it has better features than any of the shared hosting plans.
While migrating to Bluehost, bear in mind that there is a 30-day money back guarantee offer. This is an additional feature to help those joining the company to develop confidence. Bluehost also gives out free SSL certificate to all clients.SSL certificate is meant to protect the site against hacking.
Bluehost also gives 1 free domain for one year. You can order a domain name and get it free for one year. Usually, a .com domain costs $11 but with this offer, you get it for free.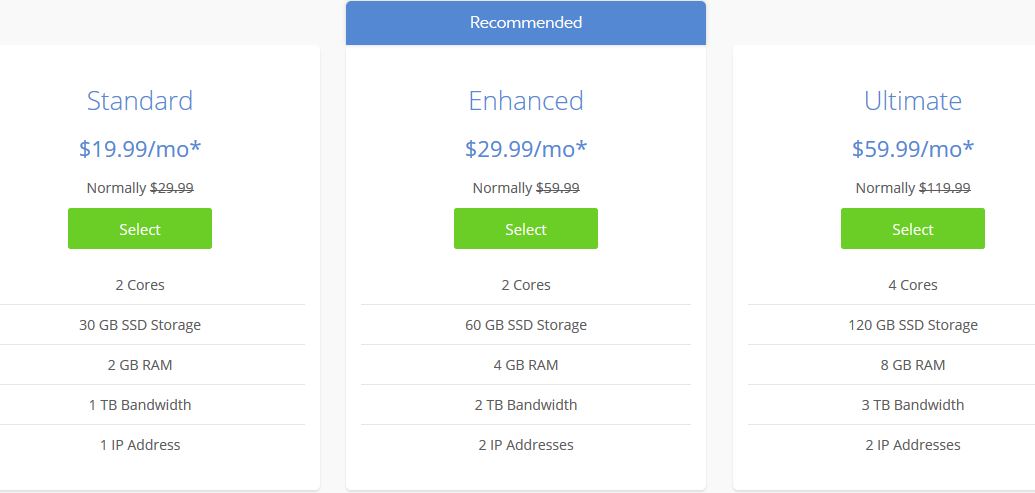 There is also additional feature of SiteLock.This is very important for busy websites. It's obvious that when you upgrade from shared hosting to VPS hosting, your site is busy…SiteLock is important in this case. This feature protects your site from malware and viruses before the damage is done.
Apart from VPS hosting,Blushost also provides more superior plans under Dedicated Server hosting,see all the plans here