Email marketing is extremely important for companies in Canada sending bulk emails to clients. Financial institutions, colleges and e-commerce sites are some of the companies using this service. In 2020 there are companies ranked as the best in terms of email marketing features and services. If you want to select the best company to use, here is the list:
Most companies here in Canada send bulk emails through GetResponse.For as little as $15 per month, you'll send thousands of emails to your esteemed clients. The good thing is that the company offers 30 days' free trial for each new client. To subscribe for the trial plan,click on this link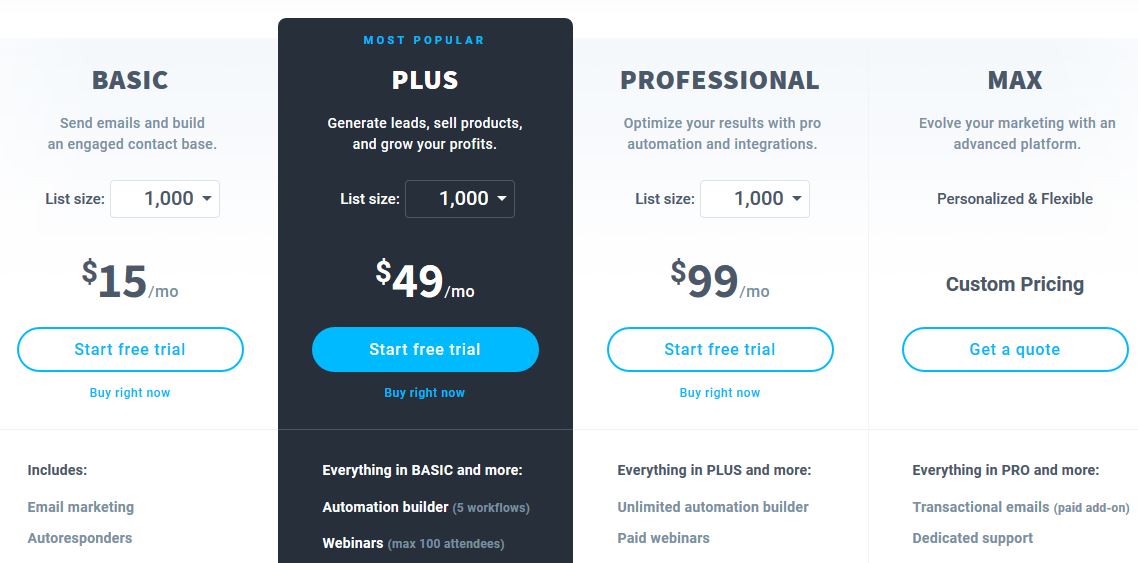 Below are some of the best features of GetResponse:
Email marketing
Autoresponders
Unlimited landing pages
Unlimited automation templates
Sales funnels (1 funnel)
Unlimited lead funnels
Facebook Ads
Sell e-products
You are allowed to send in excess of 100,000 emails per month. GetResponse offers plans for small, medium and big clients at affordable prices. To learn more,follow this link
Another email marketing tool that most companies use in Canada is AWeber.This one is being used by over 100,000 companies worldwide to send bulk emails. Every new client is provided a free plan to determine whether AWeber offers quality services. The free plan allows one to send up to 500 emails in a month.To subscribe for AWeber free plan,click on this link
Upon the expiry of a free plan,you'll decide whether to upgrade to a premium one or shift to another email marketing company. To see all the available plans,follow this link

Envoke is a popular email marketing company in Toronto. Once you are subscribed to this company, you're able to send up to 100,000 emails per month.
Here is the email marketing pricing by Envoke
| | |
| --- | --- |
| Contacts (up to) | Price/month (CAD) |
| 5,000 | $49 |
| 10,000 | $79 |
| 15,000 | $99 |
| 25,000 | $149 |
| 35,000 | $199 |
| 50,000 | $299 |
| 75,000 | $399 |
| 100,000 | $499 |
| 100,000+ | Contact the company |
Before paying for the premium tips, register for a free trial to determine how the tool performs.
ConvertKit costs at least $29 per month, it's one of the most popular email marketing tools in Canada. However, new clients are given a chance to test whether the tool is useful by registering for a free trial plan. The free plan lasts for one month and during that period, you get access to nearly all the features that premium subscribers enjoy. To subscribe for the free plan,click on this link
ConvertKit is one of the few email marketing tools that allow you to send more than 1 million emails to clients in a month. To learn more about the tool,follow this link
Graphically speaking provides services such as: Graphic Design, Email marketing, Content Management System,Ecommerce,Programming Services and Digital Marketing. The company's email marketing services are among the cheapest in Canada.
If you want to send emails for free forever,join Moosend.This company is growing exponentially because of the free trial plan which does not expire.Apart from the free plan,it also offers cheap premium plans with advanced features.To register for Moosend free email marketing plan,click on this link
The company's premium plans cost as low as $8 per month.
DRMG's main job is to help clients send emails to as many people as possible within the shortest time possible. The company has over 4,500 clients who rely on their services.
LeadPages is known worldwide, it's popular and very reliable. Sending customized emails to clients cost as low as $25 per month. Someone will send upwards of 1 million emails per month.LeadPages also offers 14-day free trial plan for new clients.If you want to start using the highly reliable email marketing tool,click on this link for free trial plan
Any of the listed email marketing tools above will serve you well.LeadPages,GetResponse,Moosend and ConvertKit are among the tools I recommend for companies using email marketing services for the first time.