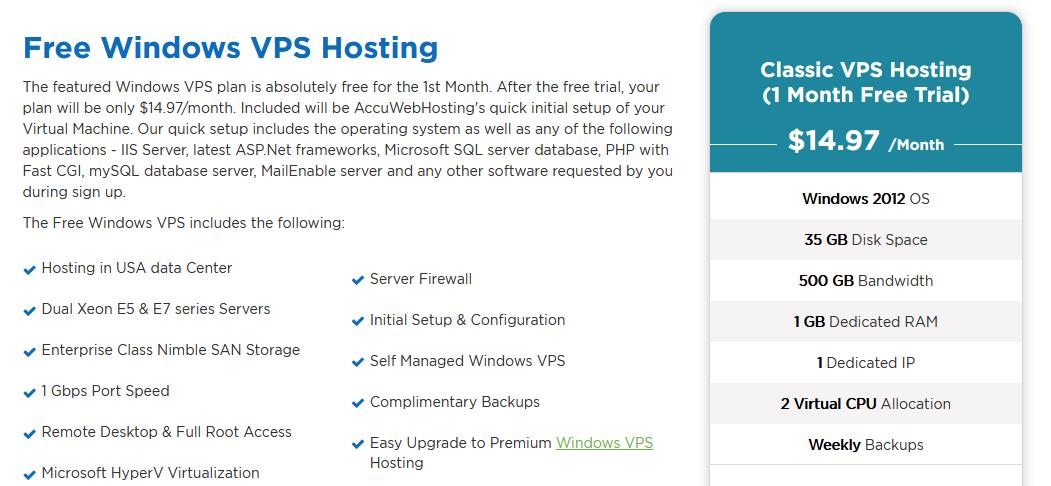 Accu Web Hosting free VPs hosting is free for every new client.The plan provides enough resources for heavy traffic sites.It lasts for one month ,thereafter,you'll be required to shift to another VPS package.The most ideal plan after the free trial costs $14.97 per month.To sign up for the free trial,click here to visit Accu Web Hosting website
The one month free VPS Hosting plan comes with these features:
Hosting in USA data Center
Dual Xeon E5 & E7 series Servers
Enterprise Class Nimble SAN Storage
1 Gbps Port Speed
Remote Desktop & Full Root Access
Microsoft HyperV Virtualization
Windows Server 2012
Server Firewall
Initial Setup & Configuration
Self Managed Windows VPS
Complimentary Backups
Easy Upgrade to Premium Windows VPS Hosting
Web based VPS Management Panel
Windows 2012 OS
35 GB Disk Space
500 GB Bandwidth
1 GB Dedicated RAM
1 Dedicated IP
2 Virtual CPU Allocation
Weekly Backups
After using the free hosting for one month, shift to Classic VPS Hosting which costs $14.97 per month. This plan will handle over 500,000 page views per month. But first, select the free plan for one month and later upgrade when the period expires.Click here to choose the plan
Acc Web Hosting is among the best hosting companies for small, medium and heavy traffic sites.