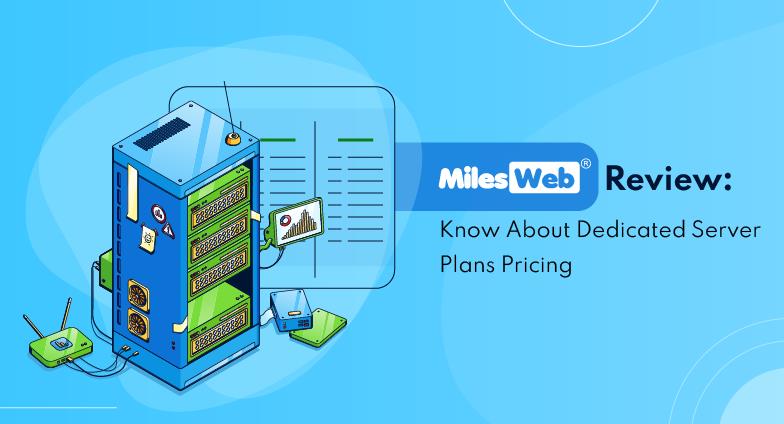 When you start looking for high-performing web hosting services, you search a lot and then reach some point.
When we start our company, we have one aim to become successful. But the process is stepwise. Like, you cannot reach heights in just one day. For this, you have to put in a lot of effort. The same is with the hosting service. At the initial stage, you start with a shared hosting service, and then as your business grows, you have to upgrade your hosting service.
Upgrading to a cheap dedicated server can benefit your business a lot. A dedicated server is an apt solution for most websites as it boosts the business output and productivity.
You get your own server which you don't have to share with others with a dedicated server. There is no limit on resource usage and storage space. Dedicated server is the best option to host your resource-heavy websites or applications. It can handle the heavy traffic on the website. Visitors prefer websites that load faster and deliver a smooth hosting experience.
Also, hosting that can handle the heavy traffic on the website will definitely benefit your business. Dedicated hosting is ideal for fewer downtimes and bounce rates.
With MilesWeb's dedicated server, you can host your resource-heavy websites or applications. MilesWeb is one of the trusted web hosting companies from India.
MilesWeb provides shared hosting, cloud hosting, reseller hosting, linux VPS hosting, dedicated server hosting.
As said previously, MilesWeb offers the best dedicated hosting service. We will take a closer look at MilesWeb's dedicated server plans, pricing and features.
Dedicated Server
Dedicated server is what the name suggests itself. It is dedicated entirely to your website or organization. A dedicated server consists of enterprise-class hardware resources that businesses can improve to power their business applications.
With a dedicated server, you do not share resources like RAM, CPU or bandwidth with other users. You get the highest speed for websites with a dedicated server and thus can achieve business success.
Dedicated Server Plans from MilesWeb
For dedicated server hosting, MilesWeb has sixteen plans. With each dedicated server plan, you get best-in-class resources and features for your website or application.
With MilesWeb, all websites are hosted on a Tier-4 Indian data center having a robust infrastructure.
E5-2609 2.4GHz is the basic plan that has four cores. The resources you get with this plan are:
● 8 GB RAM
● 480 GB SSD
● 1 TB Bandwidth
● 1 IPv4
If you check out their advanced plan of dedicated server hosting, it costs 48,000/mo and, the resources you get with this plan are:
● 256 GB RAM
● 2 TB SSD
● 5 TB Bandwidth
● 1 IPv4
You can select a plan that best meets your requirements and budget and get started online.
Features of MilesWeb Dedicated Server
Largest Data Center in India
MilesWeb has a data center in India that offers a great blend of capacity and redundancy to reach the target audience in India. This data center has an ISO 27001 certification that offers high security, uptime and stability for your website or applications.
Intel Xeon Processors
On dedicated servers, MilesWeb makes use of Intel Xeon processors.
The Intel Xeon processors are a new generation of processors with more CPU cores. They deliver top-level performance to your dedicated servers and are best for handling resource-heavy websites or applications.
SSL Encryption for Safety
With MilesWeb's affordable dedicated server plans, you get an SSL certificate at no additional cost. An SSL certificate on a website adds a level of security to your website or application. Thus, no theft can access the sensitive information shared by visitors as it passes through the internet.
Root Access
You get root access to your dedicated server that allows you to modify any file on the server. You can do the configurations in the way you want, install and delete applications, get control over all the ports, and do much more. Also, you can securely access and transfer your files on a dedicated server through the SFTP.
Zero Setup Fees
There are no setup fees with MilesWeb's dedicated servers. Also, you don't have to pay additional charges for installing the operating system, control panel, or other software required for the smooth functioning of your dedicated server.
Host Unlimited Websites
When you opt for MilesWeb dedicated servers, there is no limit on resource usage. It allows you to host unlimited websites within the allocated dedicated server plan. Hosting multiple websites under one account is beneficial as the maintenance becomes super-easy.
Do I Have a Choice of Operating System?
There is a range of operating systems available with MilesWeb. The operating system available with MilesWeb is Centos, Debian, Ubuntu, and Fedora. You can pick the operating system of your choice and let the support team install it for you.
Conclusion
MilesWeb offers the best dedicated hosting in India. They offer full server control and have expertise in dedicated server technology. You can run a powerful infrastructure on MilesWeb's dedicated server and customize it in no time according to your requirements.