There are over 50 web hosting companies in Pakistan which offer hosting services to bloggers and website owners. Below we list the best web hosting companies in the country to help you select one from the list.
Here is a list of the best web hosting providers in Pakistan (2023)
PQ.Hosting: European Hosting Provider with Top-Quality Servers
PQ.Hosting is a European hosting provider renowned for its high-quality server offerings. Established in 2019 by Ivan Neculiti from Moldova, the company has quickly garnered a client base of over 35,000 users, with a steadily growing number.
The company delivers VPS, Dedicated Servers, and VPN services across multiple countries around the globe. PQ.Hosting stands out by exclusively purchasing servers rather than leasing them, ensuring top-notch performance. Servers are meticulously placed within the finest data centers, forming an IT stronghold. The web host offers an array of services, including website migration, SSL certificates, IPv4 and IPv6 addresses, a comprehensive range of operating systems, and ispmanager, among other offerings.
Key Features of PQ.Hosting:
Global Server Presence: Operating servers in 35 countries worldwide, with continuous expansion.
Diverse Payment Options: Over 30 payment methods available to cater to a wide range of preferences.
Social Media Promotions: Regular promotions and discount codes shared on social media platforms.
IP Addresses: Provision of IP addresses to meet varying business needs.
Multilingual Website: Website accessible in multiple languages, ensuring global accessibility.
Flexible Disk Configurations: Offers configurations with up to 6TB of storage capacity.
Discounts for Extended Plans: Discounts available for service orders spanning 3 months or more.
Round-the-Clock Support: 24/7 customer support for timely assistance.
Affordable Server Options: Servers starting from as low as €4.77 per month.
PQ.Hosting thrives on a foundation of reliability, performance, and customer-centric services, making it an attractive choice for individuals and businesses seeking top-tier hosting solutions.
Website link:https://pq.hosting/en
HosterPK
The hosting company offers the following features to their clients:
Best Web Hosting in Pakistan
HosterPK's shared hosting is renowned as one of the Best Web Hosting Companies in Pakistan for delivering lightning-fast performance, ensuring that your website loads quickly and smoothly for visitors, essential for a great user experience and improving search engine rankings.
Their second standout feature is our 24/7/365 technical support. You can get help whenever you need it, whether in the middle of the night or on the weekend.
HosterPK also provides you with complete control and customization. You have full root access to the hosting account, allowing you to install and configure any software you need.
Finally, HosterPK is dedicated to providing its clients with the highest level of security. They provide our clients with a free firewall, SSL certificate, and regular security updates to ensure that our hosting account is protected from threats.
Battery backed, RAID controller for all drives
 HosterPK is the best hosting service provider in Pakistan, offering lightning-fast shared hosting servers with 24/7/365 technical support, complete control and customization, affordable pricing, and high security. So if you're looking for the ultimate hosting solution, look no further than HosterPK.
The hosting company offers WordPress hosting,VPS hosting, Dedicated Server Hosting and Shared Hosting services.

Web Souls
Another good web hosting company in Pakistan is Web Souls. It offers free website migration, free domain, unlimited email accounts, virus & spam protection and other important features. The hosting packages cost from as little as $36 per year
Web souls offers business hosting, Shared Hosting, WordPress hosting among other types of hosting.You can host a website with millions of visitors here.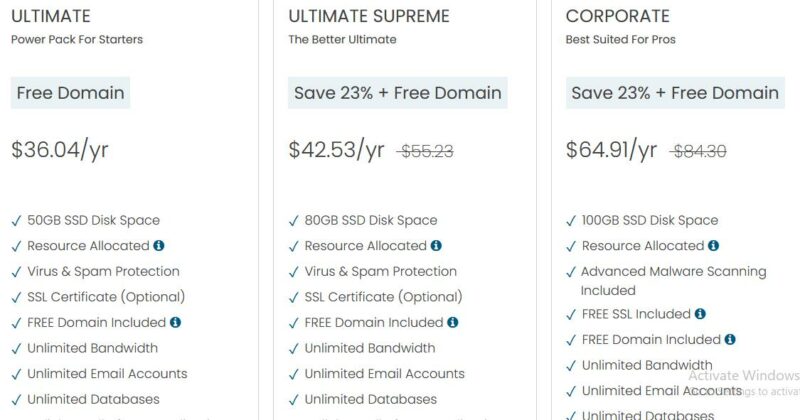 Server Sea Hosting
Many website owners speak highly of Server Sea Hosting,it's  among the best web hosting companies in Pakistan. The company plans cost Rs.8,900 and above per year.
The company gives clients 30 day of trial hosting,free domain name,free website migration and regular backups.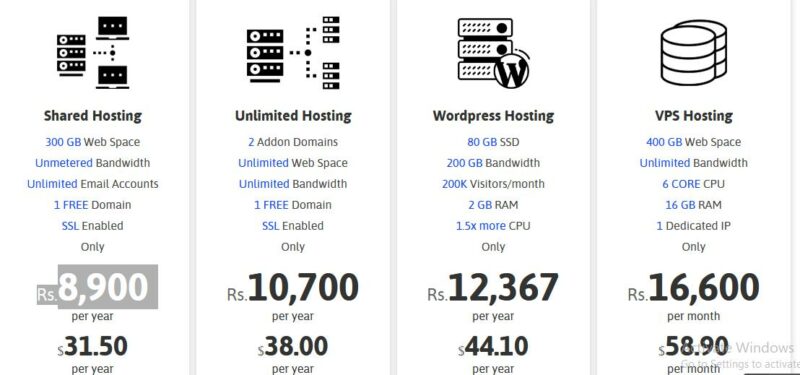 Webhoster
Webhoster offers free website migration, money back guarantee ,24/7 support,cheap domain name and security for your website. Their hosting packages start from PKR 250 per month.WordPress Hosting plans are the most popular.
The company does not have hidden charges.Their customer support is also good.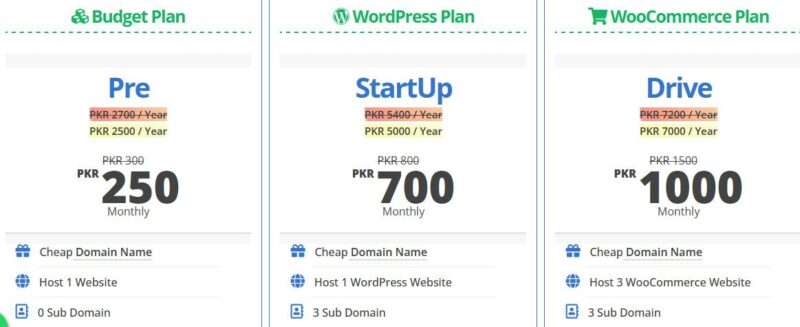 Sky Host
Sky Host is a reliable web hosting company which has almost all types of hosting.WordPress and Shared Hosting plans are the most popular among Webhoster clients.
Main hosting features
FREE Domain
UNLIMITED Bandwidth
UNLIMITED Email Accounts
Immediate Activation
FREE Trasnfer
24/7 Technical Support
Over 400 FREE Applications
RAID 10 Ultra-Fast Hard Drives
Fast Performance Quad Core Servers
Web-Based Account Control Panel
Tier-4 Data-center
CGI, Ruby (RoR), Perl, PHP, MySQL
Hosting plans cost as little as Rs 3000 per month.
A2 Hosting
One web hosting company you will not ignore is A2 Hosting. The fact that it hosts sites from USA, UK and Canada confirms that it's a reliable hosting provider. It offers hosting services to WordPress sites, low and heavy traffic websites. Their hosting packages are priced from $2.99 per month.

Domains Pakistan
A number of website owners prefer Domains Pakistan because it's cheap and reliable.Their packages cost as low as PKR 1295 per year.It offers cheap domain names as well as hosting services.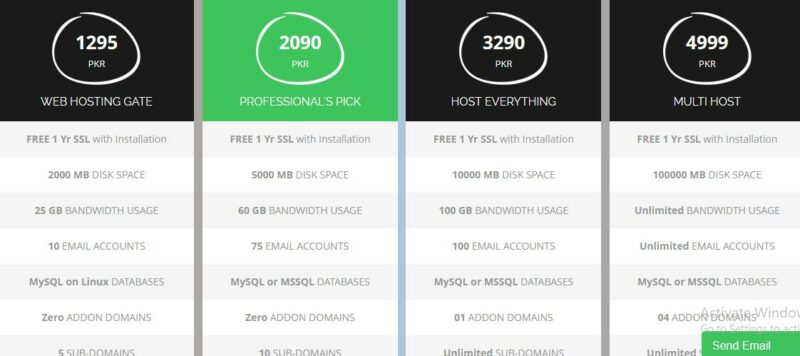 Easy Host
Easy Hosting offers the following features:
Free .COM Domain
All plans include Free .COM domain registration for first year of service
Free SSL (https)
All plans include Free SSL certificate for lifetime (term of service)
30 days refund policy
No questions asked 30 days refunds on web hosting (excluding domain)
24×7 Support
Whatsapp & Email support for you to reach us 24×7 for help you need
WordPress Support
WordPress & 100+ scripts auto installer for you to get started quick
Site Builder
Premium Site builder included so you can start to build beautiful pages
Their hosting plans cost Rs.4,500 to Rs.13,000 peryear.
Unlimited I is the most reliable plan,it costs Rs.9,000 per year.

Vtechpk
You can also consider VtechPK is equally good.
Here are the main features of their plans:
Cheap Web Hosting – Rates of Value Technologies Pakistan are very economical, we are currently provided rock bottom rates in web hosting.
99.99 % uptime – With guarantee of 99.99% uptime on servers things are under control as customers will never face downtime in web hosting.
Web Hosting in Pakistan – As people in Pakistan sometimes opt for international companies for their web hosting needs. Thus problem of language mostly occurs, our support staff provides support in Urdu and in English as well. Value Technologies Pakistan should be your priority if you are looking for Web Hosting Company in Pakistan.
Their cheapest package costs Rs.2000 per year
Value Hosted
Value Hosted hosting plans cost Rs.166.66 per month to Rs.416.66 per month.
Below are hosting features for their plans:
SEO Optimized Websites
Daily Online Backup
Free SSL Certification
Unlimited Bandwidth
Instant Setup
Free Website Migration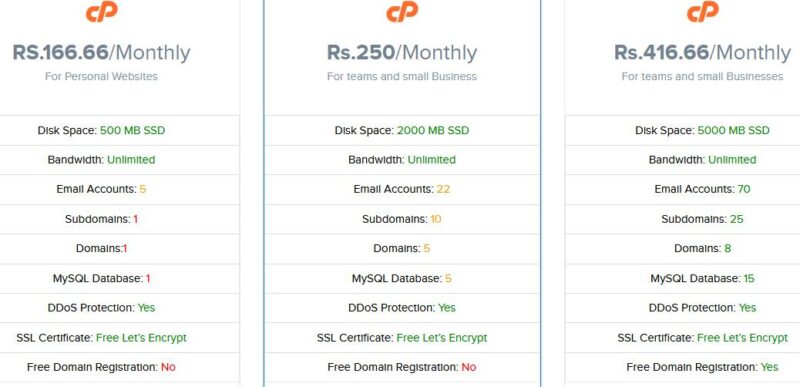 eHost
eHost offers WordPress hosting, Shared Hosting, Reseller Hosting and other types of hosting. WordPress and Shared hosting are the most popular.The prices start from Rs.2030 per year.
The good thing is that eHost has a package for students.So if you are a student, this is the best hosting provider for you.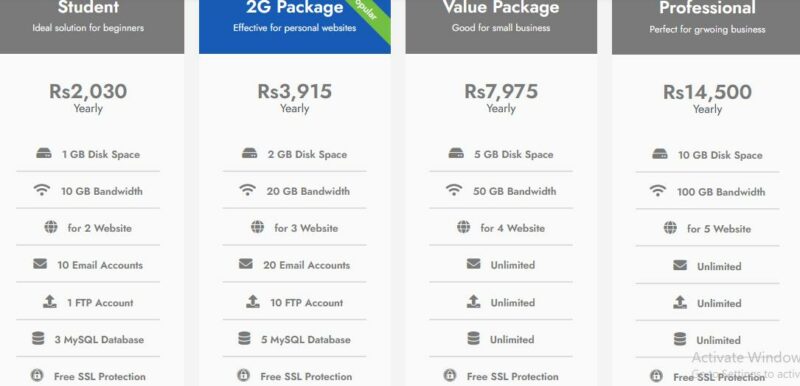 CreativeON
CreativeOn offers shared hosting services, Dedicated Server Hosting, Managed WordPress Hosting  and Cloud Hosting.I like the fact that it's for all types of clients.Whether your site gets millions or thousands of visits,the company will have a package for it.Their hosting plans cost from Rs.390 per month.

Sepia Host
You should also consider Sepia Host when looking for a good web hosting company in Pakistan.It offers free website migration,email services and money back guarantee.Their charges range between Rs.449.99 and 9999.99 per month.