Semrush is a SEO tool used to spy your competitor, help you discover high paying keywords and also provide a tool for discovering the performance of your content. The pricing is based on the plan you wish to subscribe to. There are three main plans:Pro,Guru and Business. Below are the pricing and features for each plan: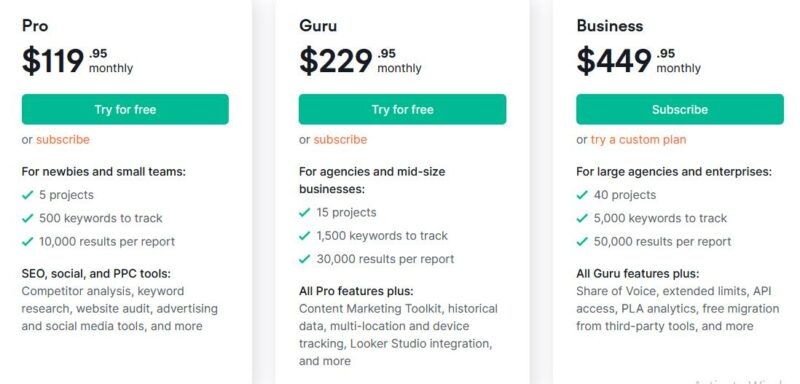 Pro($119.95 monthly)
Features
For newbies and small teams:
5 projects,500 keywords to track,10,000 results per report,SEO, social, and PPC tools: Competitor analysis, keyword research, website audit, advertising and social media tools, and more
Guru($229.95 monthly)
Features
For agencies and mid-size businesses:
15 projects,1,500 keywords to track,30,000 results per report
All Pro features plus:Content Marketing Toolkit, historical data, multi-location and device tracking, Looker Studio integration, and more
Business($449.95 monthly)
Features
For large agencies and enterprises:
40 projects,5,000 keywords to track,50,000 results per report
All Guru features plus:Share of Voice, extended limits, API access, PLA analytics, free migration from third-party tools, and more.
You can also add another user at a cost of $45 per month per user for Pro plan.Guru Plan will charge $80 per month per user while the Business plan will cost $100 per month per user.
There is also Semrush local tool which helps to grow your local search visibility. It costs $20 regardless of your plan.
To spy your competitors and know the content which is trending in their sites,you will pay an extra $40 per month.
Semrush trends is also a tool which is sold by the company to access traffic analytics for your competitors and help you analyze traffic for any company.The tool costs $200 per month.
There is also Agency Growth Kit which costs $149 per month.It contains these features:
Premium visibility on Agency Partners platform
Unlimited CRM and Client Portal
3x leads via Lead Finder
High-value contract opportunities with Bid Finder
ImpactHero tool is also sold for $200 per month by Semrush.ImpactHero is an AI tool that breaks down your content by buyer journey stages, detects the most impactful copy, and gives tips on reinforcing your efforts. The total price is calculated by the number of campaigns you buy
When you purchase any product from SEMrush, you are given 7-day money back guarantee. If the company does not provide the services as per your expectations, ask for a refund.
Semrush payment methods
All major credit cards including Visa, Mastercard, Discover, American Express, and UnionPay
Wire transfer (upon request)
Check or money order (US only, upon request)
The payment is made in US dollars.