Crystal Web Hosting is one of the leading web hosting companies in Uganda. It offers web hosting services, we design, domain registration and other services. Below are reviews for the company, payment methods, contacts, web hosting services and domain registration details: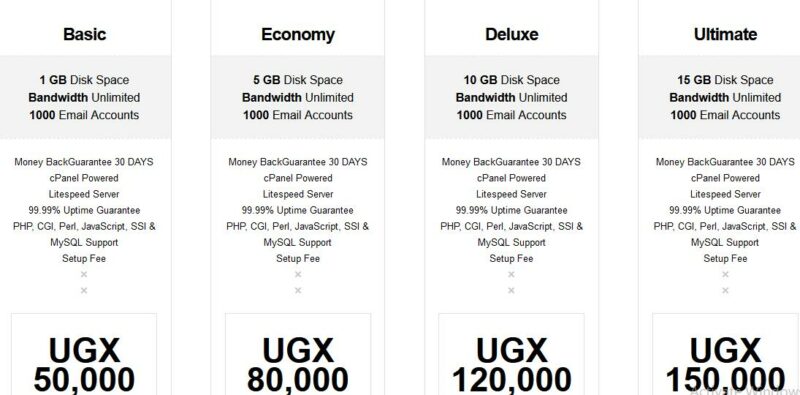 If you want to develop a website in Uganda, contact Crystal Web Hosting, they will design a website for less than a week. Their charges start from UGX 100,000.
Web Hosting is one of the company's main services.They provide three main packages which come with different features.
Basic (UGX50,000 per year)
Features
1 GB Disk Space
Bandwidth Unlimited
1000 Email Accounts
Money BackGuarantee 30 DAYS
cPanel Powered
Litespeed Server
99.99% Uptime Guarantee
PHP, CGI, Perl, JavaScript, SSI & MySQL Support
Setup Fee
Economy (UGX80, 000 per year)
Features
5 GB Disk Space
Bandwidth Unlimited
1000 Email Accounts
Money BackGuarantee 30 DAYS
cPanel Powered
Litespeed Server
99.99% Uptime Guarantee
PHP, CGI, Perl, JavaScript, SSI & MySQL Support
Setup Fee
Deluxe(UGX 120,000 per year)
Features
10 GB Disk Space
Bandwidth Unlimited
1000 Email Accounts
Money BackGuarantee 30 DAYS
cPanel Powered
Litespeed Server
99% Uptime Guarantee
PHP, CGI, Perl, JavaScript, SSI & MySQL Support
Setup Fee
Ultimate(UGX 150,000 per year)
Features
15 GB Disk Space
Bandwidth Unlimited
1000 Email Accounts
Money BackGuarantee 30 DAYS
cPanel Powered
Litespeed Server
99% Uptime Guarantee
PHP, CGI, Perl, JavaScript, SSI & MySQL Support
Setup Fee
Crystal Web Hosting contact
Crystal Web Hosting uses this phone number:+256704635044
You can use the phone number to contact them for any services.
Crystal Website Hosting
Plot 16B Martin Road Old
Kampala Next to Metro Fm
Email:sales@crystalwebsitehosting.com
Tel: + 256 704 63 50 44
Domain registration
You can register several domain extensions.
.Com costs UGX 35,000
.net costs UGX 40,000
.org costs UGX35,000
Free Add-Ons with every Domain Name!
Free Email Account
Bulk Tools
DNS Management
Easy to use Control Panel
Domain Theft Protection
Domain Forwarding
Unlimited Mail Forwards