Ghafla is a top blog in Kenya, owned and managed by Samuel Majani.Ghafla was among the first serious blogs to be launched in the country. The amount of money generated by Ghafla depends on the amount of traffic and income generating sources employed by the blog. Ghafla earns from sponsored content, paid advertisements, MGID and Sponsored articles. Initially, the company was on AdSense but Google disabled it after several policy violations.
In 2018.Ghafla entered Tanzania, South Africa, Uganda, Ghana and Nigeria markets, Majani spent over Ksh9 million for expansion but the project failed after AdSense was disabled. Now, Ghafla's focuses on Kenyan traffic.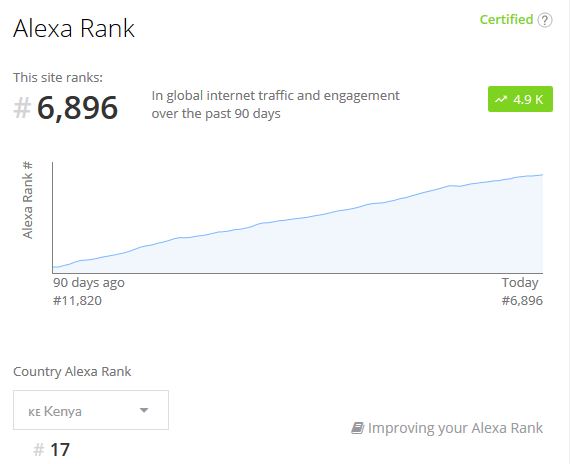 The blog is currently ranked at position 17 in Kenya and 6,896 globally, implying that it receives 10 million page views per month or 3 million unique visitors in 30 days. With this amount of traffic, Ghafla could make over Ksh 400,000 from AdSense alone.
Based on first-hand information obtained from the company, here is the breakdown of what Ghafla earns per month:
MGID—Ksh 300,000 to Ksh 400,000
Paid banner advertisements—Ksh 600,000 to Ksh1 million
Sponsored articles—Ksh 200,000
Other sources—Ksh200,000
On average, Ghafla makes Ksh1.2 million per month. But the problem is that the company has employees who take home in excess of Ksh300,000. Ghafla pays office rent amounting to Ksh40,000-Ksh 70,000 monthly.
The most surprising thing is that Ghafla charges Ksh 50,000 to Ksh110,000 per sponsored article, which is way above what other blogs charge. Nation and Standard charge below Ksh 100,000 each. Each banner advert costs Ksh 200,000 to Ksh 500,000 per month.

At one time, Majani, who dropped out of Engineering class, confessed that what he pays his workers is less than 20% of his total income, implying that the total expenses of Ghafla do not exceed Ksh400,000.
Ideally, Ghafla owner makes between Ksh 700,000 to Ksh 1 million every month.
Considering the level of unemployment in the country, being a blogger is a lucrative business. The beauty of blogging is that most of the money generated is not subjected to taxation.