Tuko News Kenya is one of the most popular blogs in Kenya which many bloggers envy. To start a blog like this, there are many things you should know about.
Tuko was launched in Kenya in the year 2014 when Daily Post, Daily Nation and Standard Media were dominating the local blogosphere, the blog started from zero. Caroline Mutai was hired to head the blog.
With a budget of over Ksh50 million, www.tuko.co.ke started intensive campaigns aimed at promoting the blog. I could see banners on search engines, motorbikes, newspapers, radio adverts and even in pubs. Within two years, Tuko had picked up and was ranking way above many blogs that came before it.In 2017 it rose to position 26 in the country and in 2018 Tuko overtook Nation, The Star, Kenyans and Standard Media to become the most popular blog in Kenya, just behind Google and YouTube.
In this article, I will simplify steps you will take to create a blog and how to promote it and become as popular as Tuko.
Key steps
Buy a domain name
Pay for hosting
Create a website
Start posting relevant content
Promote your content
Monetize your content
Post consistently
Buy a domain name
Tuko's domain name ends with .co.ke which means that it's content is concentrated in Kenya. I will discourage you from buying .co.ke domain name because it can limit you. I instead encourage you to buy.com domain name. The best company that sells .com domain name is Bluehost, this is where you will buy the domain name and pay for hosting.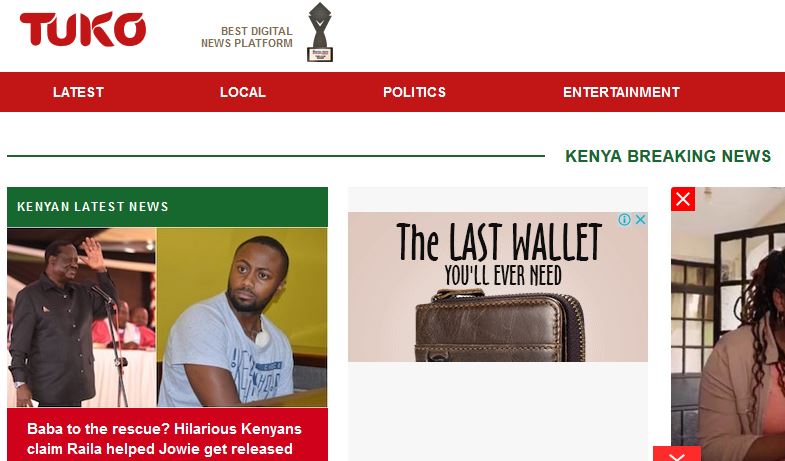 To buy a domain name from Bluehost, follow this link to visit the website. On the website, there is a button indicated 'domains', click on that button. You will be directed to another window where you search for available domain names. Make sure you have at least 5 domain names of the blog you wish to start such that when you search one and find that it's not available, search for another one, another one and another one until you find it's available. The .com domain name costs Ksh1,100
Pay for hosting
After finding that the domain name you wanted to register is available (when a domain name is available, it means nobody has ever registered that name before, if it's taken it means someone is already using that domain), go ahead and purchase hosting plan. The cheapest hosting plan costs $3.95 per month and payment is either for 6 months, one year,2 years or three years. If you don't have a budget to pay for one year and above, pay for 6 months. Assuming the cost is Ksh400 per month, you'll pay less than Ksh 5,000 for 6 months.
Ensure you create and account with Bluehost first before you pay. Click here to sign up for free
Payment is made via MasterCard or Visa Card.Any Kenyan with an ATM card will pay for Bluehost services.
The good thing about Bluehost is that there are staff members ready to help you. If you are stuck, start a chat within their website to ask for any question.
Create a website
The most crucial part is to create a website. I know you may not be able to create a website on your own,if that is the case, then you can contact us to do the work for you.We charge Ksh10,000 to Ksh20,000 for website design based on your demands. The websites is extremely professional and neat like that of Tuko News. Email us on hostingvoice@gmail.com
We will create a website for 3 days and hand it over to you. We shall also teach you on how to create and post content.
Start posting
Starting a website is not a big deal, the most tedious work is in creating content. As you know, Tuko News has employed over 10 writers who post hundreds of articles daily. To be as successful as Tuko, you must work for long hours, post content that excite readers and share your content as well. I will advise you to pay people to write articles for you. Your site should have more than 10 fresh articles per day.
How to monetize
Tuko monetizes through AdSense, RevContent, direct advertisement, Videos and sponsored articles. I will suggest that you apply for AdSense immediately you post over 20 articles. The articles should contain more than 500 words each and should not have adult or gambling content.
How to promote your articles
You can promote your articles through social media, sponsored articles, banner advertisements, email marketing or commenting on forums. You should have Twitter and Facebook pages which are associated with your site.
The profit to expect
Tuko News earns Ksh 800,000 net profit per month. But the site receives 6 unique visits and 16.1 million page views every month. Your target is to draw such amount of traffic before you start thinking of profits.
It will take about 3-5 years to reach the level of Tuko.
Type of content to post on your site in order to rank higher
Tuko focuses on content that people search online on daily basis.They have mastered the art of keywords and specifically emphasizing on longtail keywords. I will suggest that you sign up for SEMRush to know the kind of keywords that perform well on Tuko.Sign up for SEMrush here
If you manage to come up with a website like Tuko, there is no reason you should not resign from your work place.