Best web hosting companies in South Africa should be cheap, reliable, secure and provide fast loading servers, these are the basic features one should look at before buying hosting space. In addition, the companies must have excellent customer service for 24 hours a day. In 2020 there were 166 registered web hosting companies in South Africa but only a couple of them impressed bloggers and serious companies.
If you are looking for the best web hosting companies in South Africa, choose from this list.
Bluehost has always been the number one choice for most bloggers in South Africa.It costs as little as R30 to host your website at Bluehost.There is also a 30-day money back guarantee for every new client. This feature(money back guarantee) is availed to help potential clients develop confidence in Bluehost.The company also gives free SSL certificate to every hosted website, meaning that none of the sites is vulnerable to malware attacks. You can check more features here
Bluehost has several types of hosting: Shared Hosting,e-commerce hosting, WordPress Hosting,VPS Hosting and Dedicated Server Hosting. You can choose the one you believe is good for your site. For new websites, Shared Hosting plans are the best. The company's cheapest hosting plan costs $3.95 per month, sometimes it drops to $2.65 especially during promotions.
To start hosting your site,visit Bluehost via this link and sign up for free,then choose a suitable plan for your site. Proceed to host your website.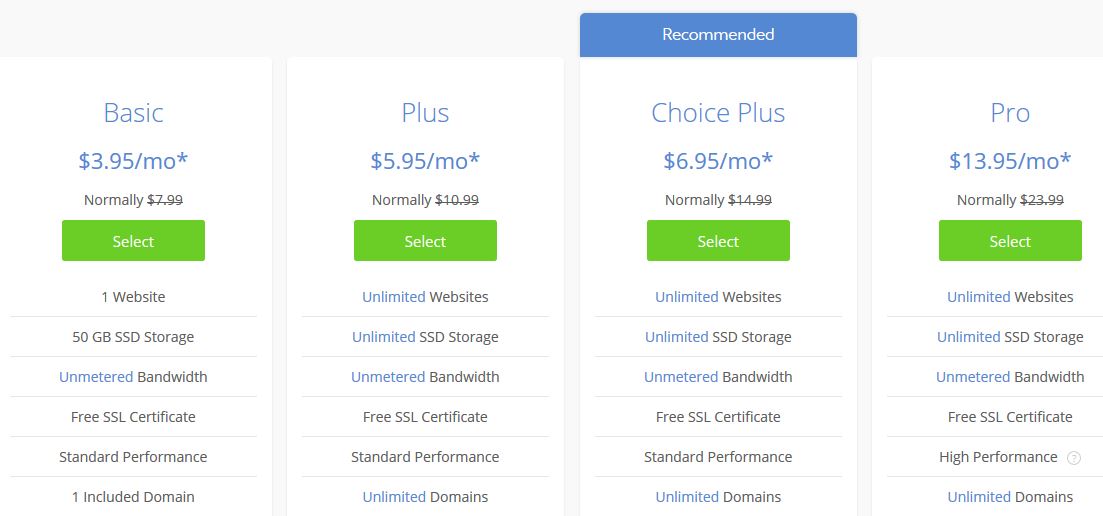 Domains South Africa is among top 3 most popular hosting companies in the country. It has all the most important hosting plans which are structured in a way that they can host any type of a website.
Among the most popular features include:
Free Domain Name*
Spam & Virus Protection
Weekly Backups
cPanel Control Panel
Malware Scanning
Free Emails
60 Day Money Back guarantee
24/7 Monitoring
If your Website is built on WordPress, this is the best hosting company for you.
Hosting costs from as little as R69 per month.
Another popular hosting company for small, medium and big websites is HostAfrica.One can host WordPress sites, websites with over 10 million visits and e-commerce websites. All types of hosting exist under HostAfrica.
Free domain, unlimited traffic, affordable price and 24/7 support are among the features which attract clients to HostAfrica.
More than 10,000 websites are hosted by HostAfrica.
Elitehost is cheaper than 90% of the hosting companies in South Africa. In addition, it's servers are extremely stable and can handle millions of visitors per day.
Clients can choose personal plans, business plans, reseller plans or Dedicated serve r depending on the amount of traffic their websites receive. Remember, there is a direct relationship between traffic and resource utilization.
Hosting price starts from R45 per month, one of the cheapest in the industry.
SmartWeb is found in Nigeria and South Africa. Soon, it will have branches in East Africa.It's good reputation is because it doesn't have hidden charges like most companies do. The company also offers cheap hosting prices at every level of hosting. Unlimited Bandwidth and free SSL certificate are some of the amazing features provided for free by SmartWeb.
Hosting prices start from as little as R59 per month.
SmartWeb has the following types of hosting:
Shared Hosting
Managed WordPress Hosting
Reseller Hosting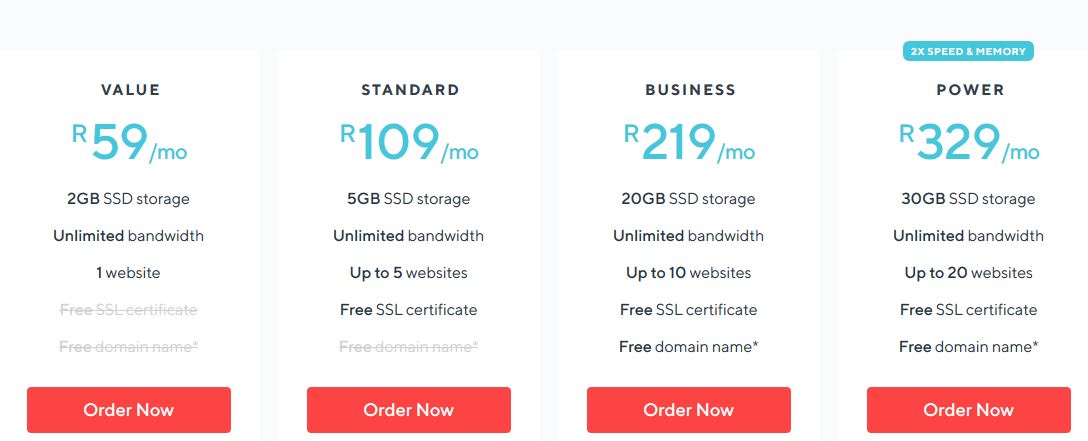 Out of those web hosting companies, at least one will impress you. But if you need a Managed WordPress Hosting company with 100% uptime and upscaling of resources, register with Kinsta…you can check Kinsta pricing here