When you are looking for the best web hosting company in Kenya especially in 2020, make sure you go for a company with free SSL certificate, cheap hosting costs,30-day money back guarantee, enough bandwidth and excellent customer support. When it comes to hosting, customer service plays a significant role in determining whether your website will be successful or not. A website must be live 24/7, hence requiring powerful servers and good customer support.
SSL certificate is also important because it keeps off hackers. This certificate should be installed for free.
30-day money back guarantee allows you to request for a refund within 30 days of subscription in case you feel that the company is doing disservice to you.
If you want to host your website in Kenya, here is a list of best hosting companies:
Kenya Website Experts is the best website hosting company in Kenya. The company offers shared hosting services for new blogs, VIP and Dedicated server hosting for viral websites. Kenya Website Experts gives a 30-day money back guarantee for new clients, it also provides free SSL certificate and free migration of the websites. A website of any amount of traffic will be hosted by this company.
Many customers praise Kenya Website Experts for its excellent customer support and powerful servers which assure of 99.99% uptime. To check all the plans by Kenya Website Experts,click on this link
To start hosting at Kenya Website Experts,click on this link to visit their website,create a free account, select a plan and generate an invoice. Payment is made through MPESA.
The cheapest hosting plan goes for Ksh2,100 per year, there are also several other plans suitable for medium and big websites.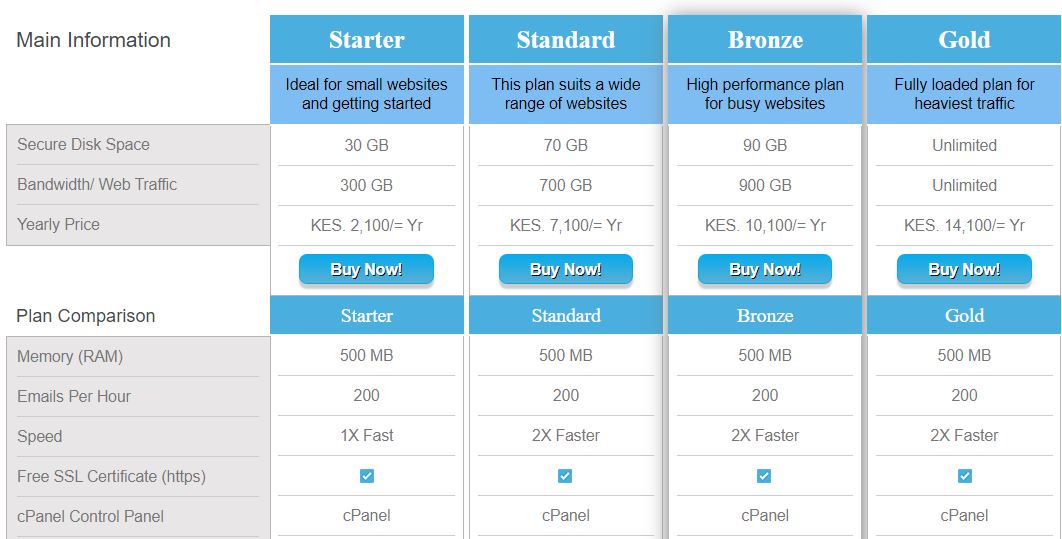 HostPinnacle is also another trusted web hosting company with hosting plans going for as little as Ksh1,500 per year. Their shared hosting plans have more than 10,000 clients from Kenya. Just like Kenya Website Experts, HostPinnacle allows you to make the payment via MPESA.
The company has the best servers in the country, their uptime is always above 99.9%. Their customer service is also excellent.
If you wish to host a website cheaply in Kenya, choose HostPinnacle. To start hosting,click on this link and visit their website
HostPinnacle has servers which can host websites with more than 1 million page views per month.
Remember you can register your domain and also contract them to design a website for you.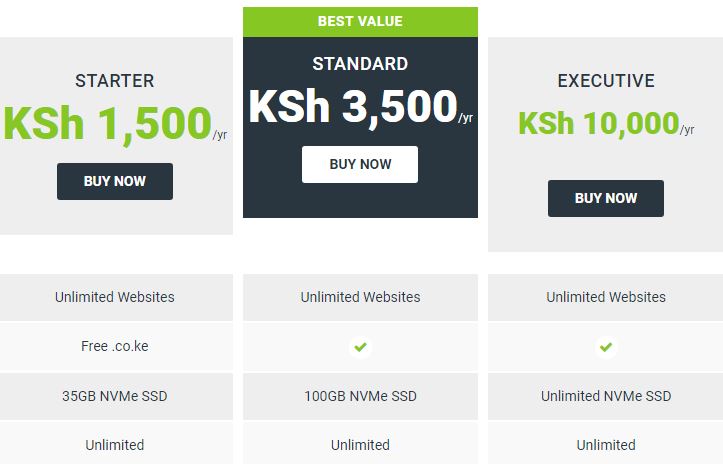 Safaricom has always been the best company in Kenya in terms of customer support. Though they have over 12 million customers, their customers are satisfied with the services they offer. Similarly, the company's web hosting services are so good. Safaricom is among few web hosting companies with free web hosting for new clients.
Instead of paying Ksh1,300 for lite package, you simply buy a domain name and get hosting for free. Safaricom has several packages for clients.
The most ideal websites to be hosted here are those that get between 1,000 and 500,000 page views per month.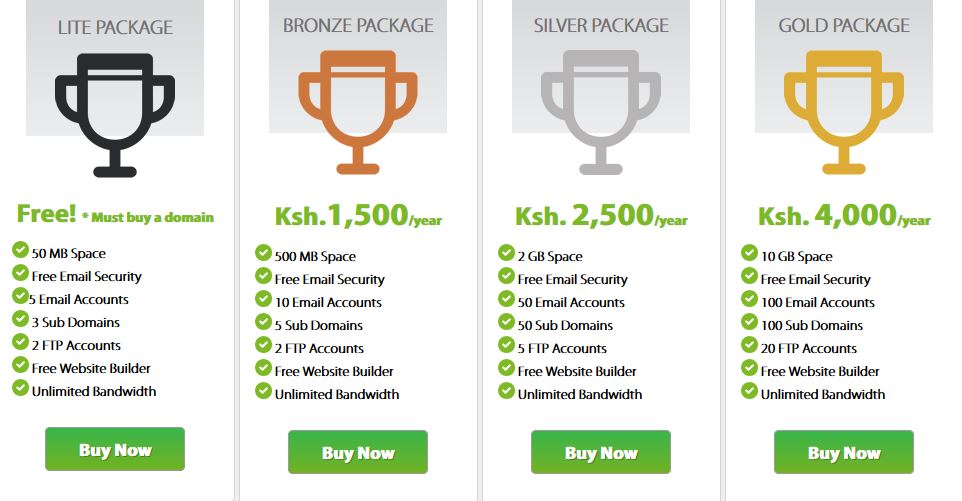 If you need domain registration, web hosting and web design services, Skyhost is the best company to approach. The company also offers SEO services, bulk SMS services and premium SSL certificate services.
Skyhost is cheap, reliable and efficient. Their plans cost as low as Ksh 2,499 per year.To see all the plans,click on this link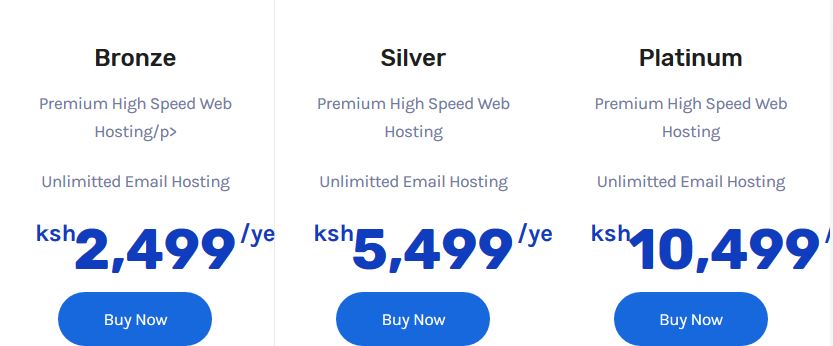 Truehost is most loved because of its free hosting services for new customers. Their hosting prices range between Ksh1,499 and Ksh 20,000 per year. In case you buy a new domain from them,they will offer one month free hosting services.
Truehost is found in Kenya,Nigeria and South Africa.in Kenya,it's ranked among top 5 best web hosting companies.

Whogohost is a new web hosting company, the only Managed WordPress Hosting firm in Kenya.If you own a WordPress and wish to host in Kenya, this is the best firm for you. Whogohost offers domain registration, hosting, email hosting and web design services. Their hosting services cost as low as Ksh512.To check all their plans,click on this link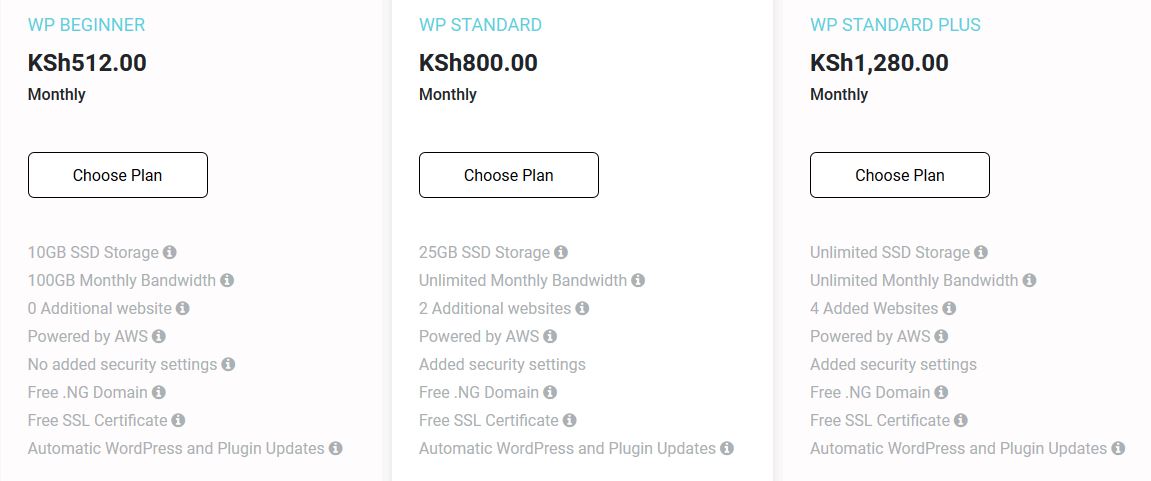 Hosting a new blog in Kenya costs between Ksh1,000 and Ksh 3,000 per year. If you find a company charging more than this amount, avoid them as much as possible. Viral blogs like Tuko News host for more than Ksh100,000 per month. Companies like Kenya Website Experts have servers which can host viral websites.