There are over 20 web hosting affiliate programs in India. A number of bloggers have joined these programs and are earning upwards of $10,000 per month. Affiliate marketing is one of the best ways to earn passive income in India.
If you own a blog that covers stories about website hosting, blogging and making money online, you ought to join web hosting affiliate programs available in India.
Affiliate marketing pays in terms of commissions. There are those that pay recurring income, like Kinsta,click here to join Kinsta affiliate program. Others pay one off commission.
Below we present affiliate programs for web hosting companies in India

DomainRacer Web Hosting Affiliate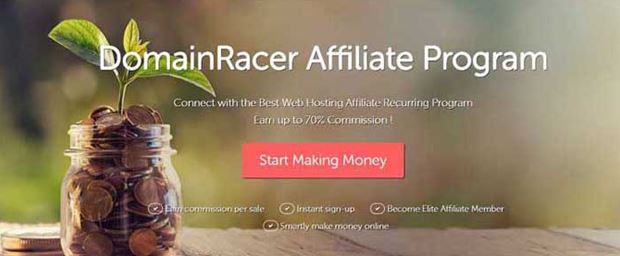 Commission Rate – Earn Up To 70%
Payout – On Request
Conversion Rate –13.11%.
DomainRacer is a famous domain and web hosting provider company in India and also they have the best affiliate marketing network. Acquire huge commissions by click this site to exceed paying web hosting affiliate program. They become popular day by day because of their unique features.
You can earn more passive income with the DomainRacer web hosting affiliate program. DomainRacer web hosting plan starting at a very low cost, with this they also offer many extraordinary things to their customer. You enjoy DomainRacer web hosting affiliate marketing with their high conversion ratio.

With every web hosting plans customer get a free SSL certificate, unlimited SSD storage space, unlimited bandwidth, 21x Faster LiteSpeed technology and many more advanced features.
70% commission – 51+ Leads
50% commission – 21-50 Leads
40% commission – 11-20 Leads
30% commission – 01-10 Leads
DomainRacer web hosting affiliate program is a good source of revenue generation. You can earn a 70% commission on the sale and their conversion rate is high 13.11%.
A2 is a popular hosting company in India with more than 30,000 clients. The company has generous affiliate marketing program where marketers earn up to 50% per sale. To register,click on this link
Here are the commission structures for the affiliate program:
1-10 sales: $55/sale
11-15 sales: $75/sale
16-20 sales: $100/sale
21+ sales: $125/sale (21 X $125=$2625!)
You can also choose to host your website at A2 Webhosting for as low as $2 per month. To check their plans,follow this link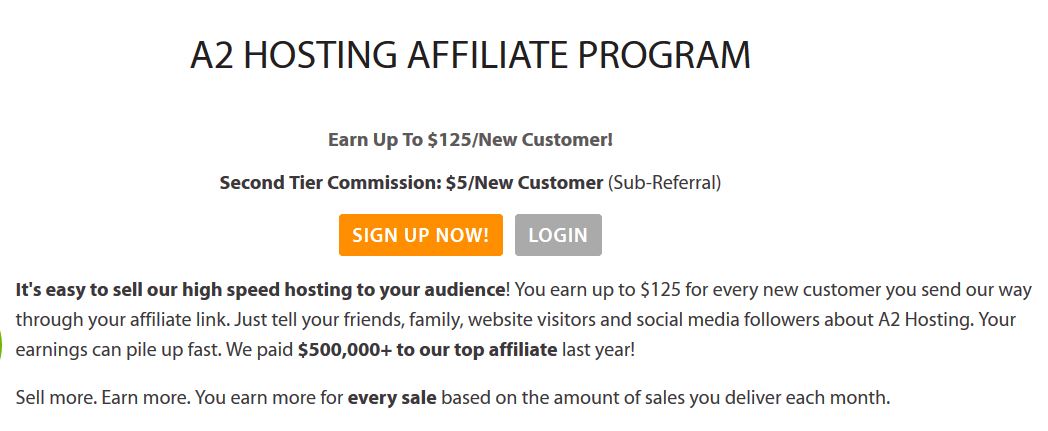 Bluehost not only serves Indian companies but millions of websites across the world. The hosting company offers $65 per sale for new affiliates and $120 for affiliates who have been in the industry for long. Nearly 90% of affiliate bloggers in India are marketing Bluehost products. To join this program,click on this link and enter your details.
With a busy blog, you will earn northwards of $10,000 per month from Bluehost.The company pays affiliate commissions via PayPal and the minimum payment threshold is $100
BigRock pays up to R1,500 per sale and is one of the leading web hosting affiliate programs in the country.
Its commission structures are as outlined below:
| | | |
| --- | --- | --- |
| Monthly Sales | Bonus Per Sale | Commissions Per Sale |
| 1-5 | NA | Rs.1,000/- |
| 6-10 | Rs.100/- | Rs.1,100/- |
| 11-20 | Rs.250/- | Rs.1,250/- |
| 21+ | Rs.500/- | Rs.1,500/- |
As long as you own a website that gets traffic, Big Rock will always approve your application.
Big Rock affiliate sign up link: https://www.bigrock.in/affiliate
Big Rock offers domain registration, web design, web hosting, bulk sms services as well as email hosting—these are the products you should market and earn money online.
If you also need to earn more than $1,000 every month from affiliate marketing,join Reseller Club ,one of the best hosting companies in the country.
Reseller Club offers the following commissions;
Monthly Sales
Commissions Per Sale
Single Domain Hosting
Commissions Per Sale
Multi Domain Hosting
1-10
$15
$30
11-20
$20
$40
21+
$25
$55
To sign up, here is the link: https://www.resellerclub.com/affiliate-program
If you have never joined HostGator,then you are missing a lot. Apart from Bluehost,HostGator is another top hosting company which has excellent affiliate program.A blog with 1,000 page views per day will generate more than $100 daily from HostGator India.
The commissions are structured as:
| | |
| --- | --- |
| Signups Per Month | Commissions Per Signup |
| 1-5 | Rs.1250 |
| 6-10 | Rs.1650 |
| 11-15 | Rs.2250 |
| 16-20 | Rs.2500 |
| 21+ | Rs.3000 |
HostGator affiliate program sign up link: https://www.hostgator.in/affiliates
Dream Host pays up to $200 per referral. The company is ranked among top 10 best web hosting companies in India.Anyone with a website is free to register with Dream Host and start making money through affiliate marketing.
Dream Host affiliate program sign up link: https://www.dreamhost.com/affiliates/
Domain India pays $15 commission for each customer referred to their company. It's one affiliate program you should try if your content is about domain registration and web hosting in India.
Domain India affiliate program sign up link: https://www.domainindia.org/domain-india-affiliate-program.php
Hostnamaste gives affiliates 10% recurring commissions on each sale. Assuming you refer a client that pays $100 every month, you will be earning $10 monthly until that client leaves the company. What if you refer 100 clients?!!!
Here is the registration link: https://www.hostnamaste.com/affiliate-program.php
Inmotion is a top web hosting company in the world, it's one of the cheapest web hosting companies for bloggers. It offers amazing affiliate program for bloggers from any part of the world.
To join the affiliate program, follow this link: https://www.inmotionhosting.com/hosting-affiliate-program
Godaddy is ranked among top 10 most popular web hosting companies in the world. When you join their affiliate program, you are sure of selling the products. You will be earning more than $100 per sale if you are aggressive enough.
Godaddy affiliate program sign up link: https://za.godaddy.com/affiliate-programs
There are hosting companies you will struggle to market,but not hostinger.Even if you just place the company's banner on the website,clients will come.
To register for Hostinger affiliate program,here is the sign up link: https://www.hostinger.com/affiliates
Hostripples pays you R500 Bonus immediately after completing the registration process. You will then be earning commissions when clients buy through your link.You will be paid whenever your balance reaches R3,500.
To join the affiliate program, use this link: https://hostripples.in/affiliate-program.php
Globe Host pays up to 70% of the cost of a product sold. The program is also worth joining because your target group is India where the company is based.
Globe Host affiliate registration link: https://www.globehost.com/affiliates
Host4Geeks pays affiliates commissions ranging from R400 to R2000 per sale.The commissions are paid once a sale is made.
To join, use this link: https://host4geeks.in/affiliates/
Host Soch pays 40% per sale.The minimum threshold for payment is R5,000.
To select the program, follow this link: https://www.hostsoch.in/affiliates.html
Those are the leading web hosting companies with affiliate programs. I am sure if you join a couple of them, you'll earn a lot of income through marketing. Make sure to target readers from India because those are the ones who will buy the products.