HostPinnacle is among the best web hosting companies in Kenya. More than 10,000 Kenyans are hosting their websites at HostPinnacle because they are ranked among top 3 best hosting companies in the country.
The company servers are suitable for websites and blogs getting an average of 100,000 page views per month. But there are special hosting packages for viral blogs, those with more than 500,000 visitors per month.
HostPinnacle provides several services, they include domain registration, web hosting and bulk SMS services.to register a domain name, you require at least Ksh 379 while web hosting costs Ksh1,500 to Ksh 10,000 per year.
Before you start operating a website, you should have a domain name. HostPinnacle will help you to register a new domain name and host it.The most popular domain names in Kenya are .co.ke and .com.To buy .co.ke domain name, you'll spend Ksh379.If you need .com domain name, you'll spend Ksh 849.To get started,click on this link and visit HostPinnacle
Considering the amount other hosting companies charge for domain registration, HostPinnacle is relatively cheap.
Domain registration is done ones but you should renew annually.
Web hosting is the core business of HostPinnacle. The company has structured pricing based on demands of each website hosted by their servers. New and low traffic sites are often hosted under Starter plan that cost Ksh1,500 per year.To learn more about the types of hosting by HostPinnacle,follow this link
There are basic plans and reseller plans. Reseller plans are purchased by individuals who would like to host their clients. Majority of the clients of Reseller Hosting are Web Designers who prefer hosting their clients.The good thing about Reseller Hosting is that you can partition the space provided to host as many websites as possible.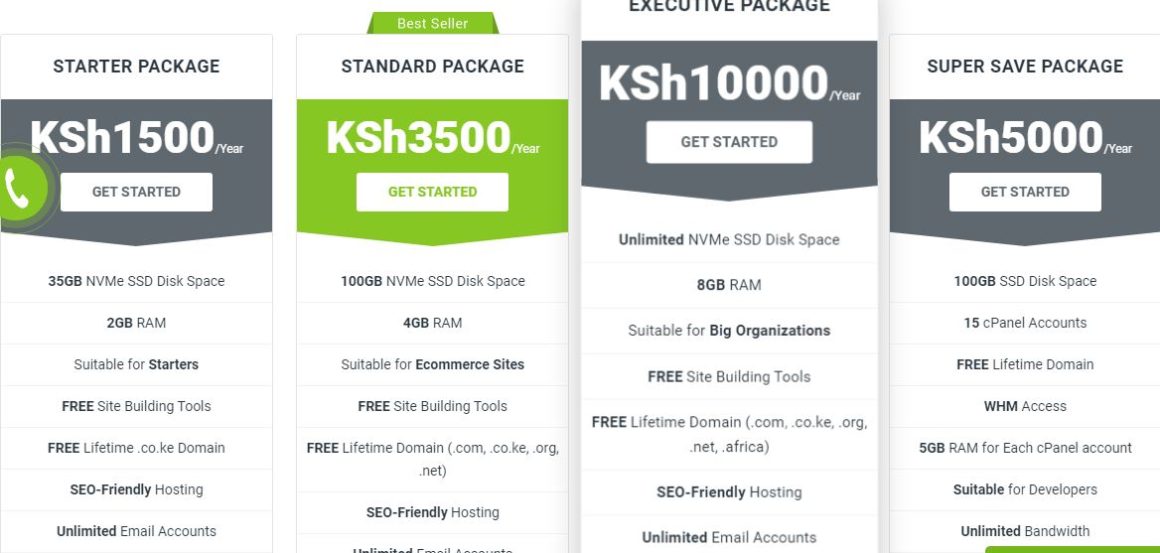 Types of Basis web hosting and prices;
Starter Package—Ksh 1500 per year
Standard Package—Ksh 3500 per year
Executive Package—Ksh10000 per year
Super Save Package—Ksh 5000 per year
If you want to start a new website, Starter package will be appropriate for you. To start hosting under Starter Package,follow this link and select the plan
If you have several websites you wish to host at HostPinnacle, then choose Reseller Hosting package that cost between Ksh2,000 to Ksh 4,000 per month. You can host up to 100 websites in a single plan.Instead of paying Ksh1,500 per website every year,pay Ksh2000 monthly and host as many websites as possible.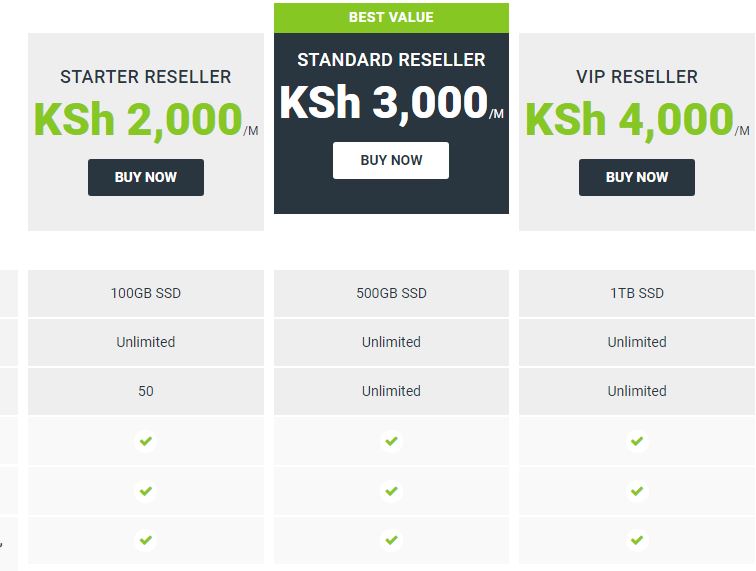 Here are the plans offered by HostPinnacle under Reseller Hosting:
Starter Reseller—Ksh2,000 per month
Standard Reseller—Ksh 3,000 per Month
VIP Reseller—Ksh4,000 per month
To learn more about resources allocated to each reseller package,follow this link
Bulk SMS Services
HostPinnacle offers Bulk SMS Services as well. This is one service that is on demand in Kenya.if you need cheap SMS that cost as low as 30 cents per SMS,buy from HostPinnacle. All you need is to create a free account and order the SMS.To create a free account,click here
Is HostPinnacle a good web hosting company?
Yes. We have interacted with them for several years and they offer the best services. Even if you call or contact them on Facebook, they will always respond in time. Another thing I love about them is that their servers don't experience frequent downtime. Even with traffic spikes, you blog will always be up.