There are over 100 registered web hosting companies in South Africa, but only a few can be regarded as the best.In 2021 if you wish to create a website, register a domain name and buy hosting space, go for the best web hosting companies that are listed below.
A good web hosting company should give money back guarantee, offer powerful servers, enough resources and excellent customer service. The most important of all is the power of hosting servers—the more powerful they are the better the services.
Here is a list of some of the best web hosting companies in South Africa in 2021:
Bluehost is a top web hosting company which serves more than 2 million clients worldwide. At the moment, the hosting company is hosting over 10,000 websites from South Africa.
Bluehost is ideal for small, medium and viral websites. If your website gets more than 50,000 monthly visitors, migrate it to Bluehost.
The company offers 30-day money back guarantee, enough resources, excellent customer service and a wide range of plans suitable for all categories of websites. To visit Bluehost website,click on this link
Bluehost is recommended for WordPress sites.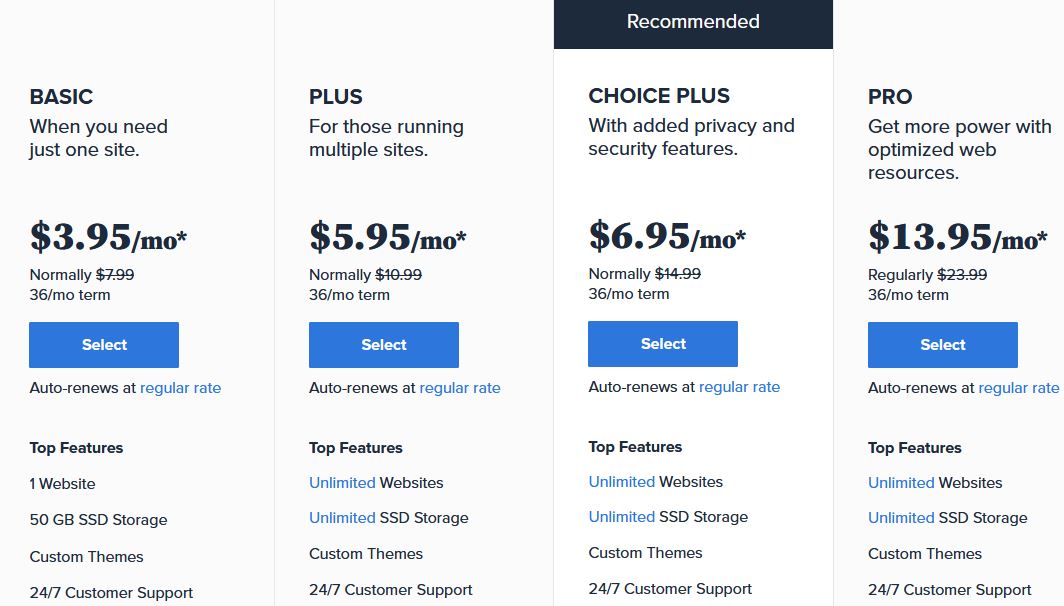 A2 Hosting is ideal for all types of websites. It offers enough resources in a highly secure environment. Websites hosted by A2 are rarely hacked, they are also fast in loading. You can get hosting space for as low as R20 per month. To get the hosting space,click on this link
If your website is designed by WordPress,please choose A2—there are special packages for WordPress sites.

Domain Africa sells domains, offers web hosting and web design services. For as low as R89 you'll get hosting space in the company. More than 20% of the websites in South Africa are hosted here.
The performance of your blog will be extremely high because you'll be issued with SSL certificate and enough space for hosting.
There is WordPress, PS and Reseller hosting services at Domain South Africa.

Host Africa is cheaper than Domain South Africa and it's because of this reason that its popularity is growing exponentially. Hosting costs as little as R69 per month.
Host Africa sells domain names, offers hosting services for small, medium and huge websites. There are all types of packages for a wide range of websites.
If you need a web hosting company which is within your budget, join Host Africa.

If you own a blog that you believe will start getting millions of visitors monthly, join 1-Grid.Customers speak highly of this web hosting company and I believe it won't be a raw deal to join them. The cost of hosting is as low as R99 per month—there are plenty of packages suitable for any website. The good thing is that 1-Grid provides a free domain name for any client hosting with them for the first time. The email accounts are also unlimited.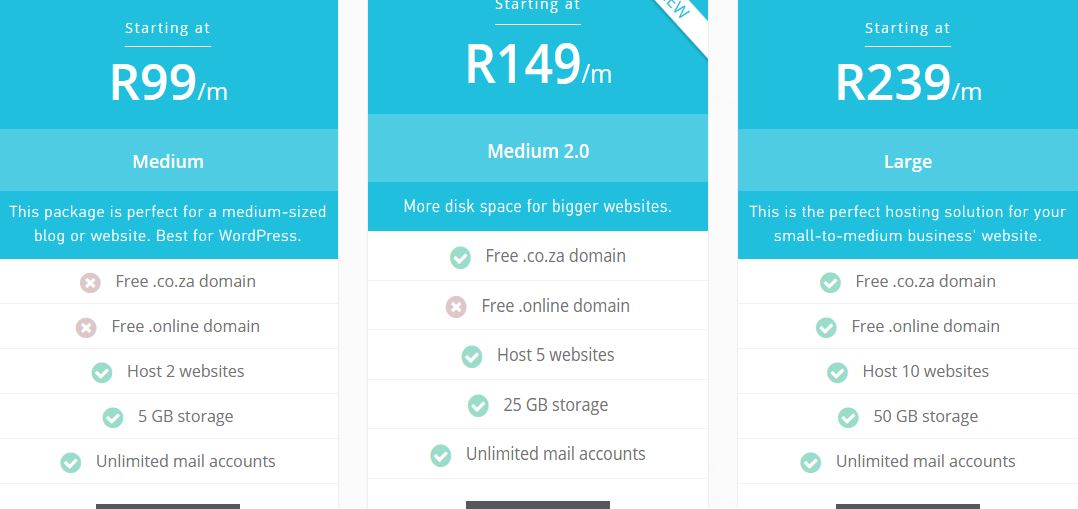 The hosting price ranges between R59 and R329 per month. Even if your site is so demanding, you'll still find a package that will make you comfortable. A number of established companies in South Africa are hosting their sites in Smartweb.
If you have R59 to spare, visit Smartweb and buy hosting space, you won't regret.

I used to wonder why most South Africans like HostKing,I came to realize that it's because of their free hosting services.The company offers free hosting for new websites for one good month. Upon expiry of the service, you can buy hosting space for as low as R18 per month.
HostKing is very cheap and reliable. It's particularly suitable for small and medium websites.
If you don't have a budget for hosting your new website, join HostKing and get 1-month free hosting.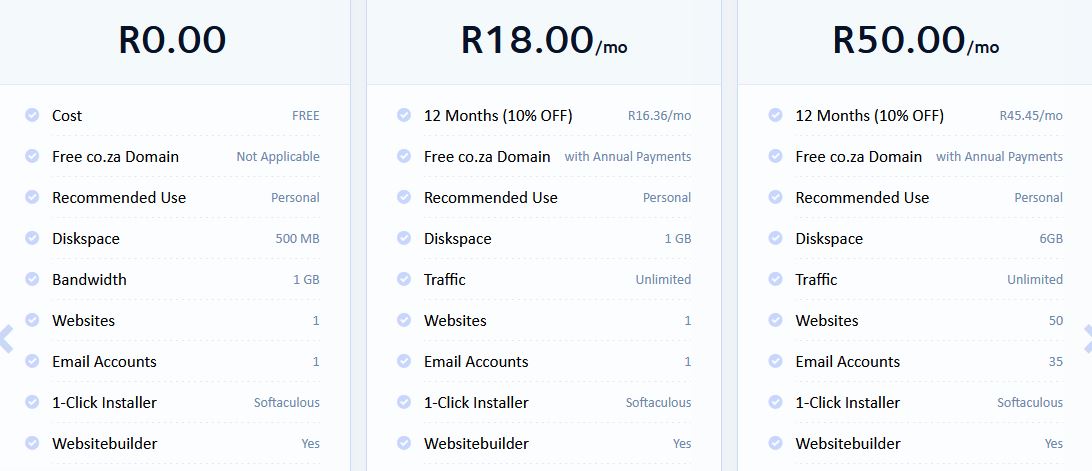 Another popular webhosting company in South Africa is Elite Host.The cost of hosting a website here starts from R45 per month.There are hosting packages for all types of hosting.
Elite Host offers unlimited bandwidth and daily back up for your content.

Kinsta is a Managed WordPress Hosting company.It's purely for WordPress sites,especially viral ones.If you anticipate millions of visitors monthly,move your websites to Kinsta as quickly as possible.for your information,all my websites are hosted by Kinsta—since 2013.To learn more about pricing and hosting terms,click on this link