Virtual Private Server (VPS) is more advanced than shared hosting. The number of websites in VPS are less than those in shared hosting. In Kenya, there are few best known hosting companies with VPS packages. When hosting, make sure that you go for a reliable company, otherwise you'll be migrating to several other hosting companies regularly.
The cost of VPS Hosting in Kenya starts from as low as Ksh1, 000 per month. Medium and high traffic websites are the most ideal for this type of hosting.
If you are advised to upgrade from shared hosting to VPS Hosting in Kenya, choose the following hosting providers:
More than 1,000 Kenyan websites are hosted by Bluehost.VPS Hosting stands out as one of the best because it provides enough resources. There are three main plans under VPS hosting by Bluehost, Standard, Enhanced and Ultimate. Under Standard VPS Hosting, you'll pay $19.99 per month and your site will receive 30GB SSD Storage, Free SSL Certificate,2GB RAM,1TB Bandwidth and 1IP Adress.Enhanced VPS hosting provides 60GB SSD Storage,4GB RAM,2TB Bandwidth and 2IP Addresses. The plan costs $29.99 per month.Ultimate VPS Hosting contains 120 SSD Storage,8GB RAM,3TB Bandwidth and 2IP Addresses, it costs $59.99 per month.Click here to visit Bluehost website and choose one of the plans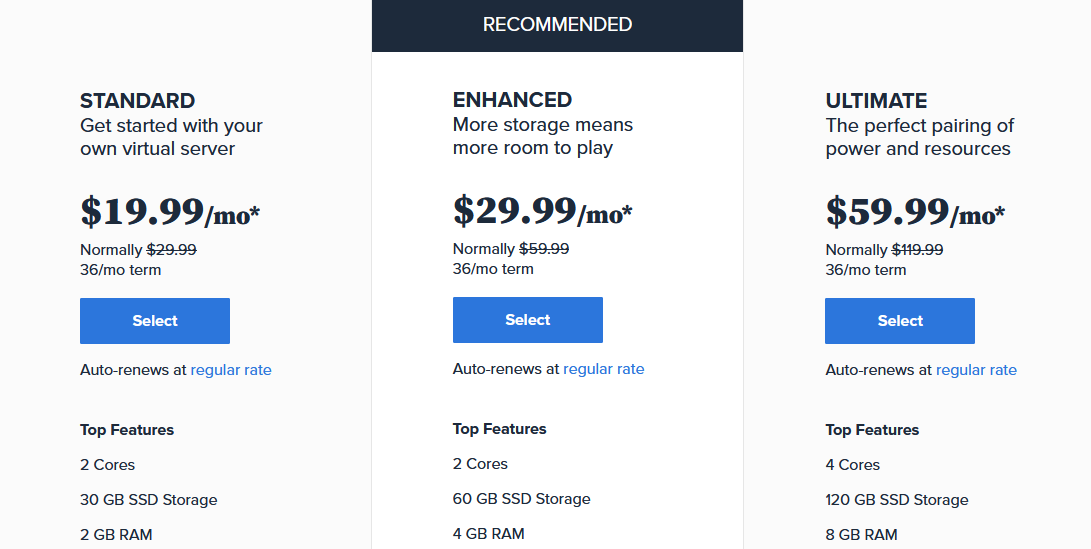 Kenya Website Experts is of course the best web hosting company in Kenya. It provides a wide range of plans under VPS Hosting.
The company has servers located in Kenya,USA and Windows VPS Servers.Their hosting price ranges between Ksh 1,700 and Ksh 35,000 per month.It's upon you to choose the right package for your website.But one thing I will assure you is that Kenya Website Experts won't disappoint you.To choose one of the plans,click here to visit the company's site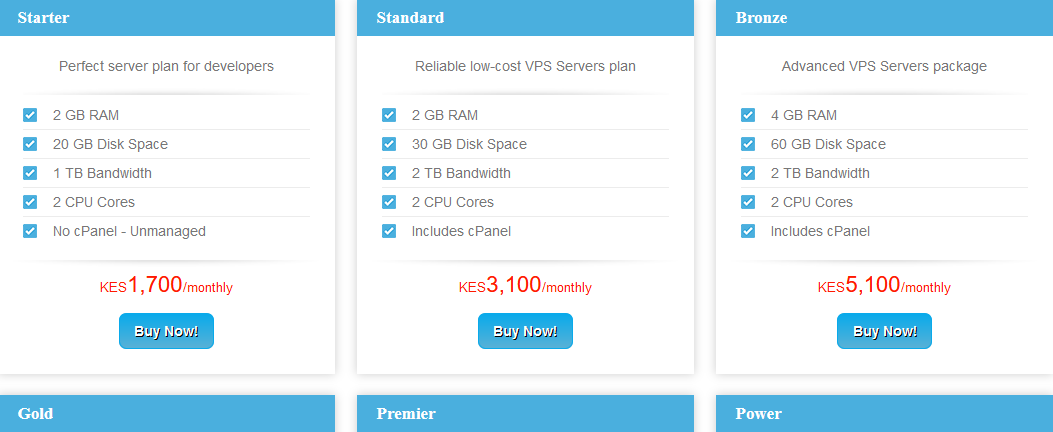 HostPinnacle is among the cheapest web hosting providers in Kenya.With high performance servers,VPS hosting is reliably cheap—the packages cost Ksh 3,000 to Ksh 7,500 per month.There are 4 main plans under the VPS category:Starter VPS which costs Ksh 3,000 per month,Medium VPS costing Ksh 4,500 per month,Large VPS for Ksh 6,000 per month and Extra large VPS for Ksh 7,500 per month.When moving from Shared hosting,start with Starter VPS and upgrade later when the resources demanded by your website exceed those in the starter package.To start hosting your site here,visit HostPinnacle via this link
The company also provides Reseller and Shared hosting packages.Most bloggers start with Shared Hosting and later upgrade to VPS Hosting.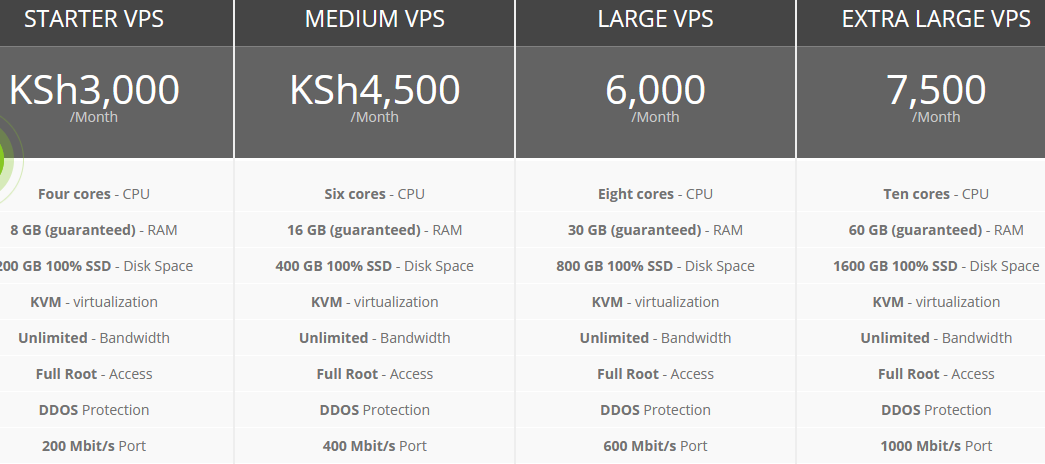 If you don't know,Truehost is one of the few web hosting companies in Kenya that provide free web hosting services.If your site is new and you ae hosting with Truehost for the first time,the company will provide free hosting for one month. Apart from the free hosting, there is shared hosting,VPS Hosting, Dedicated Server Hosting,Clound Hosting and reseller Hosting. Now that you need VPS Hosting, then Truehost is the best hosting site for you.
Truehost offers LiteSpeed VPS and SSD Cloud VPS Kenya, each of them has three plans.LiteSpeed VPS Costs between Ksh 699 and Ksh 2,499 per month. SSD Cloud VPS Kenya cost between Ksh 799 and Ksh 3950 per month.Remember that when you host your site at Truehost,migration is free and SSL is provided for free.To select your hosting package,click here to visit Truehost website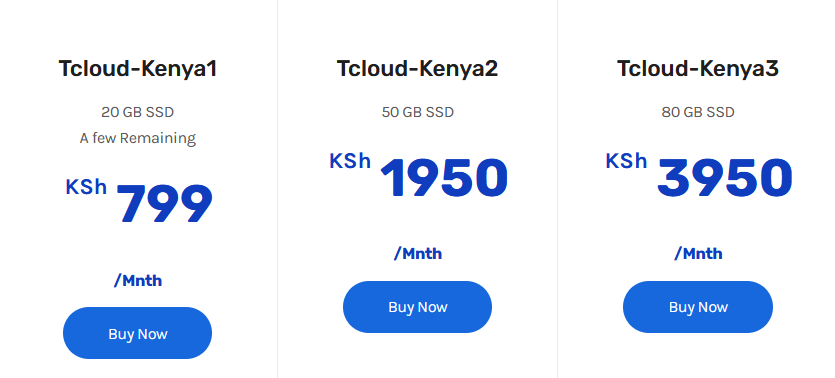 Skyhost Kenya offers the best VPS Hosting services.Their packages cost between Ksh 1,200 to Ksh 49,875 per month. There are more than 12 available packages to choose from.The Company has super-fast servers which meets the demands of any blog. Even a blog with over 1 million visitors will be hosted by Skyhost.
Here are the available plans and prices:
| | | | | | | |
| --- | --- | --- | --- | --- | --- | --- |
| Processor(s) : CPU | RAM | STORAGE | BANDWIDTH | SETUP | MONTHLY COST | |
| 1 V.Core 2.4 GHZ | 512 MB | 10 GB | Unlimited | 20 Mins | Ksh. 1,200 | |
| 1 V.Core 2.4 GHZ | 7 GB | 20 GB | Unlimited | 20 Mins | Ksh. 2,925 | |
| 1 V.Core 2.4 GHZ (Windows OS) | 7 GB | 20 GB | Unlimited | 20 Mins | Ksh. 3,375 | |
| 2 V.Core 2.4 GHZ | 2 GB | 40 GB | Unlimited | 20 Mins | Ksh. 8,250 | |
| 2 V.Core 2.4 GHZ (Windows OS) | 2 GB | 40 GB | Unlimited | 20 Mins | Ksh. 8,925 | |
| 2 V.Core 2.4 GHZ | 4 GB | 80 GB | Unlimited | 20 Mins | Ksh. 13,425 | |
| 2 V.Core 2.4 GHZ (Windows OS) | 4 GB | 80 GB | Unlimited | 20 Mins | Ksh. 14,775 | |
| 3 V.Core | 6 GB | 120 GB | 1 TB | 20 Mins | Ksh. 25,200 | |
| 8 V.Core | 16 GB | 500 GB | 5 TB | 20 Mins | Ksh. 27,150 | |
| 4 V.Core 2.4 GHZ | 8 GB | 160 GB | Unlimited | 20 Mins | Ksh. 27,225 | |
| 4 V.Core 2.4 GHZ (Windows OS) | 8 GB | 160 GB | Unlimited | 20 Mins | Ksh. 29,475 | |
| 6 V.Core 2.4 GHZ | 16 GB | 320 GB | Unlimited | 20 Mins | Ksh. 44,925 | |
| 6 V.Core 2.4 GHZ (Windows OS) | 16 GB | 320 GB | Unlimited | 20 Mins | Ksh. 49,875 | |
To start hosting your blog/website at Skyhost,click on this link and visit their website
A2 provides unmanaged and managed VPS hosting.Ofcourse unmanaged is cheaper because the company's staff don't provide technical aspect of your website. Unmanaged Hosting costs from $4.99 to $35.99 per month while Managed Hosting costs $39.99 to $77.99 per month. Key features include: 99.99% uptime, free site migration, 24/7 customer support and free SSL Certificate.A2 hosts over 1 million websites, implying that it's among the best hosting providers in the world. To choose a plan,visit A2 Hosting via this link