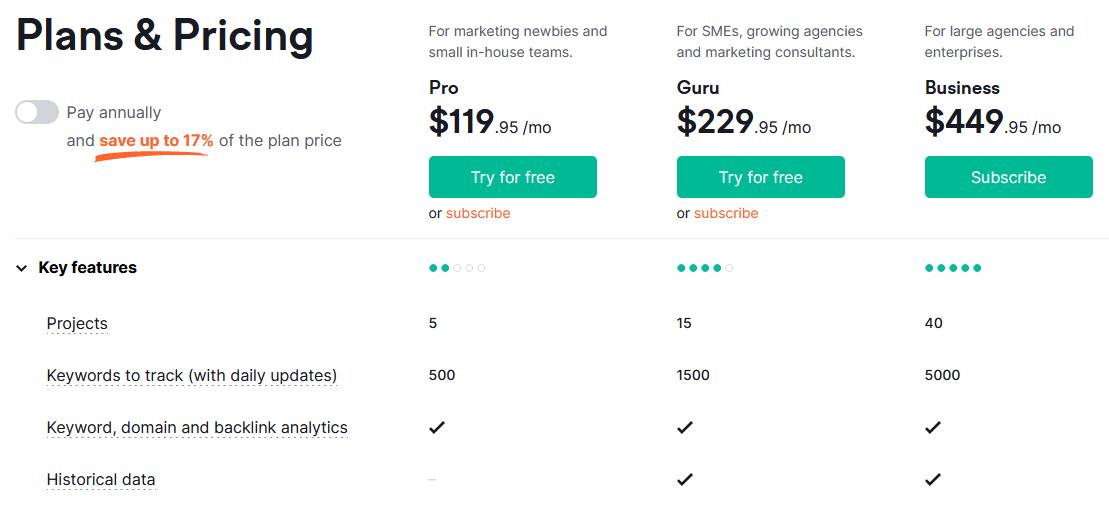 SEMrush SEO tool started its operations in the market in 2008. The brain behind its development is Dmitry Melnikov and Oleg Shchegolev. SEMrush is a popular Search Engine Optimization (SEO) with much of its attributes realized from crucial features. There are more than 7 million SEMrush users, which generates increased revenue in the market. Gurus worldwide acknowledge the advanced performance of SEO tasks, thereby creating an attractive environment to undertake tasks. SEMrush SEO tool provides companies with social marketing services, PPC, competitors research, and content research services. have replaced other tools like SEO, content marketing, and competitive analysis. This has earned it the name multi-tasking tool. Competitive industries utilize the tool to improve SEO. SEMrush is the most effective web marketing instrument for achieving the required outcomes. Clients and companies have been using this tool from the beginning to run blogs. SEMrush supports Android, Ios, AND Web-based devices. The tool features assist small business, medium business, and enterprise operations. Clients and companies can use SEMrush SEO tool services to view online or smartphone.
Once you start operating the tool, replacing it with other SEO tools is challenging. However, the features of this instrument are one of its most significant advantages. SEMrush SEO tool market competitors are Google Analytics, Reputation, HubSpot Marketing Hub, Meltwater, Zoho Social, Ahrefs, Sprout Social, and Hootsuite. SEMrush SEO tool that assists clients and companies to speed up the procedure of handling the web. I have always been a fan of the SEMrush SEO tool since it aids in reaching new heights throughout the years. For clients seeking better SEO tools in the market, the review will provide users with in-depth information. Also, the review will cover aspects such as SEMrush features, prices, free trial, pros, and cons.
Features
1. Domain overview
Domain overview is the best feature that the SEMrush offers. The feature assists clients and companies in viewing key web statistics. Domain overview also allows clients to access the web. The advantage of the feature is that there is freedom in web access services, enhancing creativity and efficient market competition. In addition, a domain overview enables companies to research competitors' strategies to gain a competitive advantage in the market and apply the practices—the services offered by SEMrush range from advertisement paid search traffic and organic search traffic.
2. Position Tracker
The feature lists services, products, and keywords that assist companies compete effectively. Its services appear on the first page of Google to enhance ease of access by companies. The feature allows clients to choose the desired gadget to use, for instance, a mobile device or desktop. Position tracker tackles cyber-attacks as it requires clients to provide postal code, city, state, and country details. The location monitoring tool provides businesses with the current location. The location is presented in SERP features for clients to choose from. SEMrush offers the quantity of data used to rank pages for keywords. This enables companies to conduct tool dialogues with clients. Also, the best aspect of the tool is that businesses share their details with rival firms to create healthy competition. The position tracker consists of keywords that rank tasks per the agency's order. The application features are appealing and enable clients to access the websites easily.
3. Traffic Analysis
Traffic analysis is a crucial concept for choosing an SEO tool. SEMrush plays a vital role in traffic analysis of the web. The display of each keyword enhances the competitive nature of SEMrush. The Google page provides numerous services to clients and SEMrush assists in analyzing content display. Using the tool can restrict rival companies from accessing private data and its origin. The traffic analysis presents clients with the number of visits made and the access time. This enables the tracking of operations and intentions of rival companies. There are also details on a website that receives more visits per day, and this assists in improving SEMrush tool operations. Clients receive average statistics of site visits for analysis. Companies access the services of SEMrush through traffic sources and devices. SEO trends and Google algorithms have a significant impact on web traffic. Staying updated on all fronts allows you to make educated SEM and SEO strategies. The feature function does more than keep track of web operators who come. For instance, it keeps track of referring sites, top pages, and engagement. Traffic analysis consists of a dashboard that assesses potential clients. It accomplishes so by giving you information about their internet habits.
4. Effective Keyword Research
SEMrush tool consists of a Keyword Research feature that keeps companies updated on market trends. The tool provides clients with paid and organic search, which assists in updating the current campaign. There is increased market competition on the tool used to make search and Keyword Research facilitates the creation of PPC and SEO. SEMrush services consist of questions, keyword changes, average cost-per-click, challenges of operations, and search volume analysis. Companies use the analysis to determine the desirable tool in the market and its competitive nature. The tool gives clients information on the desirable niche. The information covers ad copies, trends, and volume features. The tool can be accessed via a smartphone. It also consists of a CPC Map tool that reveals clients' desires from numerous locations. This provides the ideal strategy to attract more customers. The tools are essential for ensuring that websites are adequately maintained. New companies may experience challenges operating the SEMrush since it consists of numerous features.
5. Market Insights
Market insight feature enables companies to gain a competitive edge. SEMrush tool presence in companies provided details on best niche players and game-changers. The information assists companies in discovering their actual market identity. Companies identify strategies to increase market shares. The market insight feature ranges from geographical location, interest, gender, and age, determining customer base. Also, the feature provides detail on a company's role models based on domain site visits.
To learn about all features and prices,click her to visit SEMrush website
Prices
Subscription plan
The subscription plan for the SEMrush tool is high, thereby discouraging small enterprises from utilizing its features. The large companies have acknowledged the price as desirable considering its services to clients. SEMrush tool offers three subscription packages for its clients. The least expensive package is the Pro plan, where clients and companies pay a monthly subscription of $99. In-house marketers, Freelancers, and startup businesses majorly subscribe to the Pro plan considering its numerous features and the required subscription rates. Pro plan runs freelancers' activities in a 40+ advance tool. As a result, startups enjoy SMM and PPC services at a faster rate. The SEO tool works in a read-only sharing access, limiting cyber threats. Therefore, it is significant for companies to understand their rival's social media, rankings, and traffic sources and create a competitive environment.
The second subscription plan of the SEMrush SEO tool is the Guru plan. Clients and companies pay $191 per month since additional features are in the package. Growing market agencies and SMB majorly use the Guru plan. The package provides additional features to growing market agencies, including Google Data Studio Integration, extended limits, historical data, and content marketing platform. SMB uses the package to increase its customer base and attain a competitive advantage.
The third subscription plan of the tool is a Business plan. This is the most expensive plan in the SEMrush SEO tool, and the monthly subscription is $374. The challenge of the plan is that it discourages small enterprises from using its features. Businesses primarily use SEMrush with an extensive web presence. Clients with the desire to perform e-commerce projects experience the SEO tool's fast speed, thereby increasing market participation. Agencies also get to enjoy the SEMrush tool experience and access API services. The additional features in the Business plan are a share of voice metric, Google Data Studio Integration, sharing of information, and extended limits.
To learn more about features for each plan,click here to visit SEMrush website
Free Trial
Clients and businesses enjoy a 7-day trial when they subscribe to the SEMrush plan. The free trial can either be in the Guru or Pro plan, and clients enjoy numerous features. The SEO tool uses the short free trial plan to attract new clients to their services, which has worked efficiently. There is also a 30-day free trial that limits clients from enjoying numerous features. Clients are offered the option to cancel the free trials when they do not enjoy the services. There are a lot of data in the free trial ranging from PPC, which offers auditing features.
To register for the free trial,click on this link
Pros
1. Competitive Advantage
Marketing professionals that utilize the tool have an advantage over market rivals. The tool consists of rival information like keywords which improves performance. As a result, business enterprises devise strategies to combat rivals' competitive nature. Also, companies that use SEMrush achieve success in the market even though the subscription fee is high. Besides, the tool alerts businesses to new rivals and changes in website rankings. This assists clients in developing strategies to fine-tune data.
2. Strategic Advertising
SEMrush offers companies advertising strategies solutions. The move is essential considering the increased market competition. For instance, companies use the SEO tool to determine the popularity of rival market strategies and the number of returns they obtain—these aids in adjusting the budget to meet the market advertisement and improve revenue generation. Besides, clients' use of the tool provides them with how to improve their market campaigns.
3. Expanded Social Media Reach
SEMrush enables companies and clients to expand their social media reach. Clients can track the performance of their social media brand in the market and increase customer interaction. Besides, companies can use the SEO tool to broaden their audience and turn interactions into revenue. Online brand building requires the use of social media marketing. Postings, articles, advertising, videos, and pictures. This assists businesses and clients in determining whether there are obstacles or possibilities in an advertisement. Social media sites that assist clients in achieving success include YouTube, Instagram, Twitter, and Facebook. The tool can plan social media postings to create competitiveness.
4. Tactical Content Marketing
The tool is essential to companies researching hot topics via the internet. They get to receive various content relating to the products and services a company offers. Also, companies get to acquire information on how they are well=linked on the internet. The details are vital in broadening market participation.
5. Audit of Backlinks
SEO tools majorly focus on providing Backlinks, and SEMrush is no exemption. Professional clients understand how critical Backlights are in enhancing performance. The tool also provides external and internal links that are healthy to operate. The authoritative role assists in helping clients to manage website operations.
6. Simplifies report
The tool consists of a simplified report that assists in exporting and collecting findings. SEMrush provides clients with the option of adjusting to reports and data management. Excel spreadsheets and PDF reports in the SEMrush tool can easily be edited. These reports may be customized as desired, then shared or distributed by email and quick links. SEMrush enables companies to keep up to date with information. The tool discourages the use of manual entries by companies, which provides faster handling of tasks.
Cons
1. Time-Consuming
SEMrush is time-consuming since it has a management database and keywords. As a result, clients and companies using the SEO tool get to research a long list of pages—also work in a tiresome and hectic environment when handling tasks. In addition, an extensive list of keywords discourages business operations, which has seen most people opting out from monthly subscriptions.
2. Absolutely Technical
SEMrush is explicitly designed for SEO specialists. This discourages new businesses from seeking to increase their market size. SEMrush features are quick and straightforward to use and only require tutorials. However, the technical part of operating the tool is small enterprises. Therefore, there is inequality in the service provision of the SEO tool.
3. Lack of White Label Reports
White Label report is significant for clients and companies seeking to improve their branding. The feature assists companies in achieving success while operating in the market. The tool lacks White Label Reports, and this discourages the company's branding. Companies face the challenge of adding their own logo to a brand to increase attraction and customer base. This makes SEMrush a letdown in the market, and this has seen increased individuals opting out of the subscription.