Mpasho is one of the most popular entertainment blogs in Kenya, it is owned by Radio African and was incorporated in 2015.The blog currently attracts 65,000 page views per day, which translates to approximately 2 million page views per month. In Kenya, it's ranked at position 15 and globally at position 10,000.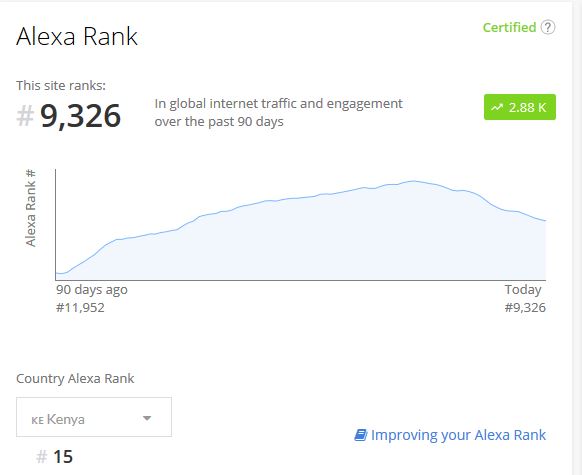 Frequently asked question," how much money does Mpasho make per month". With my 10 years' experience in blogging, my estimates could be 99%-100% accurate when we base our estimates on the blog's revenue strategies.
From 2015 to 2019, Mpasho's main source of earning was Google AdSense but in 2019 the blog was banned by the platform for violating their policies. Left with limited options, Mpasho turned to sponsored content, MGID ,Taboola and direct advertisements as their major sources of income. Before getting banned by AdSense, Mpasho was earning Ksh 300,000 to Ksh700,000 per month from AdSense alone.
Sportpesa was also another source of income for the blog, each month, the giant betting company credited Ksh600,000 to Mpasho's accounts. When the government closed Sportpesa's Paybill number, Mpasho lost revenues from the company(Sportpesa).
Currently, Mpasho's gross income per month is Ksh 800,000–that's when they have direct adverts but in some cases, the revenues drop to Ksh300,000.
Here is the summary of how they earn money:
Direct banner advertisement—Ksh 400,000 per month
Income from MGID—Ksh100,000 per month
Income from Taboola—Ksh150,000 per month
Income from sponsored content—Ksh50,000 per month
The average income per month for the blog is Ksh650,000.
Mpasho has four editors who earn an average of Ksh50,000 each. In a month, the total salary expenses amount to Ksh200,000.The company also pays approximately Ksh50,000 every month in hosting
It means that the average income for Mpasho is Ksh300,000 every month.