There are over 100 email marketing providers in India but only a few can be regarded as the best. Email marketing is important for companies, especially e-commerce because it helps them to grow their business through frequent emails to the clients. The best email marketing tools show the exact action the recipient take, which helps a company to get an opinion of whether their products are good or not.
Email marketing also helps clients to give their opinion in regards to a product, hence giving the company an idea of how to improve on their products and services.
Email marketing is used by a wide range of sectors, including e-commerce, training institutions, supermarkets, banks, insurance companies and media houses. To learn more about the list of bets email marketing companies in India, below is the full list;
GetResponse offers 30-day free trial plan for every new client,click here to sign up for free.Under the free trial, you'll benefit with the following features:
Email marketing
Autoresponders
Unlimited landing pages
Unlimited automation templates
Sales funnels
Unlimited lead funnels
Facebook Ads
Sell e-products
When the one month elapses, you'll decide whether to continue with GetResponse or not.
The email marketing tool has a total of 4 plans: Basic,Plus,Professional and Maz,most customers start with the basic plan which costs as low as $15 per month.
Here is the overview of GetResponse pricing
Basic plan 1000 emails per month–$15
Plus plan 1,000 emails per month—$49
Professional 1,000 emails per month–$99
Max—custom emails
The number of emails to send per month range between 1,000 and 100,000 for Basic, Plus and Professional plans. However, if you want to send more than 100,000 emails, ax plan will cater for your needs.
Payment for email marketing services is done via Visa Card, MasterCard, Discover or Amex.To get started, click on this link to visit GetResponse website and select any plan with free trail services—you will use the service for 30 days free.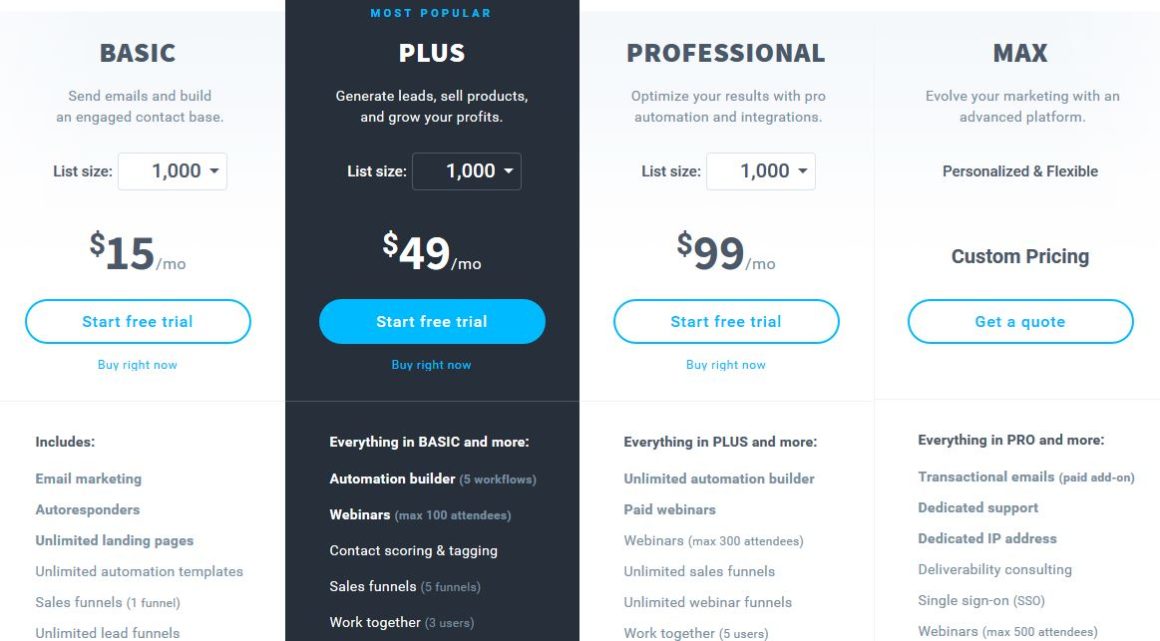 The second email marketing provider to choose is ConvertKit.Over 20,000 companies are currently using the tool.
The most important features of ConvertKit are:
Unlimited landing pages & forms
Unlimited traffic
Customizable domain
Send email broadcasts
Subscriber tagging
Manage 1,000 subscribers
Automated funnels & email sequences
Premium support
Integrations
ConvertKit provides 14 days free trial plan which comes with nearly all the features present in the premium plans, to register for the services free,click on this link
By using ConvertKit, you'll be able to interact with your email subscribers and know where to improve. You will also notice exponential increase in sales because you'll be alerting them of the available products for sale.
Subscribers are free to pay on monthly basis or annually, but paying annually is cheaper than on monthly basis. To send 1,000 emails per month, you'll pay $29.You can send up to 900,000 emails.
Here is a breakdown of ConvertKit pricing:
1000 emails per month–$29
10,000 emails per month–$119
20,000 emails per month—$179
55,000 emails per month–$379
105,000 emails per month–$679
900,000 emails per month–$3,999
To start with the free plan,click on this link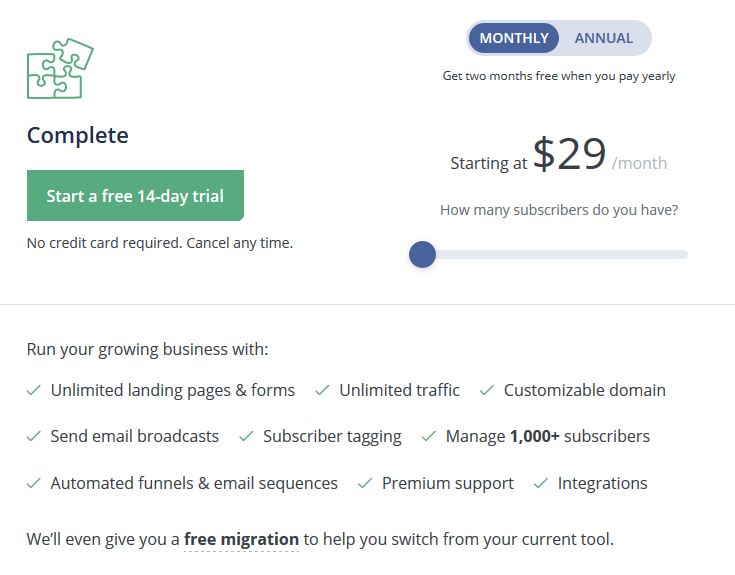 AWeber is one of the most popular email marketing tools in the world. Currently, over 50,000 companies are using the tool to communicate to their clients.
The good thing about AWeber is that it has a free plan that lasts for one month. When you join, you're given a chance to send up to 500 emails per month. From your experience, you'll determine whether to continue using the tool or drop it—but I am sure you won't drop it.To sign up for the free trial plan,click on this link
Below is the email marketing pricing for AWeber
0-500 subscribers per month–$16.15
501 – 2,500 Subscribers per month–$26.15
2,501 – 5,000 Subscribers per month—$46.15
2,501 – 5,000 Subscribers per month–$66.15
10,000 – 25,00 Subscribers per month—146.15
To get started, click on this link to visit eWeber website, then pick on the free plan. After using the plan for one month, you'll decide whether it's a good company or not. I like the fact that there is a free plan, it shows the company is sure that upon using their services for one month, you'll find it excellent for future use.
It's always cheaper to pay annually than on monthly basis. First, go for the lowest emails and upgrade over time.

Moosend is one of the cheapest email marketing tools available, the tool costs as low as $8.In addition, there is a free trial plan which lasts forever, the plan consists of:
Unlimited Emails
Sign-up & Subscription Forms
Reporting & Analytics
To sign up for the free plan,click on this link
The free plan does not have the most important features, like landing pages and priority support. In order to get the premium features, you should join the Pro or Enterprise plans. Here is the cost of the premium plans;
1000 subscribers per month–$8
20,000 subscribers per month–$100
50,000 subscribers per month—$164
100,000 subscribers per month—$312
150,000 subscribers per month–$468
200,000 subscribers per month–$608
The enterprise plan is for those intending to send more than 200,000 emails. Features of the Pro and Enterprise plans are as follows:
Pro plan features
Landing Pages
Transactional Emails
Phone Support
SMTP Server
Click here to sign up for free
Features of Enterprise plan
Custom Reporting
Acccount Manager
SSO & SAML
On-Boarding & Migration
Service-Level Agreement
Click here to join Enterprise plan
The best thing about Moosend is that they allow you to use their free plan forever, you will only upgrade when you need advanced features.
LeadPages offers email marketing and landing pages services to up to 50 websites.Unlike others,the company offers free hosting for emails and a free custom domain.
Some of the best features of LeadPages are:
Landing Pages, Pop-Ups, Alert Bars
Unlimited Traffic & Leads
Free Custom Domain*
with annual purchase
Free Hosting
Mobile-Responsive Templates
Lead Notifications
Tech Support (via Email)
40+ Standard Integrations
LesdPages offers 14-day trial plan for all their new clients, to subscribe,click on this link
There are 3 main plans, which include:
Standard–$25 per month
Pro–$48 per month
Advanced–$199 per month
It's upon you to choose the most ideal plan for your business after the 14-day trial period elapses. To learn more about LeadPages,click on this link
Select one of the aforementioned email marketing tools and enjoy their services—they are the best in India.