How to Start Making Money Online with Jumia Affiliate Program
Jumia offers you the opportunity to make money online through the company's affiliate program. Jumia is available in several countries across Africa, they include:
Kenya
Uganda
Egypt
Nigeria
Morocco
Ivory Coast
Ghana
Tunisia
Senegal
Algeria
South Africa
The owners realized that there is no single online shop in Africa same as Amazon, they came up with Jumia so as to exploit the African market. Though growth in some countries has not been upwards, Jumia has succeeded in 11 other countries. To accelerate the growth, the company introduced an affiliate program that provides marketers and bloggers with the opportunity to make money online. A number of bloggers with niche sites have registered with the program and are earning up to $10,000 per month each.
How to register with Jumia affiliate program
Before applying for approval as an affiliate of Jumia, you must be owning an active social media account or a blog where you will be market Jumia products. Application takes less than 1 minute. To apply,click on this link to visit Jumia affiliate program page
On the page, you will be required to enter your personal details and link for your social media pages or blog.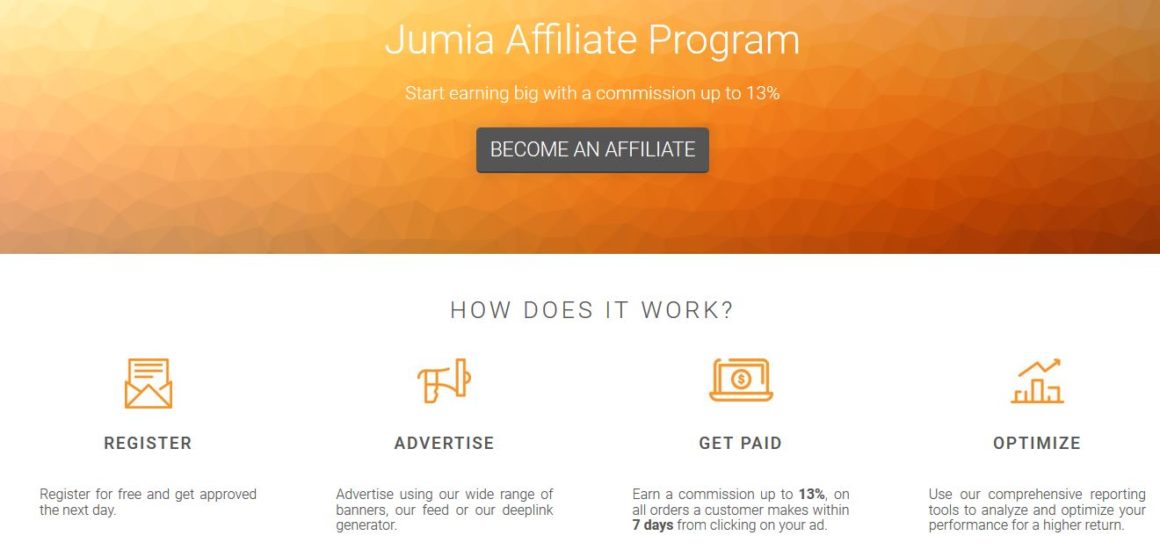 Approval will take one to two days. Once approved, you'll get access to the Jumia affiliate dashboard where you will be getting advertising banners and links for marketing.
Jumia affiliate commissions
The affiliate commissions range between 2% and 13 % based on the type of product you market. Smartphones, laptops and televisions have the lowest commissions of 2%-4%. Clothes and shoes have the highest commission of up to 13%.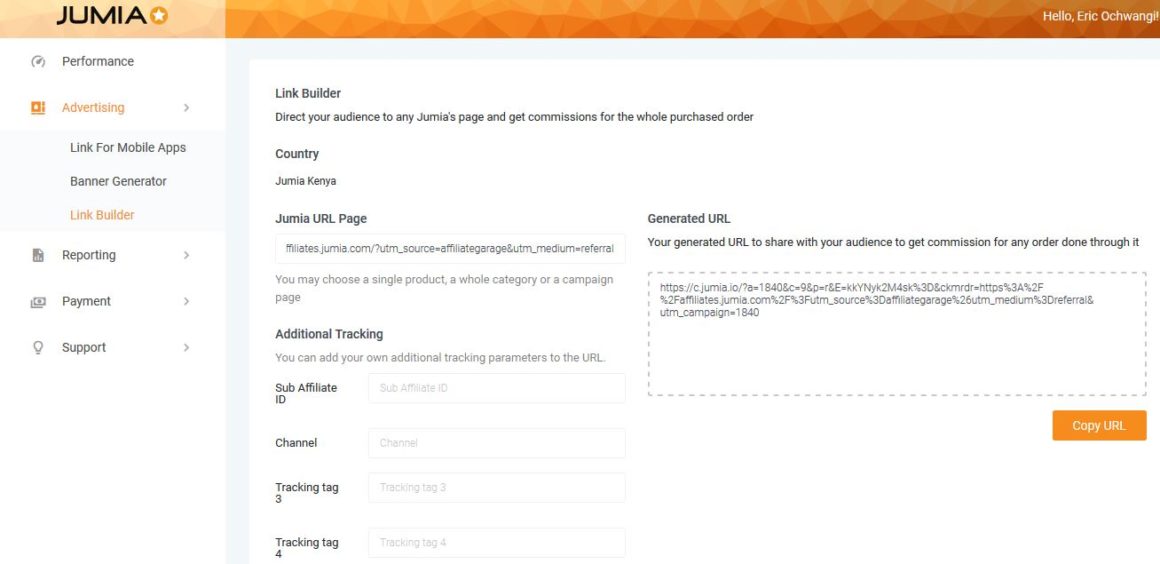 How to make money from Jumia affiliate program
The best way to make money from Jumia affiliate program is by creating a niche blog that reviews gadgets and electronics products. I actually own one niche site which strictly review smartphones, I make at least $1,000 monthly.
To come up with a niche blog, visit Bluehost and register a domain name and pay for hosting services, you'll spend less than $50.Click on this link to visit the hosting site
After paying for the domain name and hosting services, get a premium WordPress theme from ThemeForest,click here to get the theme
You will spend an average of $100 to create a niche blog.
The amount of money you can make from Jumia affiliate program
There is no maximum amount of money one can earn from Jumia affiliate program, one can make even more than $50,000 per month depending on the number of products they sell. In order to generate revenues, you have to create a post that provides reasons why someone must buy the reviewed product. You should make the article so comprehensive that the reader cannot get a reason to visit another blog for more information.
If your blog gets 100,000 visitors per month, you'll make approximately $1,000. Those with high traffic blogs of more than 1 million visitors earn at least $5,000 monthly from Jumia affiliate program.
How to grow your traffic and get more customers
A new blog will struggle to get traffic, to grow it, you need to employ several strategies. One of the methods is by sharing your content on social media. Develop social media pages for your blog such that every time you create a post, share it on Facebook, Twitter and Instagram…even on WhatsApp. That traffic can easily convert.
You can also use SEO tools like SEMrush to check on trending long-tail keywords from your competitors. The tool will help you to write content that rank on page one of search engines, the content will easily bring new customers because it attracts only those interested in the products you review. To subscribe for SEMrush, click on this link
The third one is by using email marketing. When a new product is introduced, send an email to people you believe can buy.GetResponse is one of the email marketing tools you should use,click on this link to sign up for free
Over time, you'll find yourself earning more than $10,000 from this program alone.
Jumia pays affiliates every month ,the money is sent to your phone number or bank account number depending on the payment method you choose.