Before you start hosting your blog at Bluehost, you have to know whether the company is a good host, that's what everyone could. I will only give my views based on my personal experience.
I started my first blog in 2011 when only a few blogs existed. That time I didn't have someone to guide me on which route to follow, I was just fumbling. A friend who had started his blog earlier told me," hey, buy a domain here". Since I trusted him, I was forced to fork out $10 for a local domain name. I had a domain name but not hosting services. But since the company was popular, I decided to purchase hosting services at $20 per year—I thought it was cheap.
I started blogging in November 2011.For one year, I didn't experience any problems but as my website gained more readers, that's when problems started arising. The first problems occurred when I write a story about best jobs for fresh graduates, it attracted over 100,000 readers in one day, that alone resulted to the suspension of my site for 24 hours. I realized that the hosting company had a policy that when the resource limit is exceeded, the site is suspended for one day. I lost revenue of more than $100 and over 50,000 readers because my website was offline. That incident marked the beginning of many problems that followed.
After one year in this hosting company, I said enough is enough—the company was not favourable for my business; my blog had outgrown in.I decided to search for the best web hosting company for medium and viral blogs. One strange thing is that many bloggers gave different opinions but here are the things I was looking for in a hosting company:
Cheap and reliable
Secure
Excellent customer service
Variety of hosting services and features
Scalable resources
WordPress Managed Services
Dedicated Servicer Services
Email services
After thorough research, I finally decided to move my three websites to Bluehost.But there's one thing I was forced to do, look for someone to help migrate the websites. The process of migration took one day.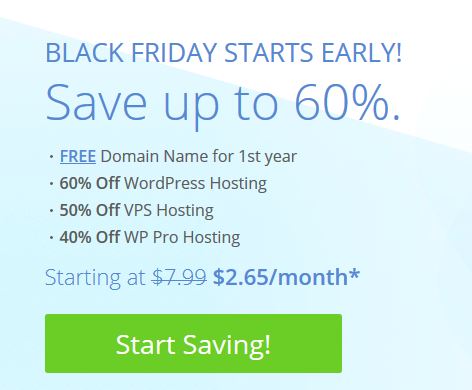 Since 2012 I have been hosting my sites with Bluehost, I started from the Started plan and upgraded to a dedicated server plan.One major thing Bluehost solved for me is the idea of viruses and malware,I thank the company for that. When I was hosting the sites locally, my websites were infected 7 times, I was extremely frustrated but in Bluehost, I was given SSL certificate which I installed, I also incorporated Sitelock, which is a unique property provided by the company.
My blogs' traffic doubled within one year and it remained stable for the rest of the time. I am also able to add more domain names without being charged more money. Bluehost allows one to have as many domains as possible in one plan.
In terms of payment, I only do once in a year—there are no hidden charges. I don't even remember when I las paid because when my package is about to expire they remind me. Furthermore, even if it expires, they provide a window period of 14 days after expiry date so as to plan on how to move out your sites or to renew your services.
Ever since I started hosting with Bluehost,I have only experienced one downtime. The uptime is over 99.99%
From my own experience, I will give Bluehost 99%.I will highly recommend the company to anyone who wants to host at Bluehost.Check their plans here