There are many affiliate marketing programs in Dubai but only a few of them pay decent commissions. Affiliate marketers earn money through commissions. If you want to join affiliate programs in Dubai and start making money online, pick the following programs:
Tasjeel
Tasjeel offers web hosting services. They pay up to 25% of the total prize of products you sell for them.
How it Works
✓  When you sign up, they will provide you with a unique referral link.
✓  Share your link via social media, your website, marketing emails, or simply with friends and family looking for top-notch web hosting or domain registrations.
✓  You'll receive a sign-up bonus of AED 10 for joining.*
✓  They will pay up to 25% commission on referred sales.*
*Sign-up bonus and payouts available once you've earned AED 50+. In order to receive your commission, referred customers must remain active for at least 90 days. Affiliate commission is available for Web Hosting and Email services. Domain Names and Cloud Servers not included in Affiliate program.
AE Server
Another good affiliate program in Dubai is AE Server which offers web hosting services. You will earn anywhere between 10-70% of all invoice value that your client has paid.Ae Server pays top affiliates more than AED 10,000 per month (US$2700+)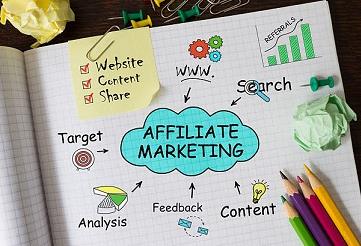 Shopify
Affiliates earn a $150 USD fixed-bounty for each qualified referral made to Shopify.Shopify is an established company, you'll not struggle to market their products.
Alibaba
If you have a website that posts content about smartphones, televisions and other gadgets, join Alibaba affiliate program. All Alibaba-approved publishers are eligible to earn a commission rate of 7% of the transaction value (excludes any insurance fees, delivery fees, or other relevant fees and expenses) of each Qualifying Purchase.
AMAZON
Amazon has one of the best affiliate programs in the world.The company offers commission based on specific product sold. Commissions range between 1% and 50%.
Desert Cart
Desert Cart is an e-commerce website that offers the following affiliate marketing commissions to marketers:
| | | |
| --- | --- | --- |
| Tiers | Min Required Monthly Sales Value ( (in AED) | Percentage Commission |
| Tier 1 (Starters) | 0 | 6% |
| Tier 2 | 15,000 | 8% |
| Tier 3 | 40,000 | 10% |
| Tier 4 | 75,000 | 12% |
| Tier 5 | 100,000+ | 15% |
New User commission rates:
| | |
| --- | --- |
| Country | New User Commission |
| UAE | AED 25 |
| Oman | OMR 2.500 |
| Saudi Arabia | SAR 25 |
| Bahrain | BD 2.500 |
| Kuwait | KWD 2.500 |
Arab Clicks
Arab Clicks pays up to 80% commission on sales. It's one of the best affiliate programs in Dubai.
Hareer Deals
The minimum payment threshold is $100.Hareer Deals pays through PayPal, Bank Check and Wire transfer
Pretty Little Thing
Simply follow the steps below to get started as a PrettyLittleThing affiliate:
Join the affiliate program on their partner network Awin, using the link at the bottom of the page
Set up your affiliate links
Drive targeted traffic to the PrettyLittleThing website
Generate sales and get rewarded up to 10% commission on every sale!
WHY JOIN Pretty Little Thing affiliate program
The PrettyLittleThing program has some pretty amazing perks, to name a few:
Earn up to a competitive 10% commission on every sale generated
Opportunities to run exclusive partnerships and exclusive offers with PrettyLittleThing
Regularly updated product feeds with a variety of new, on-trend styles.
A range of fresh and exciting banners
Cookie length of 30 days*
Track your results and optimise your activity to maximise your revenue
Regular communication on the latest trends, new in product and exclusive offers