Jumia runs the most popular affiliate program among online shops in Kenya. All those who have participated in this program will agree with me that Jumia is the best and most trusted companies among affiliates in the country. I have personally done the affiliate marketing with Jumia since 2017 and everything I will say below is from my personal experience.
How to join Jumia affiliate program
To register for Jumia ,click on this link
It will take up to 48 hours for your application to be approved. Any person with a blog or social media pages will be approved. Once approved, you'll be allowed to login to Jumia affiliate dashboard where you will get banners and affiliate links to promote Jumia products with.
The dashboard will also show you the statistics of people who visited your site, products purchased, those rejected and the amount you have earned over a certain period of time.
Jumia affiliate program commissions
The commissions range between 1% and 13%. Electronics and mobile phones have the lowest commissions, between 1% and 4% while shoes and clothes have commission percentage of up to 13%.
The reason why electronics and mobile phones attract the lowest commission is because their prices are higher and they attract the highest conversion rate. Assuming that you sell an iPhone of Ksh 100,000 and the commission is 2%, then it means you'll go home with Ksh2,000 from one sale. What if someone purchases 100 mobile phones worth Ksh30,000 each? you'll make Ksh 30,000 from that single sale.
If your website is busy, you'll earn upwards of Ksh 100,000 every month.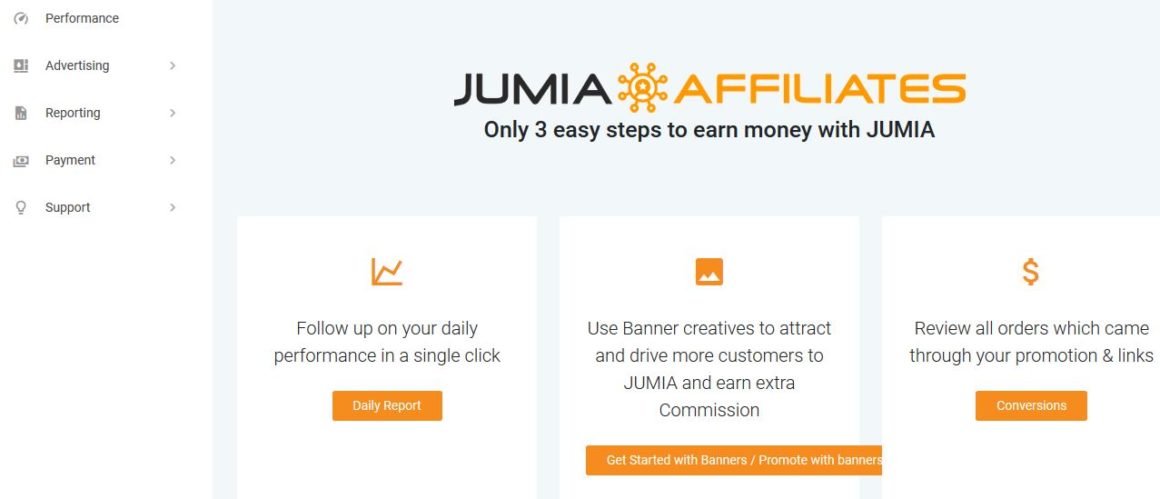 The best way to market Jumia products
If you want to succeed in affiliate market, register a niche blog which focuses on reviewing gadgets and electronic products. If your blog manages to get 1,000 to 3,000 page views per month, you'll earn more than Ksh 50,000 monthly.
Most affiliate bloggers insert affiliate links to their articles, which is a technique that works well for affiliate marketers. This will only be ideal when you own a niche blog that attract people who are interested in buying products that are available on Jumia website.
Some of the Kenyan blogs monetizing with Jumia affiliate program
There are over 20 active blogs that monetize with Jumia affiliate program, they include;
Techweez
Phone Place Kenya
Price in Kenya
Mobitrends
Tech-Ish
Phone Store Kenya
Tech Moran
Mobile Hub
Gadgets Leo
Some of the blogs above, like Tech-ish and Techweez earn up to Ksh300,000 per month from affiliate marketing.
Advantages of Jumia affiliate marketing
Affiliate marketing allows you to earn passive income with or without heavy traffic. Unlike AdSense where income depends on traffic, affiliate marketing does not depend on traffic but the action the audience take after reading an article. A blog can get 3 readers and one of them purchases a product of Ksh70,000, thus generating Ksh 4,000 for the blogger. For one to earn Ksh4,000 from AdSense, a blog must attract over 30,000 page views.
Since traffic is not a major factor, it means web hosting costs are low when affiliate marketing is involved. Affiliate marketing is highly targeted, it doesn't attract general readers but those only interested to read what you have posted and are ready or willing to buy the product.
Jumia affiliate is a genuine program. Since I started promoting them, I haven't experienced any issue. They have an accurate dashboard where to check statistics any time you wish.
You will earn money even when you are sleeping. As long as your website is active, readers will buy products from Jumia, thus generating money for you.
How Jumia pays affiliate marketers
Jumia pays affiliate marketers through MPESA.You should make sure that when applying for the program, you give out the number Jumia will use to pay you.
The company pays every month as long as the money reaches the minimum threshold. You don't have to request the payment, Jumia will automatically send to your number through MPESA.
Jumia Affiliate program contacts
If you want to contact Jumia affiliate program,send an email to affiliate@jumia.com
They will respond within a day.
Is Jumia a good affiliate program?
Jumia is among top 5 best affiliate programs in Kenya. The fact that it's a genuine affiliate program and all affiliates are satisfied is enough proof that it's a good program. If you have a blog that deals with gadgets, make sure you join this affiliate program to start earning money.
Can blogs with AdSense also do affiliate marketing
Yes. AdSense allows blogs to insert affiliate links to their articles as long as the links are natural and are not directed to adult or gambling sites. Those currently monetizing from AdSense can incorporate affiliate marketing links to increase their income. But I can advise you not to have AdSense banners inside the posts that contain affiliate links.
The money I have earned from Jumia so far
I have posted 100 articles with Jumia affiliate link and so far,I earn more than Ksh20,000 every month from the program alone.If I increase the articles to 1,000,I will earn more than Ksh 100,000 monthly. I am satisfied with the income I get from Jumia because it pays my bills.